Australia Globally Killing It (*compared to everyone else in the developed world)
Australia's economy contracted by 7% in the last quarter, which is the biggest single drop since 1974. We all collectively gasped - because we haven't had a recession in over 30 years. But in the global context, we are one of the least affected countries in the world. The following is the % GDP decline in the last quarter:
• Germany - backwards 10.1%
• France - backwards 11.1%
• NZ - backwards 12.1%
• UK - backwards 20.4%
• USA - backwards 32.9%

China, the first country affected by COVID (and arguably out the other side of it for all intents and purposes) went backwards 6.8% in the previous quarter but rebounded to 3.4% growth in the recent quarter. For everyone playing at home, that's a full 10% swing in the right direction and could support the argument that we're in for a U-shaped recovery (as I predicted in Viral Upside Ep2)
Cashflow Koala Carb-Loading for $10 billion Projects Announcement... & Paying You to Hire People.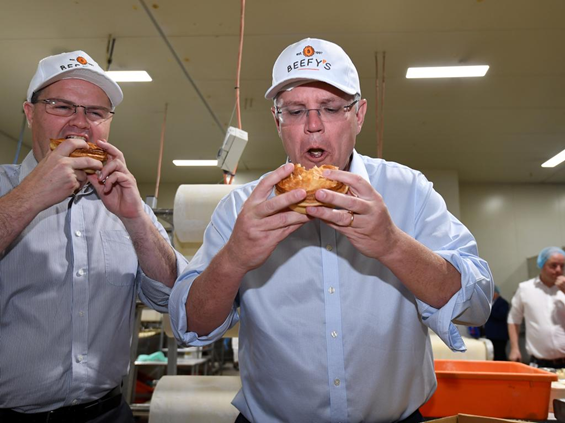 A Pie a Day Keeps the Recession Away
Eat up Cashflow Koala. It takes a lot of energy to stimulate our economy when it's in bad shape and if the scuttlebutt is to be believed, you're going to need heaps of upper body strength to flick out all the pineapples coming at us in the next budget announcement.

Speculation is rife that Cashflow Koala is going to be trying to front-load infrastructure projects to the tune of $10 billion - topping up state's coffers for these projects as quickly as they can spend it. Speed of investment is a key part of the policy - meaning the states will be rewarded for deploying their existing funding (committed as part of the previous announcement roughly a year ago) quickly, and therefore getting more funding back-loaded in behind it. This will incentivise the State Governments to really push the button on projects, rather than stockpiling the cash.
Would you take stimulus from the JobErector Program? Asking for a friend...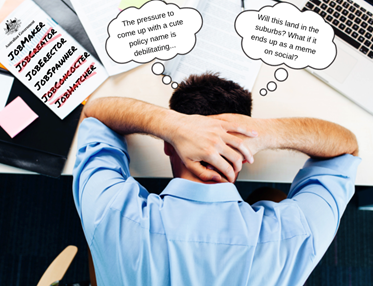 The Federal Government has sneakily leaked its next big-ticket policy story. It does this deliberately to see how the ASX reacts (and/or how much the unions whinge) prior to making a big fanfare about it.

Pundits (in receipt of leaks) are predicting that a 'wage incentive' for hiring new staff and creating new roles in your business will be implemented on October 6th during Frydie's Budget Announcement. No one seems to know how much or for how long, but we LOVE the sound of it already.

So… (more) billions will go into infrastructure, our companies will grow, we'll get paid to take on staff to meet that growth, we'll be able to afford to hire more, we'll take on more work and people, we'll grow some more. Do you see the amazing circularity of that for all of us in industrial services? Is it just me - or are we heading into a 'Golden Age' in our industry in the next 3-4 years?

Fun policy nickname suggestions could be JobGrower, JobSpawner, JobConcocter, JobHatcher and JobErector. Can't wait to see which one they pick!

*JobErector was chosen as the most likely working title.
Carmichael Coal Rebooting Regional Queensland - Just Like We Said It Would
We used to have a saying at iSeekplant - that Bundaberg was the 'invisible line of sadness' in construction in Queensland. Billions of dollars have been poured into SEQ projects for many years, while the regions starved, making life hard for our regional earthmovers and construction suppliers.

Well, that's all turned around and now North Queensland's streets are running with rivers of gold. iSeekplant has been banging on about the Carmichael Coal project for years, and not because of the coal mine project itself (because GOD HELP ME if I say that I support coal mining on social media - despite it still providing 70% of Australia's power and employing hundreds of thousands of Australians directly and indirectly), but because of the 206km of rail line, the port in Bowen and all the associated infrastructure investment that would be made into the Galilee Basin and the surrounding towns inside an almost 1000 square kilometre patch radiating from the mine to the east coast. So far, Adani has awarded $1.5 billion in contracts associated with building the mine, and employed 1500 people directly, not to mention the hundreds and hundreds of orange shirts now working on the site at the project's establishment.

We're hearing HEAPS of scuttlebutt about enterprising suppliers in SEQ plopping their machines and people on trucks and sending them up north-west without firm contract work, just in the hope they might get a piece of the action. That's not an entirely dumb move - given that if Adani did actually try to build that massive rail line, the port and the mine at the same time (which is what they are saying they will do), then we predict that every single civil and mining size machine in Queensland will be needed up there to support the project.
Clive open to approaches on Linkedin - United Australia Party to be Booted for being, well, lame.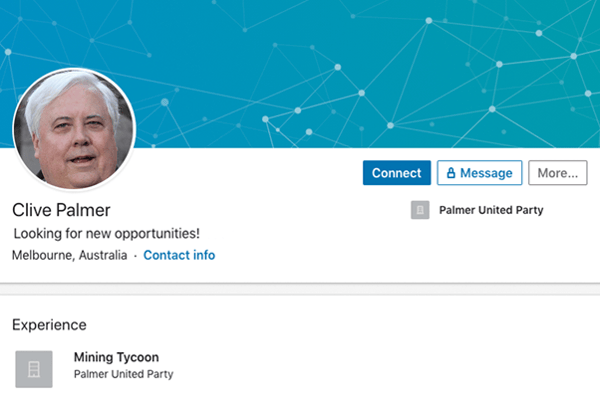 In one of the only events in the global political landscape that gives me hope that the democratic process has not outlived its useful life, The Australian Electoral Commission is seeking to de-register Clive Palmer's United Australia Party for having fewer than 500 active members. Now having less than 500 members isn't actually that easy to flunk - considering that so many other incredibly weird, niche Australian political parties continue to exist with more than 500 active members (see our fun list below).

In one of the most expensive and amusing billionaire follies of our time - Clive spent a large fortune attempting to pivot his career from serial litigator to serial political pest, ham-fistedly meddling in the elections with some of the most reductive, confusing and (as history would ultimately prove) utterly pointless advertising communications I've ever seen. Despite investing more in above-the-line advertising than any of the other big parties across 2 elections, he failed to really win the hearts, minds or seats of Australia.

Here's a fun list of Australian political parties that, with almost no media investment, have maintained MORE than 500 active members:
• Cheaper Petrol Party (not sure if diesel car owners are welcome to join)
• Australian Shooters Party (even murdery Australians need a voice in parliament)
• Help End Marijuana Prohibition (HEMP) (huge membership in Northern NSW, I'm told)
• Common Cause - No Aircraft Noise (please join if you live in a flight path)
• Fishing Party (I Fish and I Vote bumper stickers got them over the line, pun intended)
• Great Australians (absolutely no annoying-prick Australians allowed)
• Nuclear Disarmament Party of Australia (for those of us who are not that into Nukes).
ICYMI - Things have changed at iSeekplant
Last week I wrote a blog letting our customers and users know about a few things that have changed at iSeekplant. Click here to read this update: Changes to iSeekplant you Need to Know About.
To keep up to date with the Viral Upside, industry news and project information, subscribe to the Flapping Mouth blog below!