The only thing you can be sure about as a CEO of a technology company is that one day - you won't be the CEO.
The best advice I have ever been given in my career was this: 'What got you here, Sally Mac, won't get you there' (said in a southern accent by a barrel-chested American man I used to work for at Microsoft).
What that means to me now, is that staying on the 'rollercoaster' of building a technology company is about profound and relentless personal growth, conducted at the same speed that our company grows and in the same direction. Otherwise, your cart (your board or business partners), throws you off.
Everyone has their ceiling of efficacy in their career – the point at which their skills, personality and emotional intelligence holds them back from going further. My personal mission is to not discover my ceiling anytime soon. Wanting to keep changing and growing takes an attitude of permanent curiosity, a belief that 'I know nothing', a willingness to be relentlessly schooled by your investors and board, and a lot of audio-books and podcasts consumed on planes and car trips.
There will be many column inches in publications across the world musing on the rise and fall of Travis Kalanick at Uber (as one of the world's most successful entrepreneurs, this is not the last we'll hear from this guy). He will go down in history as one of the great visionaries – a truly bold and transformative individual who had the stones and cunning to conduct the world's biggest industrial shake-up.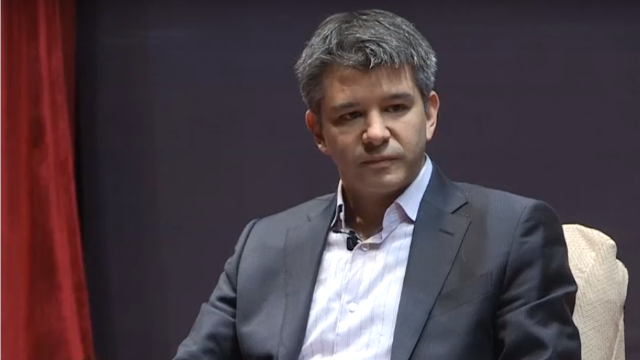 But he will also be a cautionary tale about a career cut short from an inability to personally evolve at the same pace his company grew, and living proof how the biggest companies and countries can rise and fall at the behest of one person's flaws.
I stopped using Uber for about 6 months last year because the stories coming out of that company were disgusting. Their treatment of female employees and their ruthless and unethical badgering of their competitor Lyft warranted deleting their app. That was just the tip of a very grubby iceberg, as a tsunami of corporate scandals flooded our newsfeeds and Kalanick was unable to stem the bleed. What was going on inside that business, was tumbling out of it at pace.
In the early days of your business, it makes sense to hire like-minded individuals who believe in your vision and it's clear that Kalanick preferred to hire people in his own image. Later on, as your business faces more complex problems in scaling, you've got flip that on its head and hire mostly people who disagree with you – because you don't need a bunch of the same perspectives on problems, you need fresh eyes and ideas.
The tendency of Silicon Valley companies to loosen up cultural guidelines to facilitate creativity has been at the core of many successes, but as some grow to monolithic companies requiring the input and collaboration of people from diverse backgrounds – the deep-seeded attitudes of management matter. If leaders aren't genuinely inclusive, neither will their organisations be.
Kalanick's brash leadership and middle-finger-brandishing approach to regulation, law-enforcement and ethical business conduct was the reason Uber is where it is today, but it was a karmic freight train bound to catch up with him.

I've been outspoken about 'Bro-Culture' in modern businesses, particularly the technology space. And I don't mean male-orientated cultures, because I spend my whole life talking to businesses who are 90% male and aren't Bro-Companies. 'Bro-Culture' is a just a modern, sneaker- wearing, beer-pong-playing take on the misogynistic boys club corporate cultures of the 1980s – the white sneaker is just the new smoking jacket. Likewise – I equally hate the fervent 'She-EO' type cultures as well, and despite urging from many people, refuse to watch 'Girl Boss' on Netflix. I just hate cliche workplaces, period. Businesses full of cardboard-cut-out-samesy-tryhards stopped succeeding in the 1950s.
It's a maturity issue largely – because business owners who believe they are invincible, above the law or that the rules that bind society are just 'light suggestions' – are just not old or experienced enough to know that stuff catches up with you, one way or another. Every Bro has their day… and today's is Travis.
Final thought: I actually can't imagine how tough a time that guy is going through at the moment. With the recent tragic passing of his mother, and now this. Sheesh. Travis, if you're reading this (as I reasonably would expect him to be a regular reader of The Flapping Mouth)… you should definitely listen to Katy Perry's last album 'Prism' as you wallow in his Saturn Return – and like Katy Perry, you will phoenix from the metaphorical equivalent of a brief marriage to Russell Brand and 'Roar'. Just hang in there, buddy.
Become a supplier on iSeekplant and make a free profile here
To search for machines or plant hire suppliers, click here.