The Inland Rail mega-infrastructure project, a national rail project that has been discussed, proposed, and studied for over 20 years, finally broke ground in 2018. Now projects across Queensland, Victoria, and New South Wales are ramping up in order to have the Inland Rail line fully operational by 2028. Several of these projects have been posted through iSeekplant - at their various stages of construction. The 1,700km rail line through outback Australia is set to support an estimated 21,500 workers over the ten years the 13 individual projects making up the Inland Rail will take to finish. Here at iSeekplant - we're working really hard for our customers, to ensure they get a piece of the action.
Recently, iSeekplant's General Manager Drew McPherson caught up with Ken Smith, the National Major Accounts Manager at Vermeer Australia, to discuss the opportunities the Inland Rail provides local contractors and what equipment solutions are available in the Vermeer family of precision machines. The interview highlights the benefits of the construction work taking place across Queensland, New South Wales, and Victoria to upgrade existing infrastructure and install new connecting rail lines for the Inland Rail. Also discussed is how Vermeer Australia's diverse range of equipment and machinery helps potential Inland Rail contractors complete construction quickly, safely, and reliably.
Watch the interview here now:
Are you looking to update or upgrade your fleet to ensure you have the equipment you need to get the job done on the Inland Rail? Below we break down the key benefits of having the latest technology and the right equipment to meet the needs of this massive construction endeavour.
Vermeer Australia's Competitive Advantage on the Inland Rail Infrastructure Projects
Vermeer Australia has spent over 30 years establishing its reputation as a quality provider in the agricultural, civil, construction, utility, mining, forestry, and natural resource management industries. From trencher attachments for your mini skid steer loader through to horizontal directional drills and surface miners, Vermeer has the right machine for your unique construction task.
On the Inland Rail project, there will be major excavation and construction works undertaken across 3 states, as well as the installation of thousands of kilometres of pipelines, culverts, kerbs, access roads, alongside the construction of many bridges. In order to complete this work efficiently, cleanly and safely you have to offer a unique fleet of modern, hi-tech machines to stand out from the thousands of other service providers hoping to win work on the project.
Vermeer's Trenchers Can Support Inland Rail Infrastructure Construction
Vermeer Australia supplies a wide range of trenchers, from attachments to ride-on trenchers all the way up to tracked trenchers - suitable for the full range of varied excavation work required on the Inland Rail. Trenchers could be used to dig trenches for utilities such as communications, power, water and drainage alongside the rail line, and at specific access points throughout the regional towns it intersects.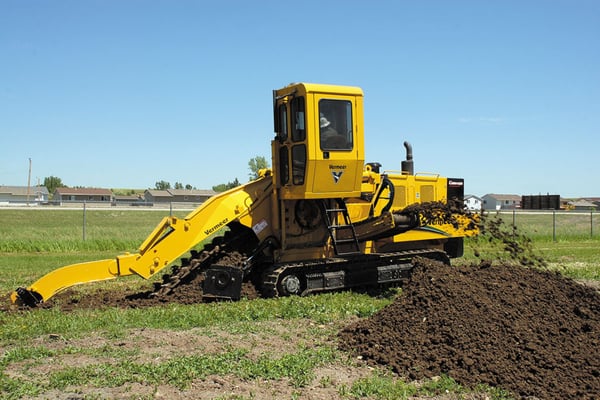 The Vermeer T755 (featured in the above video interview) and the Vermeer tracked trencher fleet are capable of handling many different types of ground and aggregate that will be found along the Inland Rail project as the earthworks packages progress. No other machine is as efficient at completing large scale trenching as Vermeer's purpose-built fleet.
Vermeer's Surface Miner Can Replace Drill and Blast on the Inland Rail
Another of Vermeer's industry-leading machines is their Surface Miner. When you need precise rock and surface excavation without drastically impacting noise levels, air quality and vibrations the Vermeer Surface Miner is the machine for the job.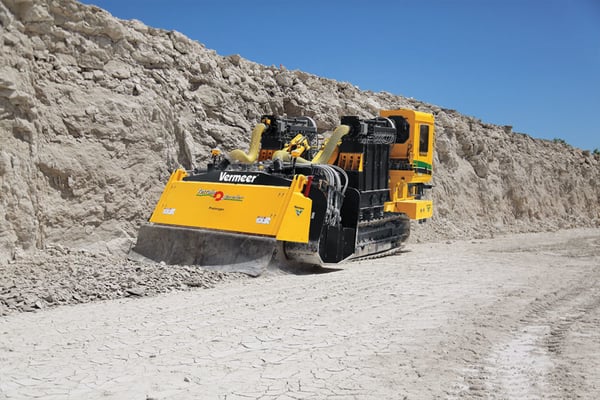 In recent times, Surface Miners have begun to replace traditional excavation methods such as drill and blast because they are more efficient, precise, and environmentally friendly. Gone are the days of clearing a site for days at a time while drill and blast took place, the Vermeer Surface Miners are able to work alongside other machinery on-site, keeping massive projects such as the Inland Rail, on time and on budget.
One question often raised when we talk to contractors about working on the Inland Rail is the problem of maintenance and servicing when the project is often a great distance from regional hubs and service centres. When you have Vermeer Australia equipment in your fleet, or on your site, then you have access to 29 services centres and more than 140 service technicians who can be deployed immediately to your site, regardless of how remote it is.
Everything You Need To Know About The Inland Rail Project
The Inland Rail project is a $10 billion dollar construction project consisting of 13 individual projects across 36 local government areas in Victoria, New South Wales, and Queensland. It is such a massive construction task, that it is expected to increase Australia's GDP (Gross Domestic Product) buy $16 billion during construction and the first 50 years of operation. But how will this happen? First, we start with why the Inland Rail was commissioned in the first place.
Why Build The Inland Rail?
The Inland Rail was deemed to be the most viable solution to an existing and future problem with cross-state freight transport. Currently, 74% of freight transiting between Melbourne and Brisbane is carried via road. This has contributed to congestion in major cities, safety concerns between trucks and cars, and constantly increasing CO2 emissions.
The Inland Rail will relieve pressure and congestion on other freight road and rail routes through travel speeds of up to 115 km/h, 1,800m train lengths, double-stacked containers, and reduced fuel consumption. Some of the key benefits of the Inland Rail are listed below:
Is compatible and interoperable with high productivity train operations in the east-west corridor, as well as across to Adelaide and Perth
Uses and enhances existing rail infrastructure where possible, making the most of recent investments
Bypasses the congested Sydney rail network
750,000 fewer tonnes of carbon emitted and one third the use of fuel of road trucks
Improves connections with regional and local rail and road networks
Will cover its ongoing operating and maintenance costs, once operational
The Individual Projects Making Up The Inland Rail
The 13 individual construction projects are made up of one in Victoria, seven in New South Wales and five in Queensland, including a 6.2km tunnel through the Toowoomba Range. 1,100km of existing rail infrastructure will be upgraded to the Inland Rail requirements, with a further 600km of new track being laid to close the current gaps in infrastructure. With only one of the projects currently in the construction phase, if you are thinking of tendering or applying to work on the project, now is the time to take action.
The 13 individual projects that make up the Inland Rail will require major construction for up to eight years, not just on the rail itself but on supporting infrastructures such as site offices, accommodation, roads, bridges, culverts, and tunnels. This work provides an opportunity for a range of local contractors to work on the most significant rail project the Southern Hemisphere has seen. To learn more about the project read our Inland Rail complete guide.
Talk to the team at Vermeer Australia Today to Learn More
Whether you're curious about how Vermeer machinery could fit into your fleet, or if you want to know more about their exceptional service and support offering to give your business the best chance of winning work on the Inland Rail project, get in touch with the team today through the form below.
Talk to the experts at Vermeer Australia to find out how they can support you to win work on the Inland Rail Project.
The Inland Rail is set to be a defining project of the next decade for not only the East Coast but for the whole of Australia as we build one of the biggest national freight rail lines in the world. Don't miss your chance to be a part of all the action, with purpose-built machinery designed for the construction of major infrastructure such as the Inland Rail, Vermeer Australia should be your first call.