It's not often that you find a plant hire and civil construction company that lasts past the 10 year mark these days. With so many things to contend with, from advancing technology, construction industry highs and lows and new competition, there are many reasons why companies don't make it that far. But not Vernice. Vernice is an earthmoving company based an hour out of Perth, Western Australia, and has been operating since 1960.

To say that the West Australian market for machinery and plant hire is volatile is an understatement, to say the least. The state sees massive fluxes in demand, to the point machines are shipped across the country to fulfil it, to work drying up for six months or more. Surviving this environment takes guts, determination and high-quality service. Vernice set out from the start to provide all of those things, knowing that reputation above all would get them through the tough times.

With over 80 years of combined experience between the two directors, Michael and Stephen, they've quite literally seen it all. By building a strong brand name, reputation for quality work and positive relationships with clients, many of the projects Vernice works on is repeat work through past clients.
Vernice's favourite West Australian Infrastructure projects from the past 5 years
With over 40 years experience in the civil construction and earthmoving machinery hire, if you asked the team at Vernice which are their favourite projects over the years they'd be hard-pressed narrowing it down! The last five years though have seen Vernice contribute to some great projects that are building West Australia's infrastructure.
Badgingarra Wind Farm Construction
The Badgingarra Wind Farm was a $130 million development project that took just over two years to complete. The wind farm generates over 130 megawatts of power that goes directly onto the Western Power electricity grid. The power generated by the Badgingarra Wind Farm is equivalent to powering 115,000 Western Australian homes, saving more than 420,000 tonnes of greenhouse gas emissions annually.

Vernice played a crucial role in the Badgingarra Wind Farm's construction. The West Australian civil contracting company was tasked with building the base of the wind power station and the construction of safe, strong access roads between each of the farm entries. Fourteen of Vernice's heavy construction machines were used to complete this work, including scrapers, rollers, graders and excavators.
Quairading Road Works
The upgrade of the York-Merredin Road in the Shire of Quairading was a $650,000 project that provided stability to an important part of the regional road network. The upgrades saw an old timber bridge replaced with a culvert spanning 12 metres wide, providing two 3.5 metre-wide lanes, 1 metre-wide sealed shoulders and 0.5 metre-wide unsealed shoulders. The project was headed up by Ventia Opus, with Vernice undertaking much of the earthworks requirements.

Vernice activated a number of their earthmoving machinery for the upgrade of the York-Merredin Road in West Australia's east. The upgrade of the bridge and surrounding roads ensured that freight from the Wheatbelt region has a safe and reliable route to transport goods that support the economies of Quairading and surrounding towns.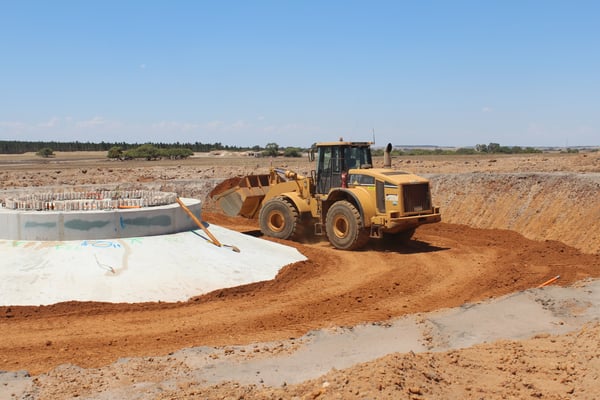 Northam Eco Village Construction
In 2018 the Northam Eco Village was constructed thanks to the team at Vernice. The Eco Village is aimed at over 45's and retirees, providing a home and community without all the hassles of owning a standard house. The village consists of a pool, gym, clubhouse and general community areas, all of which were constructed by the team at Vernice.

Much of the construction work that Vernice undertook included the installation of underground utilities, road construction, slab construction and house construction. They were able to see the entire project take shape thanks to the dozers, graders, wheel loaders and more they had working on-site. At the end of the construction, everyone from team Vernice agreed that the build had been thoroughly enjoyable and they were proud to contribute to a project that supports a local community.
Carrabin Main Roads Upgrades
The upgrade to the Great Eastern Highway at Carrabin is part of a larger upgrade encompassing 11km of the Great Eastern Highway between Walgoolan and Southern Cross. The $7.8 million dollar project is currently underway and will see major upgrades to passing lanes and roads widened. The road upgrade at Carrabin cost $3.7 million and in particular, saw 3.2 kilometres of the Highway's curves realigned and a dangerous intersection upgraded.

Vernice was the major earthmoving contractor on this project, using their highly sought after road construction and earthmoving skills to complete the group of works. On top of the realignments and intersection upgrades they also completed upgrades to the information centre and parking bay access, roadhouse access, pavement and drainage around the area. The upgrades create a much safer road journey for one of the most important highways linking Perth and the east coast to the rest of Western Australia.
Vernice knows how to stand the test of time
Vernice has not only been able to build a brand over the past 60 years but they've also built a team of loyal and high-quality workers. Employing 20 full-time operators, of which three are full-time fitters and one is a boilermaker, they also have an OH&S Officer and an HR & Operations Manager.

Having these employees enables Vernice to cover all areas of a project, without needing to get other contractors in. But more than that, they've been able to create an environment where everyone pitches in and supports one another. Something Vernice believes is the most important part.

With years of experience building airstrips, dams and wind farms, as well as working on major road and infrastructure construction and upgrades, Vernice has the skills, experience, equipment and operators needed to complete any project across West Australia.