Victorian Premier Daniel Andrews has announced that his government plans to build a $50 billion underground rail expansion, known as the Suburban Rail Loop, around Melbourne.
"We'll build an underground suburban rail loop connecting Melbourne's train lines. It will get you where you need to go, wherever you live – and that's what our growing state needs," said Premier Andrews.
12 new underground stations will be built as part of the 30 year expansion, connecting Cheltenham, Clayton, Monash, Glen Waverley, Burwood, Box Hill, Doncaster, Heidelberg, Bundoora, Reservoir, Fawkner, Broadmeadows, Melbourne Airport, Sunshine, and Werribee.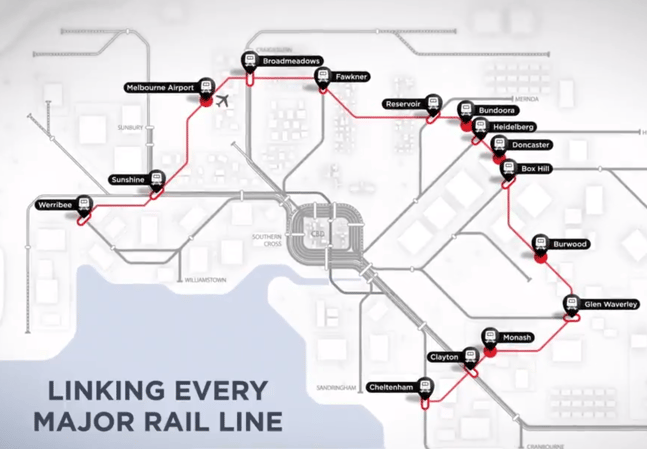 "New underground rail connections to Deakin, Doncaster, Monash and more - that's what our growing state needs," tweeted Premier Andrews.
Funding is largely expected to come from the Commonwealth, with the project expected to gain national media attention in the build up to Victoria's next state election, as well as a federal election later this year or early next year.
The 20,000 jobs on offer are to be delivered over a whopping 30 years of construction.
Premier Andrews has cited a 2022 start date with a 2051 completion date, if funding goes ahead.
The 90km project will allow people to travel around Melbourne, from Cheltenham to Werribee, without the need to travel into or through inner Melbourne.
RMIT's urban policy professor, Jago Dodson has suggested that a "whole-of-Melbourne plan would be better".
"We're just seeing these projects being dreamed up and plonked down without that wider strategy," Professor Dodson said.
Monash University transport engineering expert, Graham Currie has suggested that $50 billion price tag was underestimated.
The project aims to significantly reduce inner city traffic and public transit congestion.
Additionally, commuters will be able to travel from Melbourne Airport to Cheltenham within 45 minutes.
The expansion is expected to allow for greater travel flexibility for Melbourne residents, making more locations viable for both work and leisure.
Source: Victorian Government