When you're planning a construction or renovation, welding probably isn't the first thing that come to mind. Nonetheless, welding has several uses when it comes to such projects, including include metal gates, fences, railings, and garages.
But like any DIY construction or renovation, taking on a welding project – especially if you don't have any experience with it – is complicated and ill-advised. It's expensive, risky (you could burn or blind yourself), and more difficult than you think.
For best results, you should hire a qualified welder – because working with a tradesperson is a safer and more affordable alternative. Welders undergo rigorous certification and training, so you can be sure about the outcome.
But as with any professional contracting service, you need to enter it fully aware of the expenses. To give you an idea on what to expect in terms of outlay, we've put together this welding cost guide.
What does a welder do?
A welder is a tradesperson who specialises in using welding gear like torches and lasers to shape, cut, and combine materials like metals or thermoplastics.
Their tasks commonly include (but are not limited to) the following:
Fitting and putting together fabricated metal components to build machines and equipment.
Repairing the metal parts of various structures like residences, buildings, barns, pipelines, bridges, cars, and ships.
Cutting, attaching, and installing pneumatic pipes.
Forming bar stock and metal castings.
How much does a welder charge?
So how much is a welder right now? The average cost should be about $62 per hour. Welding charges may vary depending on a job's difficulty. As a result, prices may go as low as $50 per hour, or as expensive as $70 per hour.
Factors that affect welding costs
Difficulty, however, is not the only variable that influences welding charges. Here are the other possible factors involved:
Materials
To perform a welding task, a welder will need several things like welding gas, wire, electrodes, sanding paper, grinding wheels, UV and high-temperature paint, and sharpening stones.
A professional should already have these materials, but they're part of a tradesperson's operating cost. Thus, these expenses are passed on to you.
The type of metal used for the job is a welding cost factor as well. The budget option is usually stainless steel, while the more expensive choices include cast iron and aluminium.
Size of the project
Because welding charges are usually billed on a per-hour basis, larger welding projects will typically cost more. Likewise, large projects will need more materials to complete.
Small jobs (e.g. fixing a metal post or mailbox) on the other hand will naturally be cheaper than large-scale projects.
Note that mobile welders may charge a travel fee for bringing their equipment to your home or establishment. Think of it as some form of call out fee, which covers their time and travel costs.
To reduce your welding cost, consider bringing the broken item to the fabrication shop instead – provided it's small enough for you to carry.
Location
Welding charges vary depending on where you are. For example, welders in Western Australia and New South Wales charge about $70 per hour. Meanwhile, the cost of welding services in Queensland is around $65 per hour.
How do you calculate welding costs?
For every metre of welding work, its corresponding expenses are usually broken down as follows:
The welder's pay accounts for about 76% of overall expenses.
Gas usage accounts for about 9% of overall expenses.
Welding wire use represents around 6% of overall expenses.
Welding unit cost (i.e. purchase, depreciation, and interest) represents about 5% of overall expenses.
Electricity consumption represents around 4% of overall expenses.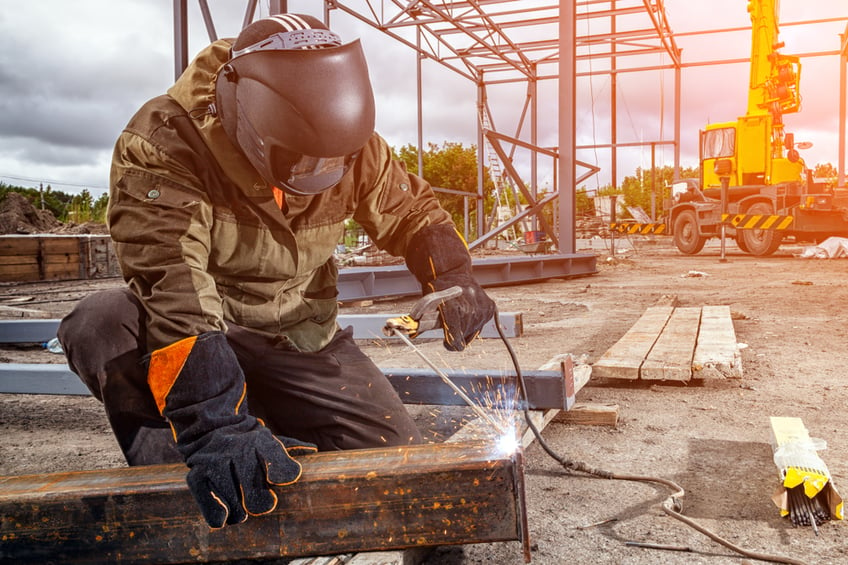 What are the different types of welding?
There are many different types of welding methods out there. Here are the most common ones used:
Tungsten inert gas (TIG) welding – This is an arc welding method that uses a tungsten electrode to produce the weld. TIG welding is versatile – arguably the most versatile – and can weld a variety of steel types (e.g. stainless, nickel-based, aluminium alloys, titanium). One limitation is that TIG welding is slower compared to the other methods listed here.
Stick welding – Otherwise called shielded metal arc welding, stick welding uses stick electrode rods to produce the weld. It's is a robust process that will likely always be used because of its simplicity and effectiveness. You can stick weld in misting rain or gusty winds, and still produce X-ray-quality welds.
Metal inert gas (MIG) welding – MIG welding is a fast welding process that doesn't leave any slag coating because it doesn't use a flux. This speed makes MIG welding suitable for general metal fabrication. The method can weld materials like aluminium and stainless steel in a variety of thicknesses.
Flux core arc welding (FCAW) – This process is similar to stick welding, where you deposit metal through an arc and shield it with the flux. The difference is that the method uses a continuously fed consumable electrode. Like stick welding, FCAW can be used for outdoor jobs and windy conditions.
What is a fabrication shop?
A metal fabrication facility is where metal workers and welders cut, bend, weld, and assemble metal parts, objects, and various other structures using raw materials like sheet metal.
Welding is just one of the tasks performed at fabrication shops. Other value-added processes done there include cutting (e.g. sawing, shearing), forming (i.e. converting metal sheets into 3D parts), and machining (i.e. cutting material into a specific size and shape).
Average fabrication shop rates in Australia can range from $40 to $150, although the most common hourly charges cost around $60 to $80.
How can I find the best welding cost possible?
That's easy: Just visit iseekplant, Australia's trusted search site for hire equipment and contracting services.
Through iseekplant's powerful search capabilities, you can find and compare many welding contractors or fabrication shops in the fewest number of clicks.
Bonus tips:
Choosing the right welder for your project isn't just about doing a cursory online search. You need to find one who has the skills, equipment, and experience to carry out the type of welding you specifically need help with.
Ask for a free estimate from at least three welding contractors on how much your project will cost, then compare their rates to get competitive welding cost quotations. Don't forget to ask for a detailed breakdown of the materials and labour.
For a more accurate estimate, provide the welder as much information as you can about your project. Where will it be located? How many ornaments do you want? Do you have pictures of similar projects?
Found your prospective welder? It's not enough to get their contact details and estimate. Research their previous work and reputation as well. If they have a website, it'll likely show only positive reviews so dig deeper via Google or Facebook to hear about what past customers are saying about them.
But if you're busy and don't have the time to find a qualified welding contractor by yourself, you still have a couple of options:
Give our expert team a call at 1300 691 912; or
Email our Projects Team with your specifications. They will then find you welding contractors who are ready to meet your needs.