Victorian Planning Minister Richard Wynne has approved plans for the construction of the West Gate Tunnel
Running between Yarraville and West Melbourne the West Gate Tunnel and toll road is expected to cost $5.5 billion.
Minister Wynne announced that he signed off on a 10,000-page Environmental Effects Study, which was the final hurdle for the project going ahead.
The West Gate Tunnel originated as an unsolicited proposal by Transurban who successfully pitched the idea to the Andrews Government behind closed doors. Transurban will also build and operate the project.
Once completed the West Gate Tunnel will connect the West Gate Freeway to the Port of Melbourne, CityLink and the Melbourne CBD via twin tunnels.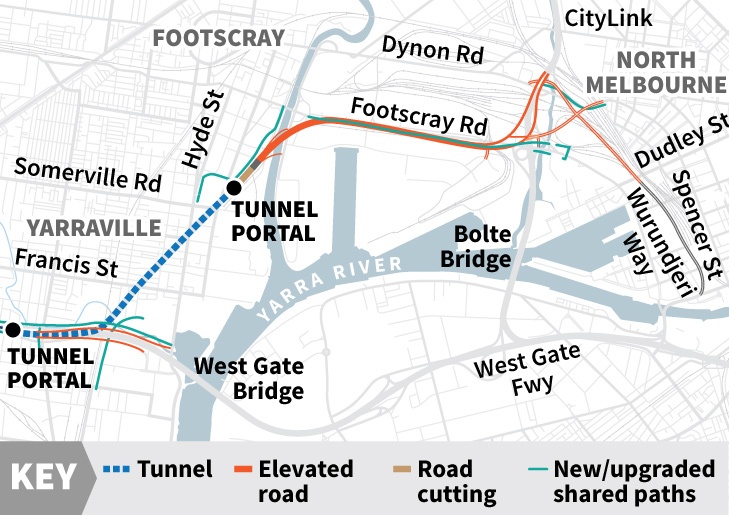 Along with the twin tunnels, this project will involve the construction of three new bridges.

Transurban will pay about $3.8 billion of the $5.5 billion total cost of the West Gate Tunnel. In return for this the Andrews Government agreed to give Transurban the right to toll CityLink for up to 12 more years. CityLink returned $697 million worth of tolls to Transurban last year.
Transurban will not begin construction on the project until 2018 and it is expected to take 5 years to complete the project.
This announcement followed news on Monday that the Government would proceed with the $16.5 billion North East Link.
Overall the construction of this project will include;
widening the West Gate Freeway from 8 to 12 lanes and include express lanes between the M80 and the West Gate Bridge, reducing weaving and merging that leads to traffic congestion.

a tunnel from the West Gate Freeway to the Maribyrnong River and the Port of Melbourne which will take motorists and trucks underground and off residential streets, providing a more efficient freight route.

a bridge over the Maribyrnong River, linking to an elevated road along Footscray Road will get people to where they need to go in the CBD north.

state-of-the-art smart technology across the length of the project linking it to other freeway management systems across the city.
Source: The Age, Victorian Government