Priority Status: High Priority Project
State: NSW
City: Sydney Suburbs
Western Sydney Airport Project Plan
Western Sydney Airport Cost: Approximately 5 billion (stage 1 only)
Federal Funding: 5.3 billion in 2017/18 budget
NSW State Government Funding: N/A
Project Type: Airport - Airport Upgrade
Western Sydney Airport Project Map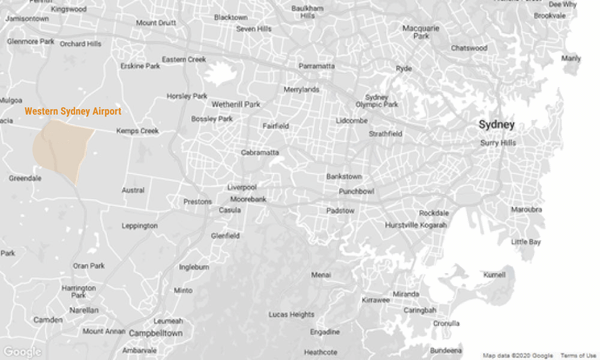 Western Sydney Airport Construction Details
The Western Sydney Airport will have international and domestic capabilities, freight services and contain facilities to cater for 10 million passengers per annum. With works beginning in 2018 and a projected completion date of 2026, the airport will initially be serviced by a single 3,700m runway.
The project is a staged initiative, with additional runway planned to be added in the future, when the need arises. It is anticipated that by 2063, the airport will be servicing approximately 82 million travellers per annum. A Commonwealth company (the Western Sydney Airport Company Limited - WSACL) will be utilised to develop the Western Sydney Airport. The WSACL will be responsible for both the build and ongoing operation of the airport. The Australian Federal Government will serve as the regulator for the airport and ensure all deliverables are met (such as environmental and operational considerations).
Both the Australian and NSW Goverments are underway with the delivery of the requisite rail and road connections to the airport.
Western Sydney Airport Contractor Information
Contract Awarded To: CPB & Lendlease (joint venture)
Western Sydney Airport Jobs & Community Plan
Projected Jobs For Western Sydney Airport: 11,000 in the construction phase
Sydney is responsible for a significant portion of Australia's aviation activity, representing approximately:
45% of international air freight services
40% of international flight services
43% of residential flight services
Currently, the sole Sydney airport (Kingsford Smith) is projected to be significantly over-capacity, as forecasts are for flight demands in the Sydney region to double within the next 20 years. The negative economic impact created from capacity constraints on Australia's largest aviation hub would be significant, as highlighted in the 2015 Australian Infrastructure Audit.
The report highlighted the importance of an additional airport terminal to service the Sydney basin, with the 2016 Infrastructure Priority List classifying the Western Sydney Aiport initative as a "high priority".
Western Sydney Airport Upgrade Timeline
Western Sydney Airport - Construction: 2018
Western Sydney Airport - Completion Date: 2025
Source: https://www.westernsydneyairport.gov.au/, https://www.westernsydneyairport.gov.au/sites/default/files/WSA_Labour_Market_Analysis.pdf