What is a backhoe?
A backhoe is an excavation machine that utilises a digging bucket on the end of a two-part articulated arm. Backhoe loaders are typically loader or tractor units that have a loader-style bucket on the front and a backhoe add-on (a digging bucket on the end of a two-part articulated arm) attached to the rear.
Backhoes are excellent at staying stable while moving heavy loads, as they utilise hydraulic outriggers, stabilisers and a pair of legs that can be lowered down for extra stability.

Backhoes are often used for the laying of telephone cables or pipes within mining or civil earthworks projects, and can also be driven directly to the job site (meaning you won't need to use a long-bed truck to transport the machine). Backhoes have a hinged boom on the back, attached to a machine that looks a bit like a tractor. Furthermore, they have a two-piece boom, and the hydraulic system manages the arm, ensuring that material can be pulled towards the machine and then lifted up.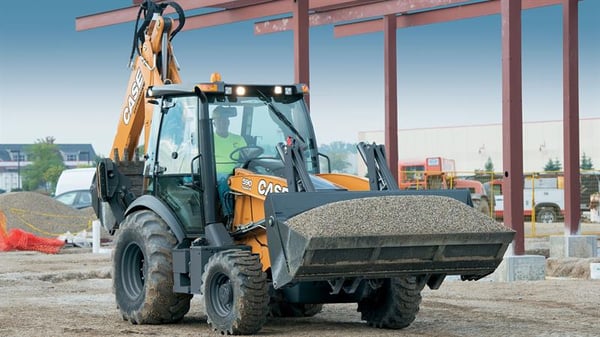 What is a backhoe used for?
When it comes to using a backhoes they can be used for a large range of different projects. When hiring a backhoe you are essentially getting an excavator and a wheel loader in one making it ideal for a large range of projects, while you be able to save money and time as you wouldn't have to hire separate machines. The different sizes such as 2x4, 4x4 and a tracked backhoe make it ideal for all terrains and seasons. Some of the most common uses of backhoe work include:

excavation
landscaping
breaking asphalt
construction
demolition
clearing snow
lifting and positioning cables
material transport
paving roads
ditch digging
trenching and foundation work.

Backhoe loaders are touted for their ability to effectively combine the capabilities of three different machines into one, enabling project managers to utilise less machines on site for the same job. Backhoes can also be used for tasks such as tree planting and small-scale drilling with an auger attachment, and in combination with a front-end loader, are perfect for tasks like clearing dirt or snow from a certain area. Backhoes truly are versatile and innovative machines useful for a wide range of project applications from removing and clearing to building ponds.
After more work for you and your fleet? Register with iSeekplant today for free.
Different types of backhoes?


Naturally backhoes vary from brand to brand, but the major difference between the backhoe models is their driving capacity with 4x4 driven, 2x4 driven and tracked. These different drive capabilities allows backhoes to handle different terrains and seasons. The types of backhoes include:

2x4 backhoe is commonly used on terrains such and industrial yards
4x4 backhoe can handle rougher and more uneven terrains
Tracked backhoes can handle different ground conditions that a season might produce.
Find out more about which backhoe would be the right for your job, whether it be a 4wd or 2wd backhoe.


Where to hire a Backhoe?
If you are in need of a backhoe for either dry or wet hire across Australia, iSeekplant can help! We have Australia's largest database of backhoe hire suppliers across all the major cities and regional areas. Some of the areas we cover include Brisbane, Sydney, Melbourne, Adelaide, Perth, Canberra and Darwin. If you are unsure of the backhoe that you require for your project, gather as much information you can about the project and get in touch with us to get a quote in minutes or contact us on 1300 691 912.
To keep up to date with all of the latest industry and project news, subscribe to iSeekplant's Flapping Mouth blog below!