Dump trucks are heavy machinery used to transport large volumes of loose materials such as dirt, sand, ores, gravel, and demolition waste across mining, civil or major construction sites. If your next construction or mining project requires the transportation of loose material, chances are you're going to need a dump truck. The two most popular dump trucks for hire include rigid rear dump trucks and articulated dump trucks.
Our directory offers a huge volume of power generators for hire by qualified suppliers throughout Australia. These suppliers offer a diverse range of power generators to suit most projects and operations across the nation. Whatever you need to hire - from track mounted dump trucks, to high rail dump trucks, front tip dump trucks, site dumpers, and even underground dump trucks, you can contact our many dump truck hire suppliers directly, and at no cost.
What dump truck do I need?
Dump trucks come in an assortment of types and configurations, with each designed for use across a variety of different applications, so picking the right one for your project or operation is important. Popular applications include using articulated dump trucks for civil and mining operations, rigid rear dump trucks for use in tandem with hydraulic excavators in mining, site dumpers and front tippers for use in compact or low capacity operations, track mounted dump truck for operations that require work on sandy, bog, dirt, snow, or muddy terrain, hi rail dump truck for use in railway projects, and underground dump truck for use in both hard-rock and soft-rock underground mining and tunnel construction projects.
How does a dump truck work?
Dump trucks are typically filled with dirt, sand or minerals by another machine where it then transports and dumps its load at a specified location. As such, the key feature of a dump truck is the dump box which is powered by hydraulics, allowing operators to lift and tip loads. In layman terms, hydraulic hoist systems are used to lift the dump box when it needs to be emptied.
What are the different types of Dump Trucks?
1. Articulated Dump Trucks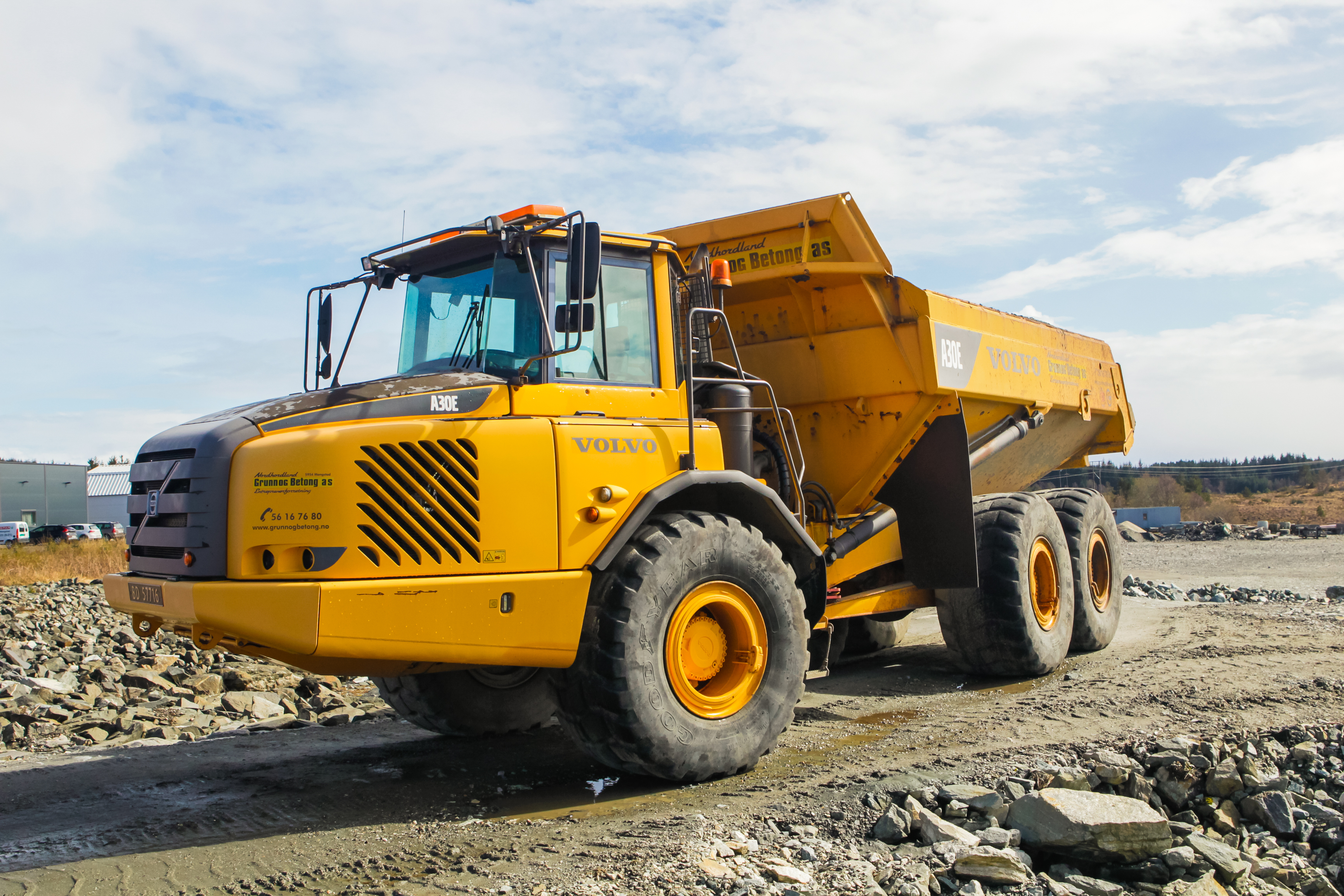 Articulated dump trucks (which are hinged between the cab and the dump box) are hugely prolific in the civil and mining industries. Articulated dump trucks are large, heavy-duty dump trucks that are used off-road to transport bulk loads across rough terrains. Moxy Engineering is a popular manufacturer of articulated dump trucks, over time many in the earthmoving industry have grown to use the generic term 'Moxy truck' to describe the articulated dump truck.
Typically Moxy dump trucks have an all-wheel drive and when steering the machine, the operator will pivot the front cab section in relation to the dump box rear by using hydraulic rams. This allows its wheels to follow the same course and make a Moxy truck an ideal off-road vehicle.
Articulated dump trucks are also excellent for major projects with a degree of limited space, due to their smaller turning circle. If you need to haul bulk materials from A to B for your next sub division, civil or mining project, consider one of iSeekplant's numerous articulated dump truck hire suppliers. There's a wide range of articulated dump trucks for hire from 10 tonne to 40+ tonne capacity.
2. Site Dumpers & Front Tippers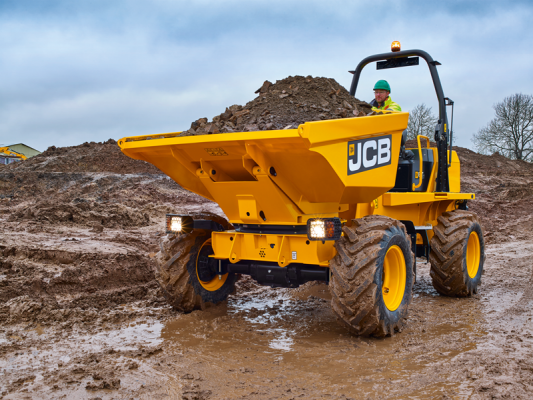 Site dumpers and front tippers - if your project needs something more compact, a site dumper or front tipper might be your best bet. With the driver at the rear of the machine protected by roll-bars, the capacity of these trucks range from 1 tonne to 10 tonne, while being both safe and sturdy in confined work areas.
Site dumpers are handy compact machines used for off road cartage of loads on site and are available to hire in a variety of configurations. As an extremely versatile earthmoving machine, site dumper's are engineered with an 180° swivel skip bin which allows for precise backfilling. Front tippers' ability to pivot sharply and oscillate allows you to get in and out of any tight access areas on your job, no matter how muddy or slippery the conditions.
For all these reasons, site dumpers have become very popular in the civil and building industry. To get a site dump truck working on your next project, check out our reliable site dumper and front tipper dump truck hire suppliers listed on the iSeekplant database.
3. Rigid Rear Dump Trucks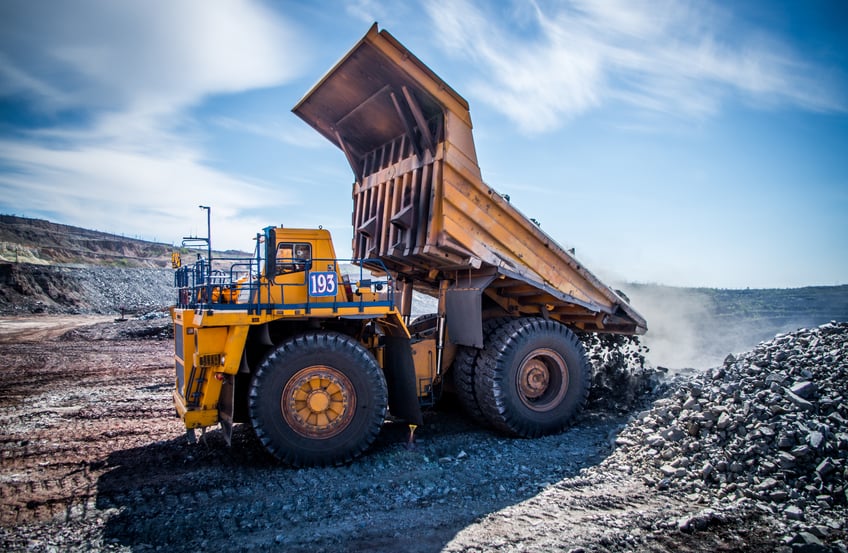 Rigid rear dump trucks are one of the most popular types of dump trucks to hire is a rigid rear dump truck, perfect for use in tandem with hydraulic excavators in mining. These machines are found only in mining and quarrying applications and can be literally enormous.
Rigid rear dump trucks are perfect for off-road mining and heavy dirt hauling projects where you might need to dig out roads and need a truck to haul the massive amounts of dirt to another location. However, rigid rear dump trucks have limited flexibility, and require significant training and skill to operate given their gargantuan capacities.
With superior hauling capabilities, even the biggest payloads can be accommodated by our rigid dump trucks; iSeekplant has rigid rear dump truck hire suppliers with options ranging from 30 tonne up to a 400 tonne capacity.
4. Track Mounted Dump Trucks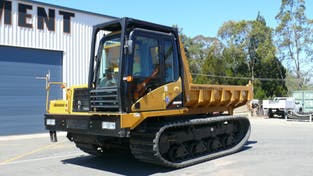 Track mounted dump trucks are rugged, uneven, slippery, steep or soft terrain and tight access areas present a major hurdle for most rubber-tired haulers. This is where track mounted dump trucks (also known as crawler dump trucks and crawler carriers) come in.
The crawler dump truck is specifically designed for off-road applications and has the added benefit of being able to manoeuvre in spaces too small for larger machines. Track mounted dump trucks are used to transport material across soft, wet underfoot conditions including muddy or sandy construction sites and marine environments. Their tracks help spread the weight of the dump truck evenly and prevent the machine from getting bogged.
Morooka is the most well-established manufacturer of rubber tracked crawler carriers. The Morooka truck's rubber tracks have no joints and can maintain a high speed while applying low pressure on the ground. Hiring a track-mounted dump truck could be the most effective for your job if you're working with challenging, inconsistent or loose terrain.
5. Underground Dump Trucks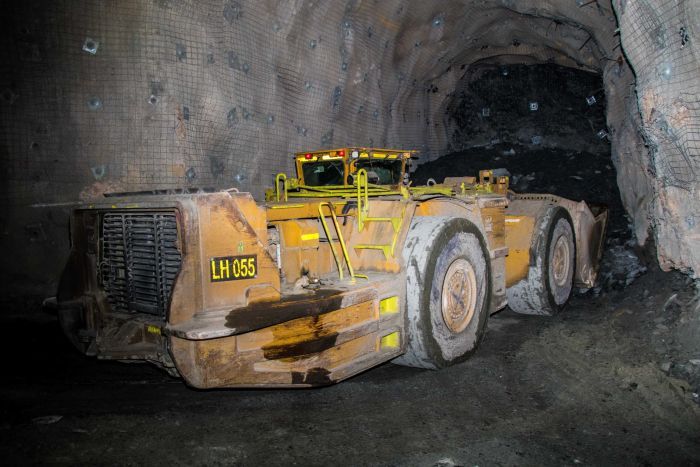 Underground dump trucks are designed for high production, low cost-per-tonne hauling in underground mining applications and carrying payloads from 30 to 55t and above. Underground dump trucks can be used in both hard-rock and soft-rock underground mining and tunnel construction.
Operators working on these projects often put in long operating hours. As a result, underground articulated truck manufacturers have made driver comfort a top priority (other than safety - which is always the most important factor). Many modern underground dump trucks are now ergonomically designed for comfort, control, productivity and to minimise operator fatigue.
6. Hi Rail Dump Trucks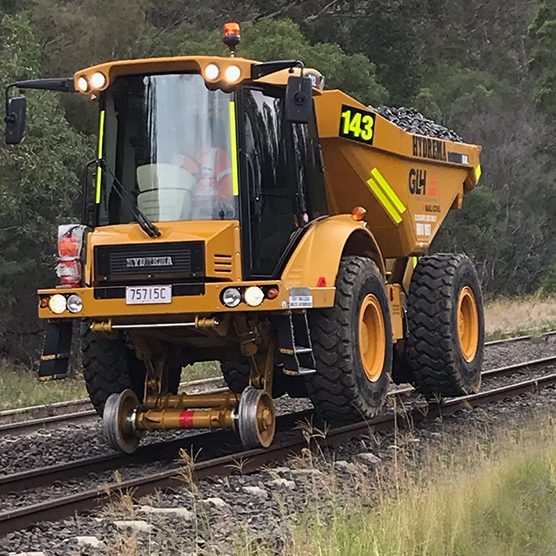 Hi rail dump trucks are built for use in rail construction and maintenance, this includes transporting track ballast (crushed stones) alongside rail lines. The high rail dump truck is equipped with rail wheels which allow the machine to drive on and off railway tracks.
The hi rail dump truck gets its name from highway and rail, meaning it can operate both on a conventional road and on rail tracks. Basically, a hi rail dump truck has all the features of a 'normal' dump truck but can be converted to drive on rail lines by lowering its rail wheels.
What are typical dump truck hire rates?
The biggest determining factor affecting dump truck hire rates is whether the dump truck is offered on wet hire or dry hire. Dry hire means you'll get the machine, but you'll need to supply your own operator. Whereas, wet hire means that one of iSeekplant's many dump truck suppliers is responsible for supplying you with the machine, as well as a skilled operator.
We've seen dump truck operator fees sitting at around $40 to $60 per hour extra on top of the machine hire rate. However, you will often be able to negotiate wet hire rates based on a driver's experience and qualifications.
With articulated dump trucks, we've seen them go out on dry hire from as little as:
$50/hour for smaller 10-tonne models
$170/hour for 30 tonnes
up to $400/hour plus for larger 40+ tonne models.
We've also seen small models of rigid rears being hired out starting from $14,000/month (not including maintenance and mobilisation).
Standby rates may also apply when hiring a dump truck – especially when being hired hourly. For example, an operational rate might be $150/hour with a stand by rate of $145/hour.
Cleaning fees may also apply for when equipment is returned after hiring – we've seen typical cleaning fees sitting at around $50 - $100.
If you are starting to feel as though you need a dump truck hire for your project, reach out to iSeekplant today and get rates for quality machines in your area. Our network not only services Brisbane, Sydney, Melbourne, Canberra, Perth, Darwin and Adelaide, but also regional Australia. Whether you are after operational expertise, location proximity of machine or duration of hire, look no further than iSeekplant.
Be sure to subscribe to the Flapping Mouth Blog for invaluable industry insights, reviews and daily content including our article on the biggest dump trucks in the world.