Scrapers
are powerful machines that are typically used for agricultural, mining and construction projects. Scrapers are capable of completing digging, loading, hauling, dumping and earthmoving projects. While they may look similar to
graders
, scrapers differ by having a hopper and gate with a blade at the bottom. As the blade scrapes up dirt or other materials when the machine moves forward, the material is forced into the hopper. Once the hopper is completely full, the material is taken away to be disposed of.

These machines work most efficiently when the fill and cut areas are close together and long enough for the hopper to be filled in one run. It's also possible for a team to use multiple scrapers in a long cut area, along with dozers and the push-pull technique.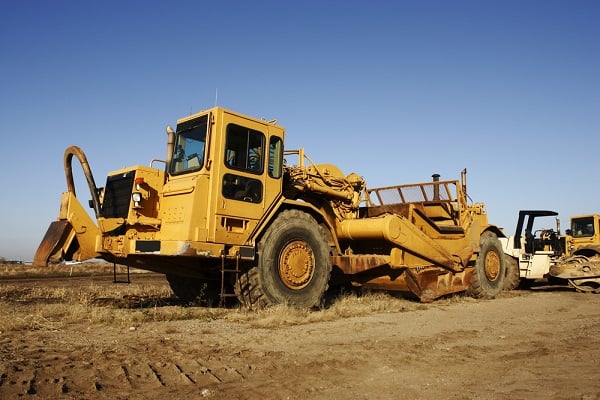 How do scrapers work?
Scrapers are somewhat similar to graders, but have a vertical movable hopper (or bowl) attached to the rear, which features a sharp front edge that is used to cut into surface soil. During operation, scrapers move forward while the front edge cuts into the ground, breaking up soil and dispersing it into the hopper or bowl. Once the scraper bowl or hopper is full of soil, it is then raised, sealed and transported to another area or disposal site.
What are the different types of scrapers?
Open bowl scrapers is the most basic type of scraper, featuring a hydraulically powered hopper that moves on a vertical axis. While the front part of the hopper can self-fill, dozers are also necessary for most projects.
Open bowl twin power scrapers or tandem-powered scrapers are typically used for large scale earthmoving projects. These scrapers have rear axles with an engine on the front with a capacity of up to 400kW.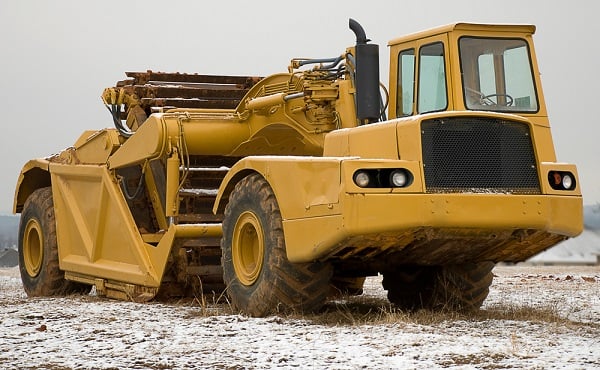 Elevating scrapers, unlike open bowl scrapers, have aprons that cover the material to retain it. These scrapers are usually equipped with electric or hydraulic-driven elevators made up of two chains and a series of crossbars. Material is dumped from elevating scrapers when the floor of the bowl is slid backwards, and the elevator is also reversed to ensure that the load is evenly dumped.
Laser scoop scrapers, also known as laser bucket scrapers, are augmented scrapers with a laser-powered scoop trailer or laser bucket attached to the rear of the machine. These scrapers offer extensive field levelling capabilities with their advanced accuracy.
What are the typical scraper hire rates?
Scraper hire rates vary depending on location, hire-period and equipment selection. iSeekplant can get a few rates from scraper hire suppliers in your area to ensure you get the best rate possible for your project.
Hire a Scraper with iSeekplant
If you're not sure which type of scraper to hire for your project, get in touch with the iSeekplant on 1300 691 912 or use our get a quote tool now. Our directory offers a variety of scraper hire suppliers across Australia in all major cities including Brisbane, Sydney, Melbourne, Adelaide, Perth, Canberra, Hobart and Darwin, along with regional areas. These suppliers offer a diverse catalogue of trenching solutions to suit a variety of projects across the nation.
To keep up to date with the current construction industry news and projects, subscribe to iSeekplant's Flapping Mouth Blog below.