Types of Street Sweepers
There are different types of street sweepers, which are designed for construction sites, urban settings or roads. There is a mechanical sweeper where the debris is swept onto a conveyor system and breaks down larger particles into smaller ones, which then transports the material to a collecting hopper. Then there is a regenerative air street sweeper where, the air is blown onto the pavement by the machine, raising fine sediments and particles, which are then vacuumed up.
Another is the vacuum street sweeper, which combines the vacuuming power of the regenerative air sweeper with the mechanical model's sweeping power. As well, some street sweepers have sprayers and water tanks, which reduce dust and loosen particles.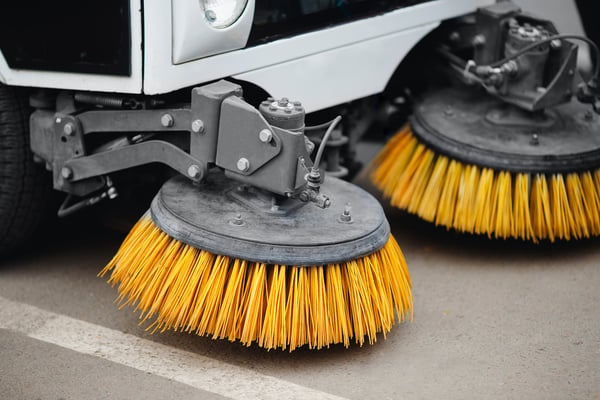 Why hire a Street Sweeper?
In road construction jobs contractors need street sweepers that can handle a variety of heavy materials, including construction, mud debris, concrete and asphalt millings. It is also important to assist in meeting the environmental legislative requirements of solid waste from civil and construction and demolition sites. So street sweepers need to have the ability to dump this debris into a dump truck so that the road construction site doesn't need to be cleared.
When you're going to hire a street sweeper make sure you know the added requirements they need before you hire. To start, you will need to know your required transport speed. Is there a large distance between the overnight parking location for the sweeper and your site? Also, how are you planning for debris to be transported to your disposal site? Will the sweeper be off-loading into a dump truck, which can then transport the material away? Answering these questions will help to find out which street sweeper fits the sweeping requirements for your next project.
If you are thinking that you'll need to hire a street sweeper, get in touch with the iSeekplant team on 1300 691 912 or projects@iseekplant.com.au, otherwise use our Get a Quote tool. We have street sweeper suppliers located across Australian in Brisbane, Sydney, Melbourne, Canberra, Adelaide, Perth, Darwin and regional areas.
Subscribe to iSeekplant's Flapping Mouth Blog below to stay informed with the latest industry projects and news across the country!