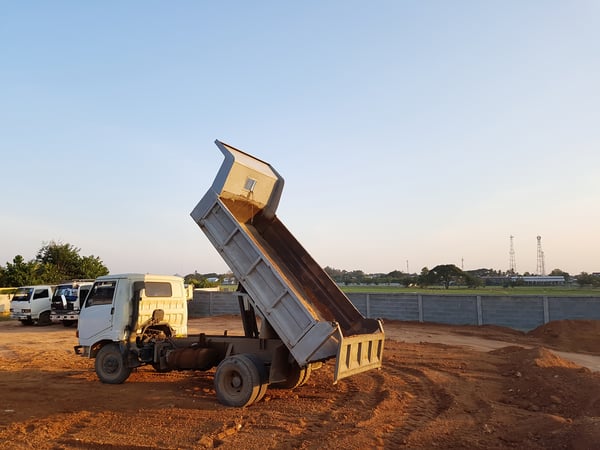 What kinds of tipper trucks for hire are there?

There are a number of tipper trucks for hire available in the construction and mining plant hire marketplace. Some of these include:
Although there are many tipper trucks for hire, the two most popular dump trucks for hire include rigid rear dump truck hire and articulated dump truck hire.
These machines are typically found only in mining and quarrying applications due to their gigantic size. Perfect for off-road mining and heavy dirt hauling projects, rigid rear dump truck hire is great for sites where you may need to dig out roads and require a truck to haul the massive amounts of dirt to another location.
With superior hauling capabilities, even the largest payloads are able to be accommodated by rigid rear tipper truck hire. However, rigid rear dump trucks have limited flexibility, and require significant training and skill to operate given their enormous capacities.
Hugely available in the civil and mining industries, articulated dump truck hire provides a large, heavy-duty dump truck that is used in off-road conditions to transport bulk loads through rough terrain. Also known as a 'Moxy truck', articulated dump trucks have an all-wheel drive and when steering the machine, the operator will pivot the front cab section in relation to the dump box rear by using hydraulic rams. This enables its wheels to continue the same course and make Moxy truck hire ideal for off-road transportation needs.
Where can I hire tipper trucks?
The best selection of tipper truck hire is available through iSeekplant. All of our dump truck hire options come with a fully licensed operator that will easily be able to assist you with your next project, big or small. So whether your needs require a tipper truck in Brisbane, Sydney, Melbourne, Canberra, Perth, Darwin, Adelaide or maybe somewhere in between, we will have you sorted. For all of your Moxy truck hire needs, contact us today and speak to one of our friendly operators about an obligation-free quote.
Subscribe to iSeekplant's Flapping Mouth Blog below to stay up to date with the latest construction industry news and projects!