Clean fill in terms of waste materials refers to materials that can be reused and recycled for future use in construction projects. The term "clean" indicates that the material, in particular, does not contain any toxic substances that make it harmful to people.
Therefore, it's safe to say that clean fill is mostly an eco-friendly material that can be used for construction. Several factors will determine whether a particular material is considered clean fill including:
The material does not have any dangerous effects on humans and animals.
The material must be eco-friendly and not pollute the environment when disposed of.
Have never been treated with any chemical for any contamination.
Clean fill materials are often found at construction sites and other places where waste is usually deposited.
What's more, clean fill materials are usually disposed of uniformly and directly to the site where they can be reused without fear of degradation or being of a low standard.
Conversely, non-clean fill is the opposite of clean fill as far as environmental awareness is concerned. They are demolition waste that cannot be reused for construction and are non-hazardous.
Clean fill vs. non-clean fill waste disposal – what's the difference?
Disposal of clean fill materials is usually done directly by waste companies where they are then dumped at the sites where they are needed. The process is environmentally responsible and ensures that there is the proper usage of disposable materials so that they do not end up being deposited in landfills. To make this happen, contractors usually create standards that promote proper construction site management that enables the safe disposal of construction waste.
Non-clean fill disposal on the other hand cannot be reused for construction and therefore cannot be disposed of directly to any construction site because they cannot be used further in any construction project.
What can be classified as clean fill materials?
Clean fill materials are often reused in construction sites and can include:
What is considered a non-clean fill material?
Non-Clean fill materials are materials that cannot be reused on construction sites for any other means. These include:
Plastic
Fibreglass
Glass
Metals
Cardboard
Household and electronic appliance materials
How does clean fill disposal work?
Clean fill disposal is mostly regarded as an environmentally conscious process. It is called so because it enables a seamless transfer of construction materials from a construction site where they're considered rubble or waste to another site where they can be useful without unnecessary dumping. The process also makes it possible for contractors to save costs by moving their waste to where they're needed at no extra cost.
What's more, the process involves moving unneeded materials such as concrete, topsoil, sand, gravel, dirt, and rubble using a dump truck and relocating them to another project site. The decision of where the materials are needed is made by the site managers who arrange how the materials can be moved with ease.
Where does clean fill go & what is it used for?
Clean fill materials are mostly transferred from one site to another and can be used in those sites for several reasons. Clean fill can be used to change the grading and elevation of a site as well as to create artificial hills to halt erosion in construction sites. Here are some of the uses of clean fill.
Clean fill dirt for landscaping
Clean fill can be a very good option if you want to perform landscaping for your site. Sites that are not level can be a nightmare for any contractor because it will take a lot of planning to find the needed material to level them.
Additionally, clean fill materials can be drafted in such situations and the materials transferred to fill in the necessary sections of the site. This option can even get better when you're recycling from one of your projects to another one of your construction projects.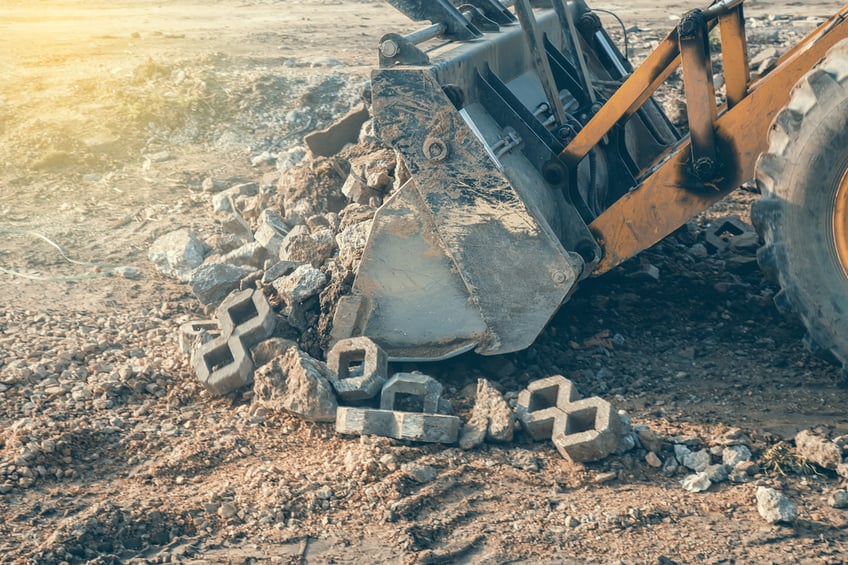 Clean fill dirt for construction
There are no better materials used in construction than those that are taken from clean fill materials. Over 90% of construction rubbles that are used for road grading and construction are clean fill materials. Choosing clean fill for roadworks and other similar projects is a great choice due to its diversity of use across a number of areas of construction.
The presence of moisture in the materials allows them to be easily fused in preparation for the loading of tar. Clean fill materials are used for other constructions such as irrigation and dams, bridges, and more.
One major advantage that clean fill usage brings to construction is that it helps in cutting costs and shortens the amount of time it will take for a project to be completed. Essentially, it is an environmentally responsible process that can help achieve projects on time.
Clean fill dirt for topsoil
Topsoil is the natural soil that contains nutrients and organic matter. It is the soil that is common in most topographies in the world. Unfortunately, topsoil is not strong enough for most construction sites. This is why they're usually mixed with clean fill dirt to enhance their strength. Clean fill is one of the most preferred materials for the foundations of most buildings to ensure stability and longevity. The mixture of clean fill and topsoil is most suitable for road construction surfaces and similar projects.
Find clean fill suppliers with iseekplant
Whether you're looking for road construction workers who can supply clean fill with their services, or looking for clean fill on its own, iseekplant can help. As Australia's largest online construction marketplace, we have hundreds of suppliers ready to provide services and supplies to your project. Whether you're located in Brisbane, Sydney, Melbourne, Geelong or further afield across Australia, there are suppliers available to help you with your project.
Simply search for quarry supplies near me, use our Get a Quote Tool to compare quotes, then select the best supplier for your needs. Or, if you need more information email our projects team and they can answer any questions you may have about hiring from the marketplace.