Lighting and message board equipment is used for a variety of projects by providing lighting solutions and electronic message boards to roadworks and public infrastructure, just to name a few.
What are message boards and lighting equipment used for?
Lighting equipment and message boards are typically used for directing and signalling traffic around accidents or construction work being undertaken on roadways. Many roadway projects require the work to be completed at night in low lighting conditions. Whether you need work completed at night to meet completion deadlines or avoid high traffic density, good lighting is absolutely essential. Equipment options include balloon lighting, lighting towers, traffic lights, message boards and speed signs.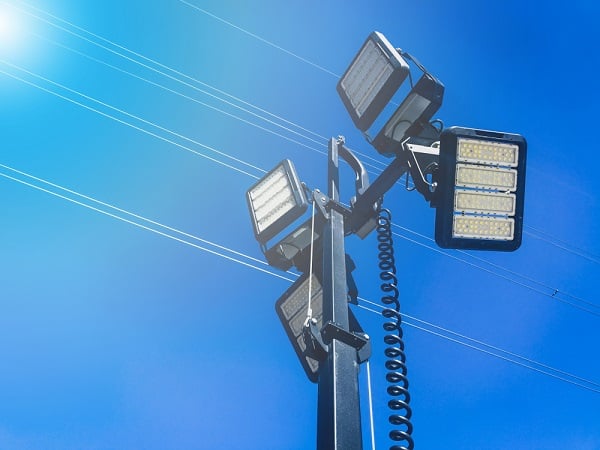 Most roadwork jobs use lighting towers, which vary in size and wattage depending on the area you need to illuminate. Balloon lighting is ideal for areas that are near traffic controllers or involve higher densities of passing traffic (or pedestrians). Innovative balloon lights are a relatively new development in the industry, providing 360 degree illumination with significantly less glare than their counterparts. Balloon lights can inflate to 1.1m by 1.4m for impressive coverage when using up to three 1000W HTI metal halide lamps, all while remaining driver friendly.
What lighting and message board equipment is available?
Lighting balloons are luminaires consisting of one or more high-intensity lamps that are insulated by a translucent balloon. This balloon is designed as a diffuser to disperse the light better. These are typically erected on top of a tripod, where they can be found on roadworks projects, movie stages, police checks, nightworks or projects with insufficient natural lighting.
Need to add light and signage to your project? Hire Message Boards and Lighting Equipment with iSeekplant!
Lighting towers are unique pieces of equipment used for lighting on roadway and construction projects across the nation. Lighting towers utilise one or more high-intensity lamps set atop a configurable mast. These lights are mobile and towable with a dedicated generator (typically diesel) integrated at their base. These are ideal for use where electricity supply is limited or where lighting may need to be easily manoeuvred and repositioned.
Traffic message boards include a range of electronic and printed prohibitory traffic signs, car-mountable message boards, arrowboards, speed signs, traffic lights, and other traffic signalling equipment. Traffic message boards are used to signal and alert road users and pedestrians of changes in road rules or traffic conditions. These boards are typically erected to support roadworks, construction work and road accidents that may inhibit roadways or alter traffic conditions (like facilitating slow downs, reduced speed limits and shared two way lanes during roadworks).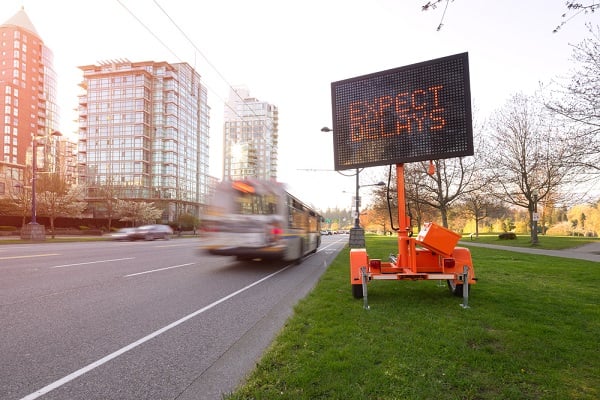 What are the hire rates for message boards and lighting equipment?
Message board and lighting hire rates vary depending on the location, hire-period and equipment selection. Be sure to get multiple rates from hire suppliers in your location using our system. You'll then be able to choose the most competitive option for your project.
Hire Message Boards and Lighting Equipment today!
If you need to hire message boards or lighting equipment for your project, use the iSeekplant get a quote tool or contact us on projects@iseekplant.com.au. Our directory offers a variety of qualified lighting and message board suppliers throughout Australian major cities like Brisbane, Sydney, Melbourne, Adelaide, Perth, Canberra, Hobart, Darwin and hundreds of regional areas.
Subscribe to iSeekplant's Flapping Mouth Blog below to stay up to date with the latest industry projects and news in Australia!