Which type of Boom Lift do you need to hire?
Though the application of a boom lift may seem fairly straight forward, understanding the difference between elevation designs can make all the difference when looking to successfully complete a job. With two primary variants on the market today, getting a grasp of their core differences can end up saving you a lot of time and money in the grand scheme of things. So, here's the difference between a telescopic boom and a knuckle boom!
Telescopic Boom Lift
The telescopic boom lift, also known as a 'straight boom' is one of the most popular pieces of high access equipment with a range of specialised features suited for various different projects. Telescopic variants feature a straight boom that extends out to reach heights of over 150 feet.

Telescopic boom lifts are typically used across outdoor projects where other high access lifts may be compromised due to rough terrain or site blockages. These machines have the ability to efficiently extend outwards and maneuver an operator safely in place, making them ideal for specialised work.

These boom lifts though used across a variety of different applications, will more commonly be hired out for use across projects which only require a single, highly skilled operator. For this reason, we have seen straight boom lifts be used for work such as electrical repairs, tree trimming, small material haulage, and exterior finishing.

The core features of a telescopic boom lift include:
Helps manage rough terrain
Increased Reach over other alternatives
Ideal for exterior use
Enhanced operational speed
For specialised work
Reach of 30Ft to 100Ft +
Knuckle Boom Lift
The articulated boom lift, also known as a 'knuckle boom' is another popular piece of high access equipment with unique capabilities designed for specific applications. These machines feature an articulating boom with multiple joints that fold out to provide flexibility and enhanced maneuverability. These booms are often made in smaller variants but can span up to 150 feet.

Knuckle Boom lifts are typically used across indoor projects where other access lifts are unable to function around obstacles and other obstructions. The machines have the ability to work in confined spaces, operating in complex situations where access would otherwise be blocked or unavailable. Knuckle Booms are perhaps the most versatile lifting platform, ideal for a broader range of applications given their multiple operating positions.

Given the nature of these boom lifts, they will more commonly be hired out for more complex jobs which require a single skilled operator. For this reason, we have seen knuckle booms be used for work such as electrical and piping repairs, high access cleaning, exterior finishing, and general maintenance.

The core features of an articulated boom lift include:
Ideal for confined work environments
Greater maneuverability for overcoming obstructions
Articulates for efficient indoor use
Multiple operating positions
Bendable jointed arm with turntable
Reach of 30Ft to 100Ft +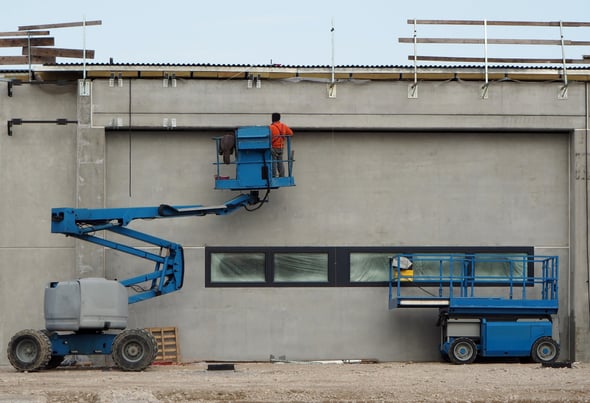 Your Personal Boom Lift Hire Checklist
If you are just about ready to begin hiring a trencher for your upcoming project, there are a few factors to keep in mind. So here is your personal boom lift hire checklist.

Boom Lift Type - Remember to analyse your project to determine the type of boom lift best suits your specific needs. There are different elevation methods and alternative access heights available which can cater to projects differently.

Space Restrictions - Be mindful of space restrictions and hire your boom lift accordingly. While straight booms may be a popular choice for some projects, a confined workplace will require a knuckle boom if looking for efficiency and practicality.

Access Height - Projects will require access at different heights and depending on where operations occur, may depend on a boom with greater reach. When looking to maximise access height, telescopic booms are often the primary hire choice.

Operational Environment - The operational environment of a project can greatly alter which boom lift is required. When operating outdoors a straight boom may be more efficient, while inside projects riddled with obstacles are likely to be a job for knuckle boom lifts.

Fuel Type - The type of fuel which a boom lift uses can help determine which variant is right for you. Both knuckle booms and straight booms come in electric, diesel, and hybrid variants, each providing different power outputs. Electric booms should be considered for inside projects which require less power given their noise reduction. Diesel-powered booms should be used for larger-scale external projects given their loud operating noise and increased power threshold. Hybrid booms should be used when looking for increased versatility across projects which may require both internal and external use.
Not sure which brand of boom lift is the best for your project? Click here to see a full list of manufacturers available in Australia.
So… Looking to hire the best boom lift for your next project?
Finally know which boom lift is right for you? Perhaps you need a little more help…? iSeekplant is here for you! With access to thousands of local boom lift suppliers Australia-wide, trust us to put you in contact with leading hire companies, no matter the location!

You can browse our extensive list of boom lift suppliers on our website or you can Click here to use iSeekplant's Get Rates tool for a completely free, no-obligation quote for your project!

Don't miss out on high-quality machines and highly-competitive rates! Regardless of your project, iSeekplant is here to help!