What type of forklift do you need?
Forklifts, while often associated with warehouses, are capable of fulfilling the lifting needs on a whole range of jobs and projects. From construction sites to festivals, forklifts are an essential piece of machinery when lifting and transport of materials is needed. Forklift hire is designed to carry materials that can be stacked on pallets and secured or materials, such as wood beams, that can be secured directly to the pallet forks. In order to decipher which type of forklift you need here are the different types of forklifts for hire:
Warehouse Forklifts
The most common forklift hire is a warehouse forklift. They are generally electric or gas powered and smaller in size to allow them to easily maneuver through warehouses. Warehouse forklifts specialise in loading and unloading pallets, as well as removing and loading items from delivery vehicles.
Industrial Forklifts
The industrial forklift is a step up from the warehouse forklift, both in size and capabilities. An industrial forklift for hire is capable of lifting 15 tonne in one load and has a high lifting capacity. Being a bigger machine an industrial forklift has less maneuverability than standard warehouse forklifts so should only be used when there is an express need for it's lifting capacity.
Rough Terrain Forklifts
Rough terrain forklifts for hire are best suited for outdoor jobs where the terrain is too uneven for the standard warehouse forklifts. The rough terrain forklifts come with a reinforced cage cab and oversized tyres for added stability, which also means it can carry heavier loads.
Telehandler Forklifts
Telehandler forklifts are designed to provide high lifting solutions for jobs that don't require cranes, predominantly in the agricultural and construction industries. Telehandler forklifts are able to lift heavier loads and place them in conventionally unreachable places, such as the second floor or roof of a building.
Pallet Jacks
Pallet jacks and other walkable pallet machines are ideal when there is no lifting involved. They're an indoor machine that's purpose is to transport pallets around the floor of a warehouse or storage space. They are ideal for tight spaces and lighter loads, typical of small warehouses and grocery stores.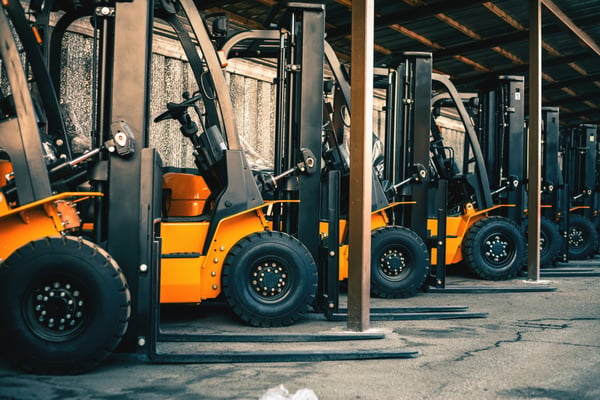 Do you need a diesel forklift, electric forklift or gas forklift?
Once you've decided which type of forklift you need you need to work out how much you need it to lift. Depending on the weight, or if there are multiple loads, the maximum weight of your load will depend on which forklift you need to hire. If your forklift load is below 10 tonne you will have a range of forklifts to choose from. However if your forklift load is over 20 tonne you'll need to hire a very specific type of forklift.
Diesel Forklifts
Diesel forklifts for hire come in the biggest range, with their forklift weight classes going from 0 to 3 tonnes up to 5 to 10 tonnes and on the extreme end 20 to 50 tonnes.
Petrol Forklifts
Petrol forklifts for hire also have a wide range in weight classes from 3 to 5 tonne through to 10 to 20 tonnes.
Electric Forklifts
Electric forklifts for hire aren't designed to hold a lot of weight generally having a max capacity of 5 tonnes.
Where do you need your forklift hire to go?
When picking the right forklift for your job you need to consider the area you are going to have the forklift in. We already know that there are specific forklifts for rough terrain but you also need to consider the height and type of space you are in. Forklifts often have height requirements due to their design so ensure that you know the height of any low passage or doorways it will need to pass through.
Now you're ready to hire a forklift for your job
Once you've considered the type of forklift, the weight class of the forklift and where the forklift will need to go, you're ready to call a hire service provider. The questions we've just helped you answer are standard questions a hire company would ask to ensure they have the machine you need. As always, the more information you can provide the easier it is for both yourself and the hire company.
Here at iSeekplant, we have a wide range of forklift suppliers across Australia, ranging from Brisbane, Sydney and Melbourne to Canberra, Adelaide, Darwin and Perth. Check out our range of forklifts for hire today to secure the forklift machine for your job!
Subscribe to iSeekplant's Flapping Mouth blog below to keep up to date with all the latest construction and plant hire news and projects!