Choosing which franna crane to hire for your job can be a complicated task with the seemingly endless range of options on the market. Franna crane's are extremely versatile and flexible, making them ideal for a variety of applications. Their compact size enables you to maneuver and operate in narrow spaces, as well as travel on roads quickly and easily. The franna ensures a powerful and efficient operation, and since its inception in the 1980's, it has been widely utilised in the construction industry.
Picking the right franna crane hire option for your project is important to save on costs and maximise efficiency. Franna cranes vary in size, lifting capabilities and mobility, so what do you need to be looking for when you think about your next franna crane hire?
What kind of franna crane hire do you need for your job?
Deciding which type of crane you need for your project is the first step in pinpointing your plant hire needs. A franna is a 'pick and carry' crane, which is similar to a mobile crane in that it is designed to travel on public roads. However, franna cranes have no stabiliser legs or outriggers, and are designed to lift a load and carry it to its destination within a small radius, then be able to drive to the next job.
Where large distances are encountered between job sites, franna cranes are incredibly popular. Franna crane hire has displaced a lot of the work typically fulfilled by smaller truck cranes as the set up time is much quicker and more cost-efficient. If your project requires you to frequently transport your goods in compact spaces, a franna crane hire is ideal for you.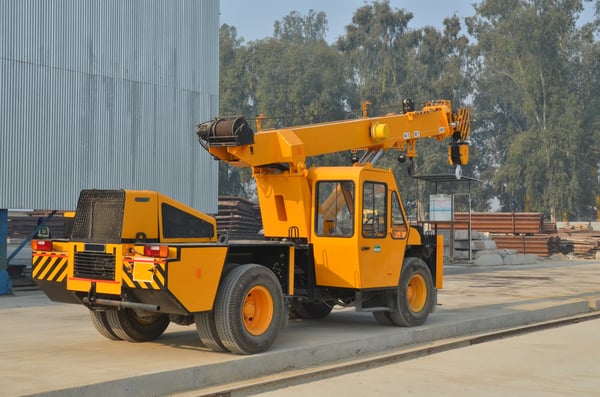 What is the weight of your franna crane job?
The weight of your job will have a direct impact on your franna crane hire needs, and is a crucial step in reducing plant hire costs and renting the right machine for your project. This includes the lifting requirements of your project and the type of material you will be carrying.
Franna crane hire options range from 10t-25t lifting capacity, so specifying your hauling needs is important to pick the right machine for your project. A few examples of frannas available for hire include:
Maximum Lifting Capacity: 12t at 1.4m Radius
Main Boom Length: 17.5m
Crane Length: 9m
Crane Width: 2.5m
Crane Height: 2.8m
Total Weight: 16,400kg
Travel Speed: 80km/ph
Maximum Lifting Capacity: 20t at 1.4m Radius
Main Boom Length: 17.9m
Crane Length: 9.67m
Crane Width: 2.5m
Crane Height: 3.07m
Total Weight: 19,500kg
Travel Speed: 80km/ph
Maximum Lifting Capacity: 25t at 1.41m Radius
Main Boom Length: 18.4m
Crane Length: 9.985m
Crane Width: 2.72m
Crane Height: 3.075m
Total Weight: 23,900kg
Travel Speed: 80km/ph
Will a franna crane be able to work on my site?
Understanding the types of conditions your machine will be working in is important when considering your franna crane hire options. Franna cranes are widely regarded as the ultimate 'taxi' crane, as their versatility and multipurpose functionality enables them to work in a range of environments such as workshops, mines, plant and construction sites, and more.
Typically, the franna is able to perform in most construction environments, but really shines on sites where mobility and adaptability are required. If your project needs something moved from A to B, franna crane hire is almost always the way to go.
Can I hire a franna crane for a long time?
Getting a realistic scope of the duration of your job can drastically save on costs, and ensure you get the right franna crane hire option you need for your desired amount of time. Many of the franna crane hire suppliers on iSeekplant offer long-term hire packages with fully licensed operators to ensure your project is completed efficiently and professionally.
Now you're ready to look at your franna crane hire options.
After considering the lifting requirements, duration and project environment of your next job, you will have a greater understanding on what kind of franna crane you need to hire. For further assistance or more information on which franna crane to hire for your project, give us a call on 1300 691 912 or ask one of our many franna crane hire companies.