How high do you need the scissor lift to go?
How high do you need the scissor lift to go is the first and most important question when hiring a scissor lift. Some scissor lifts are only able to elevate 3m whereas others can go up to 18m high. Your first course of action should be to measure the space to get a rough idea of how high you will need to go.

When it comes to the height of a scissor lift it is best to be safe rather than sorry. If you think you need a 4m scissor lift but are not sure, it is best to hire a 5m scissor lift. The hire rates between scissor lift sizes doesn't jump dramatically so it's still cost effective to hire a slightly taller machine and know they job will be able to be completed. If you are curious if you need a scissor lift licence for your project, check out our licence guide to make sure you are well informed and equiped.

At iSeekplant.com.au we have four electric scissor lift hire height categories ranging from less than 4m to over 12m. We also have four size categories of diesel scissor lifts which are: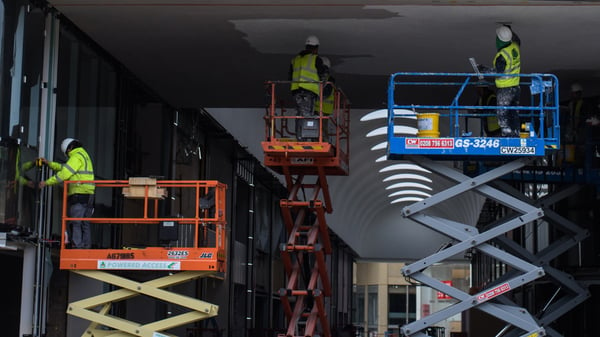 Do you need a diesel scissor lift or electric scissor lift?
The second question you need to answer is if you need a diesel scissor lift or an electric scissor lift. There are major differences between the two which make is easy to differentiate which type of scissor lift you need. Electric scissor lifts create zero emissions, are 2x4 wheel driven and often offer noise mufflers so are perfect for indoor use on flat, even surfaces.

Diesel scissor lifts on the other hand are louder and release exhaust fumes, making them the best choice for outdoor work. Diesel scissor lifts are also 4x4 wheel drive so can handle the more rugged, uneven terrain that is found outdoors. They are also generally able to accommodate heavier loads than electric scissor lifts though the two types don't vary much in size.
Need to hire a scissor lift? Get free competitive quotes through iSeekplant:
Do you need a tracked scissor lift or a wheeled scissor lift?
Wheeled scissor lifts are the more popular choice for scissor lift hire but tracked scissor lifts exist for important purposes. Tracked scissor lifts are generally diesel machines and hired for jobs where the terrain is too unstable for a wheeled scissor lift to have a safe elevated platform. Tracked scissor lifts also often have stabilising hydraulic lifts that can anchor the machine to the ground.

Tracked scissor lifts for hire have heightened safety and stability technology, much like any off road machine. They are more stable than wheeled scissor lifts both on their tracks and on their hydraulic lifts and have more safety features built into the machine and elevated platform. If you are not sure if you need a tracked scissor lift but have access to the site, take photos of the area as this will help the scissor lift hire company decide what is needed.
After going through the three questions that help differentiate scissor lifts you should be able to make an educated guess on which scissor lift hire you need for your job in Australia. No matter your location our extensive network of suppliers are spawning from Brisbane, Sydney, Melbourne, Canberra, Perth, Darwin and Adelaide and every corner of the nation and eagerly await to serve you. There are always exceptions to the rule and this includes scissor lift hire so if you still unable to define which scissor lift you need, call us on 1300 691 912 or ask one of our many scissor lift hire companies.
Subscribe to iSeekplant's Flapping Mouth Blog today to keep up to date with the latest industry news and projects!