A skid steer loader is a versatile machine that has the ability to perform a number of tasks thanks to its manoeuvrability, range of compatible attachments and its compact design, making a range of skid steer variations available when looking to hire. This means that this piece of construction equipment can suit jobs from excavation and demolition tasks to overhead work on the job site.
Here are the factors you need to consider when looking to hire a skid steer for your next job:
Skid Steer Loader Size
Skid steer loaders for hire are available in a variation of sizes but are generally categorised into small, medium and large. It is important to choose the right sized skid steer to suit the conditions of your job site and the work that needs to be completed. Yes, a compact skid steer loader can be hired on a large job site, but this is may not be an effective use of time or money. It is important to consider the horsepower and the size of the skid steer you are hiring to allow you to complete the job efficiently and to a high standard, all the while getting your money's worth.
Small Skid Steer Loader
A small skid steer loader is under 50 hp and weighs under 800kg. When hiring a small skid steer loader you should use their compact size to your advantage and use the loader for small tight access jobs, perhaps indoors, or on residential projects where the skid steer can fit in small spaces. It is also the preferred choice of skid steer hire for commercial use in underground parking structures where there are height restrictions. The versatility of the small skid steer also means it can be fitted with most attachments.
Medium Skid Steer Loader
If the job requires the demolition of brick walls or the need to drive over uneven terrain, hiring a medium skid steer would be best for the job. A medium skid steer is between 800 kg and 1000 kg with up to 70 hp. It is ideal for tougher jobs where a large skid steer is too big and too heavy for the conditions of the job site. Both the small and medium skid steers make for easy transport to and from the job site, and their compact size allows for multiple skid steers to be transported at once if using a larger truck.
Large Skid Steer Loader
A large skid steer loader is perfect for large construction sites and tackling road building or large areas of excavation. A large frame skid steer has over 70 hp and weighs over 1000 kg. The biggest available skid steer loaders are quick and heavy-duty, however do not require a semi trailer for transport.
Need to hire a skid steer loader? iSeekplant will give you free competitive hire quotes: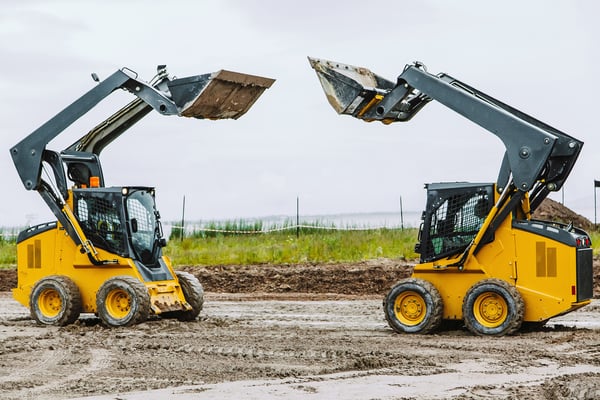 The Construction Project's Surface Conditions
One important consideration when determining which skid steer loader to hire is making sure the loader is compatible with the job site surface.
Compact Wheel Loader
A compact wheeled skid steer loader is best suited to hard and flat surfaces where the wheels can run along the surface at ease. Don't try and use the compact wheel loader on challenging terrain or wet surfaces, or the machine will get bogged or the wheels can both be damaged and cause damage to the site's surface.
Compact Track Loader
A compact posi track loader is perfect for tackling challenging terrain, however, is often the more expensive option when it comes to repairs and maintenance. A compact track loader can glide across surfaces rather than sinking or bogging in mud. This is because this loader uses rubber tracks instead of wheels.
This also means that if the construction site is outdoors, the compact track loader can continue to work in wet conditions instead of having to wait for the job site to dry when using a compact wheel loader. The rubber tracks will wear quickly if they are used on hard and flat surfaces, so if this is the case, the compact wheel loader would be a better choice.
Skid Steer Loader Attachments
There are hundreds of skid steer attachments on the market to transform the skid steer to suit any job required. However, not all of these attachments are compatible with the three sizes of skid steers. An option to combat this will be more expensive, but the versatility of the skid steer means that you can fit a smaller machine with a high-flow system to have the power to operate more attachments. Either way, it is important to choose to hire the skid steer that will fit the attachment you need to complete your project and budget.
Skid steer loader attachments can complete jobs anywhere from haulage to digging or dozing. Here are the most common attachments:
Auger
Backhoe
Trencher
Bucket
Rake
Looking to Hire a Skid Steer Loader?
Now that you know the variations of a skid steer loader and its different capabilities, it's time to hire. iSeekplant have a number of skid steer loaders available for hire across Australia. Our network of suppliers is the biggest and most comprehensive in the nation. From Brisbane, Sydney, Melbourne, Canberra, Perth, Darwin, through to Adelaide and every corner of the nation, our network will have you covered. Check out our extensive network of skid steer loader members or call us now on 1300 691 912 for more details!
Need to hire a skid steer loader? iSeekplant will give you free competitive hire quotes:
Subscribe to iSeekplant's Flapping Mouth Blog below to keep up to date with the latest construction industry projects and news, including our skid steer loader hire rates guide!