A telehandler (also known as a telescopic handler, reach forklift or boom lift) has the functionality of a forklift and the reach and strength of a crane which makes these machines great for a variety of jobs. The telehandlers ability to lift, move and place a range of materials and tools makes it an extremely indispensable machine for most jobs. Like most construction equipment, telehandlers for hire come in different sizes, with several different attachment options, so hiring the right one or for your job can be a difficult decision.

Before you hire a telehandler, make sure you're selecting a model that offers you the capabilities you need, whether it's power, manoeuvrability, lift capacity or lift height, as there isn't a one size fits all. To help you decide, we have come up with a few key questions to help you decide what telehandler would be best for your job.
Why should you hire a Telehandler for your job?
To start off, it's important to understand why you should hire a telehandler and the benefits it can bring you. Telehandlers are widely used because of the versatility of the machine. They are often used in agricultural settings or the construction industry, as they have a boom that can extend out and lift heavy loads, with different types of end attachments also available. This allows telehandlers to take on a large number of jobs, making quick and efficient work of projects.

Telehandlers have a range of functions which make them one of the best access equipment to hire for construction jobs. Telehandlers can lift an item of a truck, drive over to a building, and then lift it up to the second or third story. This can even be done on unstable surfaces due to frame levelling. This greatly reduces the time for companies in completing projects.
What types of Telehandlers are available?
There are two main types of telehandlers that you will find available for hire:
Fixed Telehandler
Rotating Telehandler
A fixed telehandler has a fixed cab and telescopic boom. The cab of this telehandler can't rotate, however, it is better at moving heavy loads across the worksite. The rotating telehandler has a cab and telescopic boom that can rotate 360°. The machine can remain stationary while the cab and telescopic boom rotate around the axis providing extreme manoeuvrability. The rotating telehandler is very useful when working in tight areas, and on uneven terrain due to its stabilisers. They can also reduce the space required on a job site compared to the fixed telehandler.
Telehandlers for hire consist of multiple size categories:
Super Compact: Small lifting capacity and reaches between 3.3 to 5.6 metres. Like a forklift, except with more versatility thanks to multiple attachments.
Compact: Reaches up to 10 metres and can lift up to 4 tonnes.
Standard Lift: Working height range of 6 and 11 metres with a larger lifting capacity. These telehandlers for hire are the standard range and are great for most jobs.
High Lift: Can reach up to 17 metres and can lift up to 4 tonnes. Designed for extremely hard to reach places.
High Load: Lift capacity ranges between 5.2 to 7.2 tonnes with a range of up to 10 metres. Great for transporting a large quantities of materials across the worksite.
Telehandlers can also come with different forms of steering including, front-wheel steering, four-wheel steering, and crab steering. All of these telehandlers for hire can be used for a range of jobs for any agricultural or construction project. It is vital that you hire the right type of telehandler with the appropriate steering option that is suitable for your job.
Get free competitive telehandler hire quotes from iseekplant today: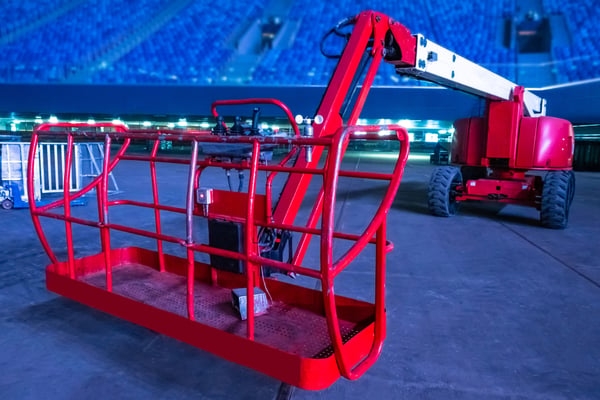 What job will the Telehandler be hired for?
When choosing a telehandler for hire, it is important to understand the work the telehandler will be used for as this will impact the decision you ultimately make. Two of the main things you can consider to make your decision easier is; how heavy and high is the load you're lifting and how accessible the job is.
How Heavy and High is your load?
When you're hiring a telehandler, you need to know what it is you're going to be picking up and how high and far you're going to be lifting it. Look at the heaviest material you will be lifting to determine your maximum lifting requirements. The heavier the load, the larger lifting capacity the telehandler you hire must have.

It is also important to determine where the material is going. Are you going to be lifting straight up, or up and over something? This is important as the rated operating capacities for telehandlers can change when the telehandlers boom is extended, which can cause it to tip. It is important to review the machines load chart to determine how heavy the load can be.
How Accessible is your job?
Considering the accessibility of your job is important when hiring a telehandler. Does your job require you to reach a high access area? If so, you are going to need a telehandler that has a longer reach to ensure you can reach it. If your job is lifting pallets onto a truck, you aren't going to need a high lift telehandler.

The driving capability of your telehandler should also be considered. If your job is in a tight access area that is difficult to turn in, a telehandler with crab steering is your best option. If on a farm with rough terrain, a four-wheel telehandler would suit your job best.
Do you need more than one job completed?
A telehandlers versatility is one of the key reasons why it is such a widely hired machine in the agricultural and construction industries. There are a wide variety of attachments for hire you can attach to the end of a telehandler, including:
Elevated Work Platforms/Carriages
Buckets
Truss Booms/Lift Hooks
Forks
Pipe Grapples
Augers
The ability to drive on tough terrain and work through harsh conditions makes the telehandler a great tool to use. From picking and placing palletized loads, to bucket work and suspending loads, the wide array of available attachments lends telehandlers to countless tasks across many industries. It is important that you choose a telehandler that can accomodate all the attachments you may want to use, as not all attachments fit on all telehandlers.
Looking to hire a telehandler for your next project?
Now you know a little bit more about the available types of telehandlers for hire and how they function. If you still need help, get in contact with the iSeekplant team today on 1300 691 912 or projects@iseekplant.com.au. With access to thousands of telehandler suppliers Australia wide, we'll put you on the path to hiring the right one for your project. We have reputable telehandler suppliers located in all major cities from Brisbane, Sydney, Melbourne and Canberra to Perth, Darwin and Adelaide.
Get free competitive telehandler hire quotes from iSeekplant today:
To keep up to date with all of the latest industry and project news, subscribe to iSeekplant's Flapping Mouth blog below!