What size tipper truck do you need to hire?
With a wide range of tipper trucks available for hire you want to make sure you're hiring the right tipper for the job. For residential or smaller jobs with materials that weigh less than 12 tonne a bogie drive is the best truck for the job. The next size up from a bogie drive tipper is a truck and dog tipper truck. This is because the dog trailer and the truck can come in a variety of sizes and is easily manoeuvrable around site. These are the two common tippers used for smaller projects where there isn't a high materials turnover or a large amount of space.

Semi trailer tippers are the next size up, often around 19m long they have a larger capacity than truck and dogs but are much harder to maneuver so are best suited to large open work sites like road construction and large quarries. The largest tippers you can hire are b doubles and road trains. These are serious trucks with serious load capacity and are used only on major projects and worksites.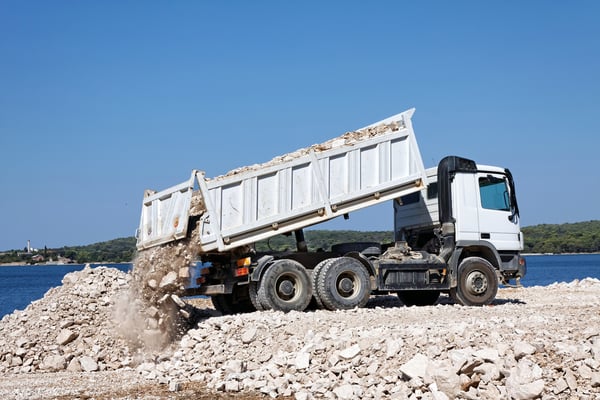 Do you need a driver with your tipper truck hire?
An important question tipper truck hire companies will always need an answer for is if you need a driver. This greatly affects the availability and price of a tipper truck hire so if you're unsure read our blog on 'Do you need a licence to operate a tipper truck'. If you know you will need a tipper truck hire with an operator be prepared for less availability and a higher price. You hire will be covering that drivers wages and the cost to run the tipper and often drivers are harder to come by than trucks.
Do you need other plant hire with your tipper hire?
Finally, if you need any other plant or equipment with your tipper truck hire it's ideal to see if you can hire a combo. Combos are very popular in the construction industry as often, if you need to hire a tipper truck you need to hire an excavator as well. Tipper truck hire companies often have other plant so even if they don't expressly say they do combo hires you may be able to organise a discounted hire.

Combo hire of a tipper truck and other earthmoving equipment is an excellent way to organise a discounted hire rate and transport your plant hire to site. Combo hire of tipper trucks and earthmoving equipment is used by small residential constructions all the way up to major infrastructure projects because they are so useful.
Now you're ready to hire a tipper truck
Now that you know what size tipper truck you need to hire, as well as if you need an operator or any other machinery, you're ready to call a tipper truck hire company. By answering these questions before you call the hire company you are saving yourself and the company time, also you'll be able to short list a number of companies by whether or not they have the tipper truck you need to hire. If you're ready to start looking, iSeekplant has tipper trucks for hire across Australia. Be sure to give us a call on 1300 691 912 or use our get a quote tool. Our tipper truck supplier network covers every nook and cranny of the nation including major capital cities in Brisbane, Sydney, Melbourne, Canberra, Perth, Darwin and Adelaide.
To keep up to date with the latest industry news and projects across Australia, subscribe to iSeekplant's Flapping Mouth Blog below!