When trying to first understand which trencher is best suited for your job, there are three core questions which should be asked:
How wide to I need my trench to be?
How deep will my trench go?
What kind of space do I have to work with?

These questions will often act as a surefire way to determine which trencher 'fits-the-bill' and are a great way to discover which type of machine will be most beneficial for your project! Know what size trench is required, but still unsure about the difference between trenching machines? No worries, let us explain!


Which type of Trencher do you need?
Though the application of trenchers is fairly straight forward, understanding the difference between trenching methods and machines can be quite the opposite. There are a variety of options available on the hire market today, so getting a grasp on core differences can save you a lot of time and money in the 'long-run' of things.

Self-Propelled Trencher Hire - Self-Propelled Trenchers, also known as 'Walk-Behind' or 'Pedestrian' trenchers are a leading option for those looking for efficiency, productivity, and durability in a small package. These trenchers for hire will commonly dig to a depth that ranges between 12 - 48 inches and a width between 3 - 16 inches - making them an ideal solution for landscapers, fencers, contractors, and property management. Self-Propelled trenchers are also a leading choice for projects with distinct space restrictions and operating limitations.

Compact Ride-On Trencher Hire - Compact Ride-On Trenchers are a convenient alternative to their self-propelled counterparts, with greater digging capabilities designed to exceed worksite expectations. These trenchers will commonly dig to a depth of up to 2 feet and a width of up to 60 inches - making them a leading solution for Australian infrastructure projects, including work with roads, tunnels, water, or gas. Compact Ride-On trenchers are also a premiere choice for projects that are mindful of space and certain operating limitations.

Industrial Track Trencher Hire - Industrial Track Trenchers throw convenience out the window in favour of absolute productivity, efficiency, and reliability. These machines have the greatest digging capabilities of all trenching machines reaching common depths upwards of 6 feet, and widths of up to 134 inches - making them the leading solution across large-scale infrastructure in Australia, working with roads, tunnels, water, and gas. Track Trenchers are also a premiere option for projects without space and operating limitations.

Trenching Machine Attachment Hire - Trenching Machine Attachments are available across leading plant such as excavators, skid steers and tractors. While not as efficient or productive as trenching machines, attachment hire offers greater versatility and in cases, better on-site access. Take the excavator for example, which utilises its knuckle boom to begin digging next to structures and in 'hard-to-reach' areas almost instantly. While depths may vary in accordance with certain machines - trenching machine attachment hire is a leading solution for those looking for tight-access solutions and operational versatility.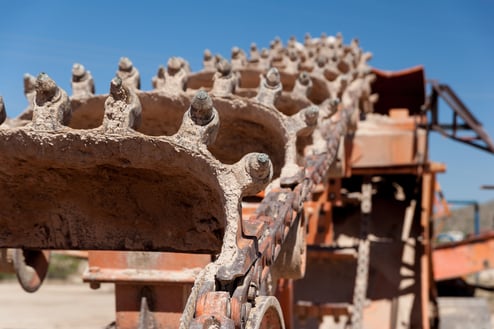 Your Personal Trencher Hire Checklist
If you are just about ready to begin hiring a trencher for your upcoming project, there are a few factors to remember when determining which trencher is best for you. So here is your personal trencher hire checklist.
Trencher Type - Remember the type of trenchers available and determine which best suits your projects individual needs. There is a multitude of different sizes and configurations which can cater to projects differently.

Space Restrictions - Be mindful of project space restrictions and hire a trencher accordingly. While tracked trenchers are more efficient, a trenching machine attachment might be ideal. When dealing with residential projects, some trenchers must be able to fit through gates as narrow as 36 inches.

Digging Depth and Width - Often times a project will require specific trenching depths and widths, so being mindful of a trenchers capability is vital when determining which is best for your project. While self-propelled trenchers may be more convenient in some settings, they may not reach the required depth needed for your project - requiring ride-on alternatives.

Fuel Type - The type of fuel which trenchers run off may not be the most important aspect of a trencher, but it can play a part in determining your preferred trenching option. Most pedestrian trenchers will operate on gasoline whilst ride-on and tracked alternatives tend to operate on diesel. Again, while not always vital, fuel type is another option to be mindful of.

Operational Power - Trenchers will operate at different power outputs, and in turn, have differing capabilities. If you require deeper trenches or are operating on rough terrain, ride-on or tracked trenchers may be required given their increased power output and greater horsepower.
Looking to hire the best Trencher for your next project?
Finally know which trencher is right for you? Perhaps you need a little more help…? iSeekplant is here for you! With access to thousands of local trencher suppliers Australia-wide, trust us to put you in contact with leading hire companies, no matter the location! We have suppliers in Brisbane, Sydney, Melbourne, Canberra, Perth, Darwin, Adelaide and throughout the nation that are waiting to serve you.

You can browse our extensive list of trencher suppliers on our website or you can use iSeekplant's get a quote tool for a completely free, no-obligation quote for your project!

Don't miss out on high-quality machines and highly-competitive rates! Regardless of your project, iSeekplant is here to help! Also subscribe to the Flapping Mouth Blog to stay up to date with the latest and greatest industry insights.