What does a backhoe bucket attachment do?
Backhoe bucket attachments are used to optimise your digging process. Bucket attachments are highly sought after for their strong and durable build which is able to withstand tough working conditions. With over 4 variations including general purpose, mud or ditch cleaning, tilt and skeleton buckets, you're guaranteed to find the right bucket attachment for your project.
General purpose backhoe bucket attachments are the most commonly used of all bucket types, as they are used for low-impact work and can shift softer digging materials – such as earth, sand and clay – with efficient digging, filling and breakout force. Mud bucket backhoe attachments, however, are used for bulk loading of loose aerated material and are designed to work for a maximum safe working load.
Tilt bucket backhoe attachments are used for finishing batters, dam walls and drains, thanks to its ability to tilt from left to right. Easy to maintain, the tilt bucket utilises hydraulic cylinder pins when shifting or carrying construction materials across the worksite. Lastly, skeleton bucket backhoe attachments – also known as sieve, screening, shaker or sorting buckets – are used to sift out and remove stones or debris from earth and fill, making it a popular choice for larger demolition projects.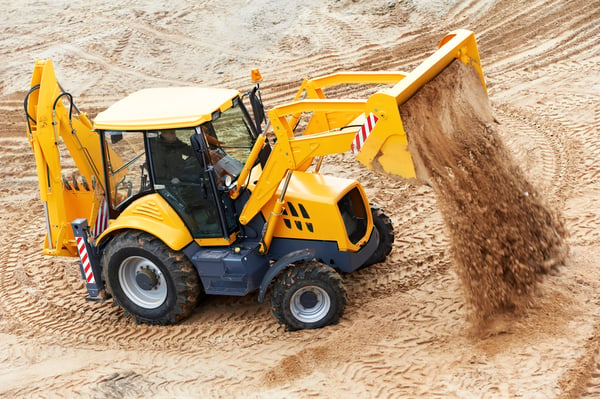 What is a backhoe auger attachment?
Using heavy-duty hydraulics, an auger attachment can drill into any soil condition with ease and efficiency. Ideally suited to drilling and augering applications, augers are able to work in hard or rocky soil because of their high torque level, which also keeps them steady and powerful to maintain performance.
There are two main types of auger attachments: machine-mounted augers and planetary augers. Machine-mounted drivers are direct drive augers that use a mounted hydraulic motor designed to provide a balance between torque and RPM (revolutions per minute). Whereas planetary augers use a gear drive system which is better for digging through more tough ground conditions, as they can generate larger amounts of torque.
What is a ripper backhoe attachment?
Rippers are the preferred option when you need to break up rock, asphalt, paved areas or any other hard material. A strong and durable ripper attachment is meant for heavy work with a fast turnaround guaranteed. Ripper attachments also come in bucket form for the more heavy duty site-work.
What is a hydraulic breaker backhoe attachment?
Hydraulic breakers are designed to convert recoil energy to reusable energy to deliver more power with the same amount of input. This also minimizes recoil forces and puts less strain on the operator and breaker itself. Hydraulic breaker attachments are also compatible for skid steers and excavators and can be used for:
Demolition
Building renovation
Road construction
Landscaping
Rock excavation
Quarrying
What is a compaction wheel backhoe attachment?
Coming in a variety of widths and bearings, the compaction wheel attachments are made for compacting soil when backfilling trenches. The tampered-foot design ensures the smooth finish of any compaction job. By compacting soil from the bottom up, the open-rim wheels allow for penetration of soil and other soft materials. Compaction wheel attachments are available for both backhoe and excavator use.
What are grapple and thumb backhoe attachments?
Able to be rotated 360 degrees clockwise and anti-clockwise, the grapple attachment comes in many forms and can be used for all kinds of site lifting and shifting jobs. The multi-tine grapple has the most variety in terms of application usage, often being used to shift large and obscurely shaped loads. Whereas specialising in loading and unloading, sorting and demolition work, the demolition grapples tough design and high closing force makes it an effective tool during larger projects.
Wood grapples are suited for loading or unloading materials with its wide range of claw dimensions. This grapple attachment is designed specifically to shift varying quantities or types of wood without dropping them. Alternatively, the shell grapple attachment is used for bulk loose material shifting – coal, gravel, ore, sand, grain – with little-to-no risk of slippage. The attachment's low weight design and 360-degree rotation capability ensures optimum material collection.
Similar to a grapple attachment, the thumb attachment is an ad-on for backhoe bucket attachments. Designed to move like a human thumb ,this attachment works closely to the machine, making it easier to maintain a grip and rotate most materials without the risk of slippage or release during rotation.
Where can I find the best backhoe attachments?
If you're looking for further advice on which backhoe hire attachment is right for your job, don't hesitate to get in touch with iSeekplant. Don't forget to check out our backhoe attachment suppliers - with backhoe suppliers ranging from Brisbane, Sydney and Melbourne to Canberra, Adelaide, Darwin and Perth, you'll be sure to find the perfect attachment fit for your next project.
Subscribe to iSeekplant's Flapping Mouth Blog to keep up to date with the latest construction industry news and projects across Australia!