Updating your vital surveying equipment will save you money in the long run! We've
engaged the industry experts
Position Partners to explain why having the latest technology with interconnected systems will dramatically increase your efficiency on and off the work site.
What impact would it have on your business to upgrade all of your surveying equipment and software in one transformative move? Is the high-risk nature of a large capital expenditure holding you back from keeping up-to-date with the latest surveying equipment and software?
New businesses and those wanting to operate smarter, need the latest technologies to optimise efficiencies and workflows. There are a few ways you can increase your return on investment (RoI) and kit out your business with the latest equipment and software the surveying industry has to offer while reducing the risk involved in a large capital layout.

In an ideal world, your fleet would include the highest spec robotic total stations, GPS, field controllers and software, as well as survey and engineering software. But the total cost of ownership (TCO) of the asset lifecycle needs to be factored in when setting rates and responding to tenders.
Knowing the cost structures involved with survey and geospatial equipment can protect your margins
Today, you can expect your technology and service providers to proactively help you fix long term software licences and maintenance contracts that match your financial constraints.

It's important that you then convert those fees to costs per hour and secure improved, reliable margins.

Knowing what your business cost per hour to run can support your ability to adjust your rates to market without nasty repair and maintenance surprises.

Weighing the positives and negatives of a survey and geospatial technology refresh
When you're considering upgrading your surveying equipment and software, especially all at once, it can be daunting. The potential risk and effort needs to be weighed against the RoI. The surveying profession is heavily workflow driven, so it's important to consider that the latest equipment provides:

Proven productivity and uptime gains.
Quality and speed of output that places you well in front of the competition.
Collaboration that streamlines relationships with key engineering and government partners.
Attractive workplaces for scarce young, tech-savvy talent.
Integrated collaborative workflows create an efficient and productive workforce
With well-integrated, collaborative workflows operating via a single cloud service, all your data and people can be managed far more efficiently.

Your on-site survey teams will have the latest, accurate information at their fingertips. There's no lost time resulting from forgotten or lost paper files.

With instant field updates, the data and survey managers or designers back in the office can review and make QA and QC adjustments in real-time. Any further information requests can be done then and there, without having to return to the site.

And the integration extends to being able to securely trade data between the players in the survey ecosystem - engineering firms, government authorities, external designers and town planners.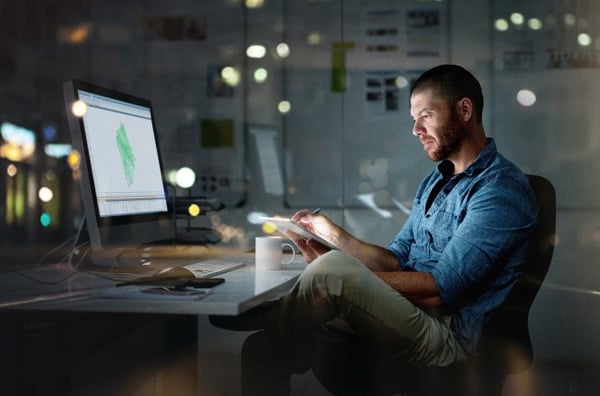 How to attract the best and brightest surveyors when there's a shortage
One of the challenges many employers in the surveying profession are facing, is the difficulty to attract surveyors to fill their vacancies. There is a surveyor's shortage across many of the metropolitan and regional areas across Australia.

One of the most crucial advantages of upgrading your equipment and software driven systems is that current technology and streamlined processes are what young surveying and engineering employees are looking for.

The surveying industry has more work than it has people. Your business sustainability depends on being able to attract the best and brightest, and exciting technology is one of the ways that you can ensure you're attracting them!

Making low Total Cost of Operation and optimum Return on Investment a reality
The quality and range of support components are what ensure rapid, enthusiastic adoption of new equipment and systems.

Position Partners deliver highly customisable training opportunities, wherever your staff are across Australia. This training ensures that your staff are confident with the technology and use it to get the most effective and efficient results.

The relationship doesn't stop at the conclusion of the training. Position Partners live Tokara support solutions provide users with instant, on-screen, real-time support to help with workflows. This can include loading setting files such as geoids or girds, connections to RTK networks and much, much more. It's like having one of the highly skilled support team members standing right next to you in the field, ensuring you're getting the very best out of every project.

Connecting your surveying business and adding real value with intelligent systems
The reality of the surveying profession is that there is now more to do with less help. To ensure your business continues to grow and stay ahead of the competition, you need to continue to improve your systems and technology.

On a larger scale, only with constantly improving productivity can our world support human population growth and standard of living expectations. It's the construction sector that is building the schools, hospitals and roads that secure quality of life needs for the next generations of Australians.

But the broad construction profession has the lowest productivity gains. This is due to limited technical skill rates, out of date industrial relations and complex red tape. There's so much more that individual businesses can do to quickly and affordably turn productivity around.

Whether you're looking to lock in the profitability of a 10-20 person surveying operation or are on the cusp of setting up on your own, it's your technology platform that will largely determine a continuously profitable venture. And in making those investments, Total Cost of Operation and Return on Investment are critical considerations.

Talk to Position Partners about leveraging technology for cut through. Because what drives them helps you. Click here to find out more.