Free webinar - Register today to learn how to keep your excavation site safe
What steps do you take when you plan for an excavation? Do you think they are thorough enough? Or could you be doing more to ensure the safety and productivity of the worksite? Organisations and excavators have a duty of care to locate whatever underground assets are in the vicinity of their worksite before a project is started. No matter the size or location of an excavation project there is always the potential for assets to be damaged. Worse still if an employee gets injured and you haven't followed the codes of practice you may end up in court.
Damaged assets lead to service interruptions, delays to the excavation project, costly repairs and in the absolute worst-case scenario, injury or death. In 2018 Dial Before You Dig, the national referral service aiming to prevent damage and disruption to subsurface assets, collected data on the causes of damaged assets and the results were startling.
One DBYD member revealed that in 2018 alone over 60% of damaged asset occurrences happened because of planning issues. This was then followed by equipment operator competence and service locator competence. There were three main reasons for things to go wrong during the planning phase:
The asset was not marked or was incorrect on DBYD plans
DBYD plans were not obtained or available on-site or were expired or irrelevant
DBYD plans were not considered in the design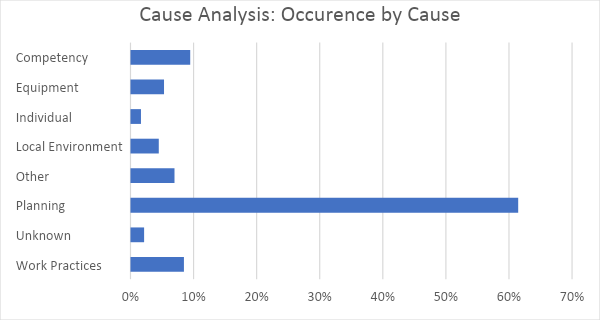 Taking the time to appropriately plan and manage an excavation, no matter how small, can mean the difference between a quick and easy excavation and damaging underground utilities. Underground utilities not only connect homes and buildings, but entire towns often depend on one main utility line, so even minor damage can send a town off the grid for days.
Excavators and companies need to ensure they are taking all reasonable steps to obtain infrastructure asset information before commencing any excavation work. If you're unsure you're doing enough during your pre-excavation planning, DBYD has created a dedicated training course to ensure you can successfully manage the process.
Why correct pre-excavation management is crucial during an excavation project
It is well known in the industry that underground utility plans, whether supplied directly from the utility or via DBYD, only indicate the presence of that utility and cannot be relied on to pinpoint the exact location. They are more so there as prewarning - they let you know you need to do more investigation. Then, of course, if you are lucky enough to have up-to-date underground utility plans, they can often be complicated and hard to understand without proper training. There is also the potential for unknown utilities or private extensions not found on any plans. Utilities may also have specific requirements about what you can and can't do around their assets. For example, high risk utilities may have exclusions zones which prevent you from locating or potholing.

These are all things you need to consider when you are preparing to excavate, although they are also things that are too often neglected. While it is accepted that these preparations should be done to an extent, it is not as widely known that there is an Australian Standard (5488) that defines the level of accuracy of underground services locations. This is critical to avoid strikes. By knowing the level of accuracy of the location information you can then reliably determine whether it is safe to excavate or whether you need to undertake more investigation. A DBYD Certified Locator can apply these AS 5488 quality levels as well as taking the guesswork out of interpreting plans.
How having pre-excavation management training makes a difference
Excavating near underground assets can be a risky business, which is why having appropriate training and knowledge of pre-excavation management and processes is a must for anyone in the industry. DBYD Certification has just released a free webinar version of its four-hour training course that covers the requirements and regulatory obligations of locating and identifying subsurface utilities.
The course is designed for Leading Hands, Site Managers, Supervisors and HSE Managers on construction sites to ensure proper protocols are followed before excavation work is carried out. Course participants will be informed of their legislative obligations and will be introduced to techniques and procedures that will enable the participants to make informed judgements before excavating around subsurface utilities.

Over the four hours, the course objectives are:
Provide information on recent changes to workplace safety legislation
Raise awareness of the process required to locate subsurface utilities
Applying Australian Standard 5488 quality levels to reduce the possibility of damage and additional cost
Provide suggested control measures to reduce the risk of damages and injury
Undertaking pre-excavation management training will help your organisation understand its regulatory obligations and help reduce risk of injury and the damage costs associated with utility strikes.
Without having a pre-excavation management plan with strict processes in place, you put at risk not only the excavation projects success but the health and safety of everyone on-site. With recent changes to the Australian Standard (AS) 5488, it is more important than ever to undergo training, even if you are familiar with the process. By following the quality level process set out by the AS 5488 as well as corresponding with a certified locator, you'll be able to make informed decisions about what excavation work happens on your site.

With over 60% of all subsurface asset damage caused by mistakes during planning, it's not hard to see why this training is a valuable asset to any excavation company. To learn more about the DBYD Certification course or register for the free webinar go to their website here.