*Last updated: June 2020
Which are the longest tunnels in Australia?
There are 35 tunnels in Australia as of 2019, that are over 50 metres in length. The longest tunnel in the country is the Airport Link in Brisbane - which stretches for a whopping 6.7km's and circumvents most of the cities metro suburbs. There are 7 tunnels in Queensland, 18 tunnels in New South Wales, 5 tunnels in Victoria, and 5 tunnels between Western Australia, Australian Capital Territory and South Australia. As you would expect - there are officially 0 tunnels in the Northern Territory.
I'm very proud to say that the 3 of the top 5 longest tunnels are in Brisbane (hollaback Brisbane-ites for our capacity to build long tunnels) but we've got a ways to go to pip NSW for being the state most riddled with tunnels at a whopping 18 tunnels across the state (and you will note that NSW is actually one of our smallest states in land mass). But Brisbane's tunnel game is still pretty strong for a city that everyone thinks is just a big hick town. Sydney went a bit 'tunnel mad' in the 1990s - but when you read the below you will note that they built a bunch of long, useless tunnels that no one uses (which is such an excellent deployment of tax dollars).

What are the Costs of Building a Tunnel?
Tunnels aren't cheap to build or maintain (don't bother thinking about a tunnel unless you've got a lazy $500m - $1 billion dollars lying around) when you compare them to the cost of building pre-cast structural concrete fly-over roads and bypasses, which is why most city designers prefer to whip up an overpass or build a bridge over the city, area or existing road, rather than dig (and we're not talking about the sort of hole you can dig with an excavator) a massive tunnel. The developments in tunnel boring machines have made constructing long tunnels more surmountable - but TBMs cost a fortune to transport and use, as does traditional tunnel building methodologies, so builders and town planners avoid them unless necessary. Tunnels are, however, an unavoidable reality when you need to take a road under a built up area of a city, or under a body of water.
Australians are Bad at Planning which Tunnels to Build
As you read through the chequered history of Australia's longest tunnels below you will notice that a large number of the tunnels sent their operators broke. This is typically because estimated usage of the tunnels was off by a substantial measure and the tunnels failed to be commercially viable once complete. As a result, some of the tunnels below continue to be a commercial thorn in the side of their owners (most tunnels in Australia are owned and operated by Transurban), with few of them having the capacity to pay for themselves until 50 or 100 years in the future, when they will be returned back to the government as an owner. Transubran has done a pretty good job at picking up bad tunnels for bargain basement asset rates - often buying struggling tunnels from bankrupt operators for a fraction of the initial build investment and running them more profitably (even with fewer users).
Below is the full work up on Australia's longest tunnels - how they were built, who owns them, how much they cost and some fun facts about their history and operation.
1. Airport Link Tunnel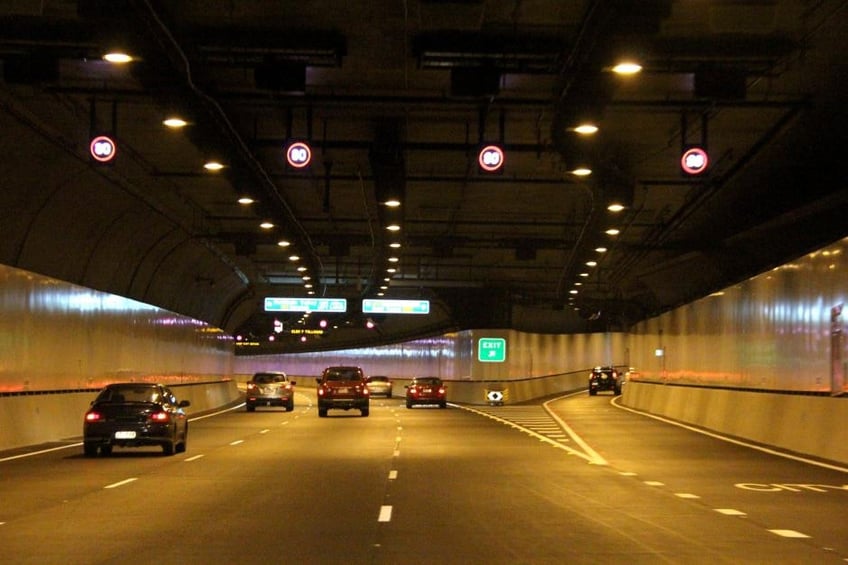 Airport Link Tunnel - Key Facts
Where: Brisbane connecting North Brisbane to South Brisbane and with an offshoot to the airport.
Length: 6.7kms
Cost: $4.8 billion
Cost Per Meter: $842,105.26
Toll: $5.30 each way
Started: November 2008
Finished: July 2012
The Airport link is a behemoth tunnel and Australia's longest, which was part of created 9.3kms of new road connecting a bunch of intersecting major corridors including the Gold Coast Highway (M1), tunnels through the Airport, Inner City Bypass and Legacy Way - it has ended up being the central thoroughfare for anyone and everyone in Brisbane. The project also included 25 bridges and a dual tunnel to accommodate the busways. It was created with a TBM that was built and shipped from Germany. It is owned and operated by Transurban.
2. Clem Jones Tunnel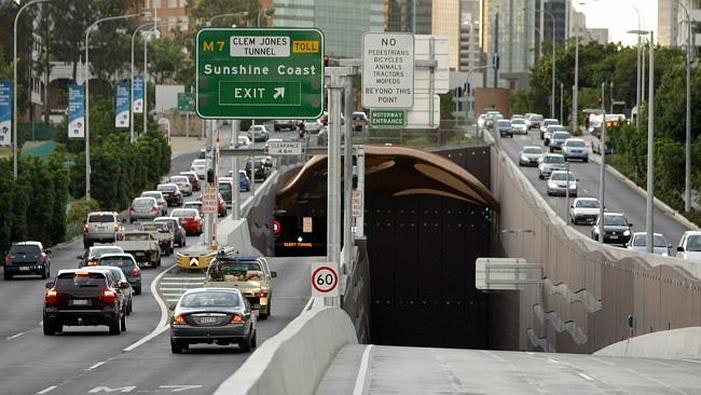 Clem Jones Tunnel - Key Facts
Where: Brisbane connecting Woolloongabba to Bowen Hills under the Brisbane River
Length: 4.8kms
Cost: $3.2 Billion
Cost Per Meter: $666,666.66
Toll: $2.56 each way
Started: September 2006
Finished: March 2010
Formerly called the North-South Bypass Tunnel, the Clem Jones Tunnel was named after a famous Lord Mayor of Brisbane. It was the first privately funded inner city toll road and one of Queensland's largest infrastructure projects ever undertaken and completed. The project has been considered as a major economic failure - as estimates of traffic usage of the tunnel were greatly over-exaggerated and have never lived up to the hype. It sent the original owner broke, but now the tunnel is owned and operated by Transurban.
3. Legacy Way Tunnel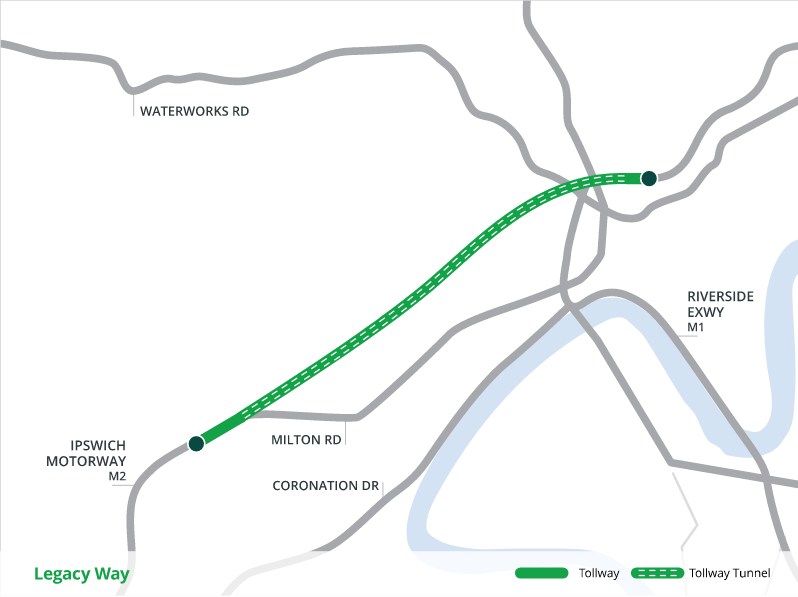 Legacy Way Tunnel - Key Facts
Where: Kelvin Grove connects to Toowong (and heads west towards Ipswich)
Length: 4.6kms
Cost: $1.5 Billion
Cost Per Meter: $326,086.95
Toll: $5.03 each way
Started: April 2011
Finished: June 2015
The Legacy Way project has been considered a really transformative infrastructure project in terms of town planning in Brisbane because of its capacity to better integrate the western suburbs of Brisbane with the city, solving a lot of transport headaches that were occurring as the inner western suburbs of Brisbane became more and more populated. It takes up to 20,000 vehicles a day in each direction, and anyone living in those suburbs will tell you that its changed their life (in terms of commute, and access to the community areas of Brisbane). It was built by two German TBMs - Herrenknect Double Sheild TBMs - they each had an adorable female name - Annabel and Joyce - for reasons I will never understand. The TBM's generated 1.235 million tonnes of spoil which had to be removed from the site. The tunnel is now managed by Transurban and will be a toll road for the next 50 years.
4. M5 East Tunnel

M5 East Tunnel - Key Facts
Where: Sydney Connects Sydney to the Airport
Length: 3.95kms
Cost: $800million
Cost Per Meter: $202,531.64
Toll: Free until WestConnex is finished when a toll will be reinstated
Started: 1997
Finished: 2001
The M5 East's claim-to-infamy is unfortunately it's terrible internal air quality - which is an environmental hazard to those who use it. It's also sometimes lovingly called Sydney's only 'free car park because traffic struggles to move through it at anything more than a crawl at peak times, and can sometimes come entirely to the standstill - meaning your commute from around the Airport to the inner south-west suburbs of Sydney can be a stinky, disgusting and frustrating mess. Millions has been invested since it opened on improving the air quality in the tunnel, including massive fans and retrofitting industrial-grade ventilation equipment - but nothing has measurably improved what is an omnipotent and aromatic layer of thick orange, smoggy air that engulfs you as you enter. When you drive in the M5, just turn your air-conditioning onto recirculate, or hold your breath.
5. Burnley Tunnel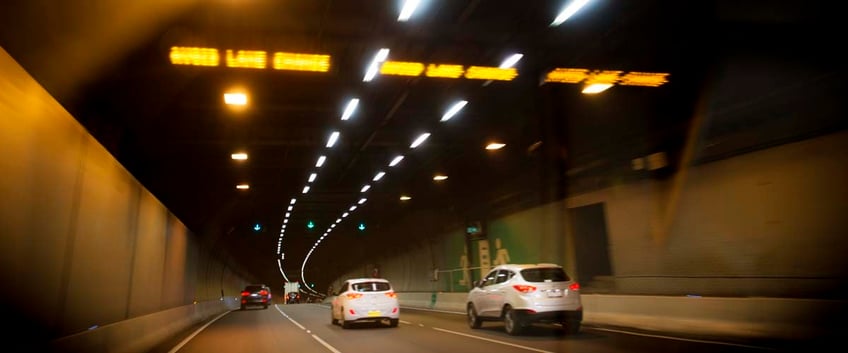 Burnley Tunnel - Key Facts
Where: Melbourne
Length: 3.4kms
Cost: $500 million
Cost Per Meter: $147,058.82
Toll: $0.75
Started: 1996
Finished: 2000
The Burnley Tunnel carries traffic from the West Gate Freeway to the Monash Freeway and runs under the Yarra River, bypassing the central city district. The tunnel has been plagued by certain construction failures since opening - including cracking in the tunnel structure, water fissures, leaks and a fire in 2007 from a massive pile-up. It has been the subject of a massive commercial litigation between Transurban (who now operate it) and the JV that built it - Transfield Obayashi. It was built by traditional tunnel construction techniques (not TBMs) and will need to be rebuilt in the next 50 years (because it wasn't built correctly in the first place). That might explain why it was so cheap to build (compared to other mega tunnels). Knowing that its shoddy construction is now going to make my journey through it on customer trips a little less relaxing.
6. Lane Cove Tunnel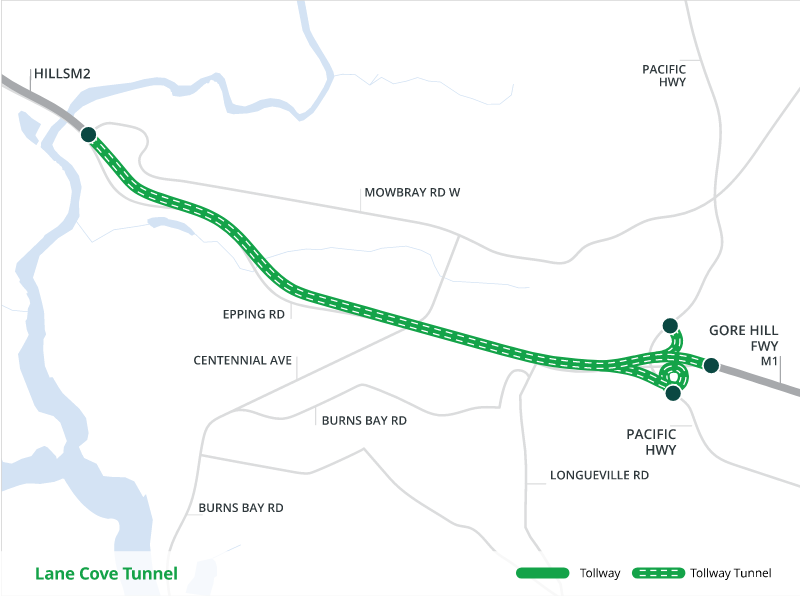 Lane Cove Tunnel - Key Facts
Length: 3.4kms
Cost: $1.1 billion
Cost Per Meter: $323,529.41
Toll: $3.35
Started: June 2004
Finished: March 2007
I once threw a mobile phone out the window into the Lane Cove tunnel during a bad break-up (fun fact) and used to have to drive it every day to and from my job at Microsoft in North Ryde. It's a perfectly pleasant tunnel with almost no traffic - and like the Clem Jones tunnel has been the subject of criticism and conjecture around projected usage rates and the profitability of the project overall before and after completion - because no one uses the Lane Cove tunnel in Sydney, preferring to climb over it and use back streets and overhead roads to avoid the toll. It has already sent one operator (Connector Motorways) broke, with Transurban picking up the tunnel for a bargain $630 million and operating profitably since.
7. Sydney Harbour Tunnel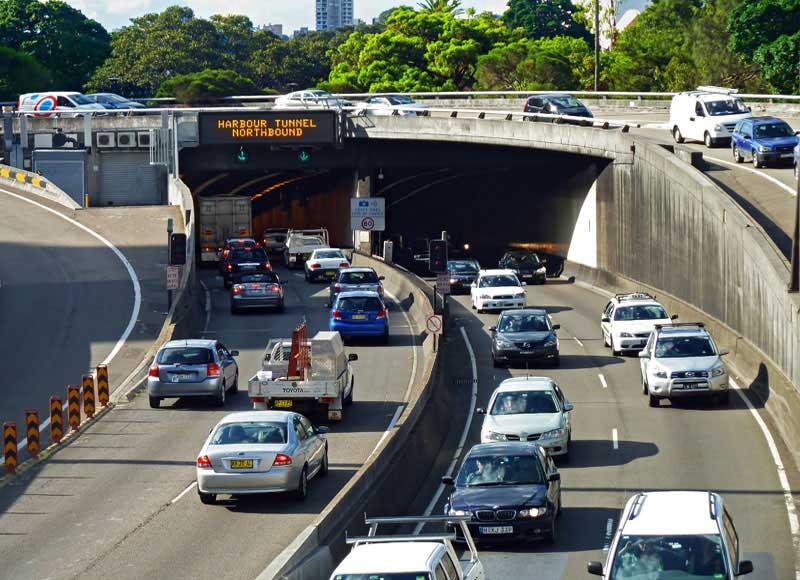 Sydney Harbour Tunnel - Key Facts
Where: Sydney Harbour connecting city with Northern Suburbs, running under the ocean harbour
Length: 2.28kms
Cost: $554 million
Cost Per Meter: $242,982.45Toll: $4.00 each way
Started: January 1988
Finished: August 1992
This the coolest tunnel in Australia - because of the way it was built and the sheer engineering feat it was to design and then ultimately put in place 2kms of tunnel 25 meters below sea level. It has three sections - which include two land based tunnels on each side of the harbour, then a completely immersed tube of almost 1km that was built in Port Kembla, transported to Sydney and sunk into a trench that was dug on the ocean floor (this was of then repeated because its a dual tunnel). A lot of consideration was made to ventilation and how to extract and expunge the car exhaust above the ocean. The base of the Sydney Harbour Bridge supports were adapted to accommodate a complicated ventilation system.
8. Sydney Cross City Tunnel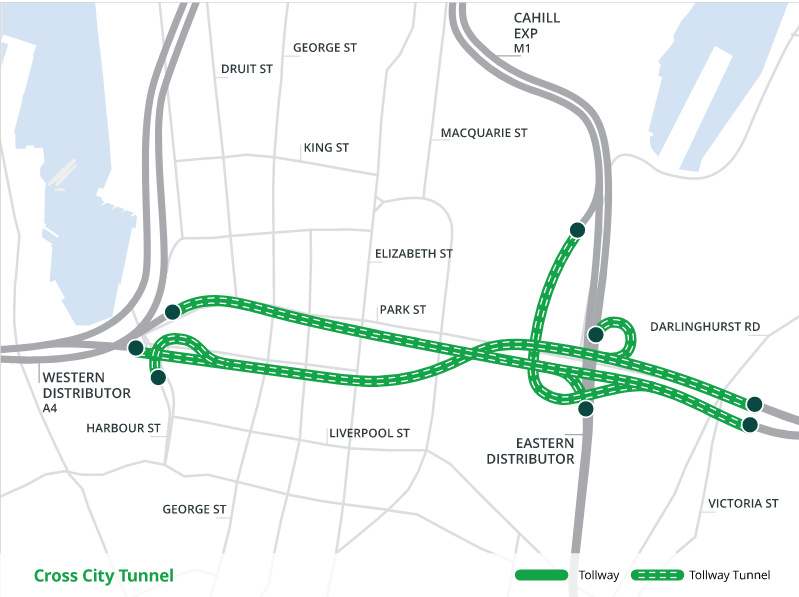 Sydney Cross City Tunnel - Key Facts
Where: Sydney, runs under the city from east to west
Length: 2.2kms
Cost: $680 millionCost Per Meter: $309,090.90
Toll: $5.77 each way
Started: 2002
Finished: 2005
This tunnel connects the Eastern Suburbs with the western fringe business districts such as Darling Harbour, Prymont and Glebe. This was a heavily politicised project and the brainchild of an over-zealous Transport Minister Carl Scully - not least because the main transport planner Michelle Zeibots openly admitted that the project would not meet its traffic volumes prior to construction starting - and regardless it started anyway. It has since sent two tollway operators bankrupt. It's the most expensive toll on a per-use basis in the country per kilometer - which is pretty rich considering there are about 50 alternative routes around Sydney's CBD that you can take for free. I guess if your a filthy-rich inhabitant of the inner suburbs of one of the world's most expensive cities, you don't care about $5.77 in tolls twice a day.
9. Eastern Distributor Tunnel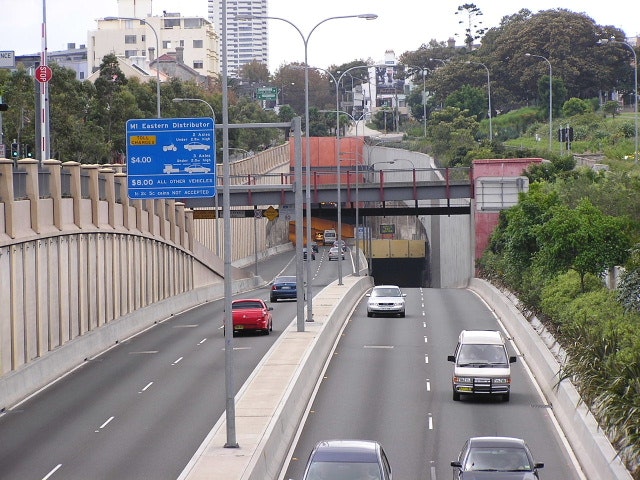 Eastern Distributor Tunnel - Key Facts
Where: Sydney - connects from the Bridge to eastern suburbs and airport
Length: 1.7kms
Cost: $730 million
Cost Per Meter: $429,411.76
Toll: $7.46 Northbound only
Started: 1995
Finished: 1999
This tunnel runs from hipster paradises Wooloomooloo on the fringes of Sydney city to Surry Hills. It's usually jammed packed with cars emblazoned with bumper stickers like 'There is no Planet B' and 'Vegans Do It Better'. It took about 5000 people to built, with Leighton Contractors the principal contractors on the job (its now owned and operated by Transurban) and has an impressive web of off ramps throughout the main eastern suburbs (Randwick, Bondi, Surry Hills and Kings Cross). It was built not as a dual tunnel carriage way - but as a very large single tunnel excavation. It used to be the widest tunnel ever built in the world. It's only about 28 years before the tolls will be taken off and it will be returned to public ownership - its currently owned and operated by Transurban.
10. Northbridge Tunnel Perth - Graham Farmer Freeway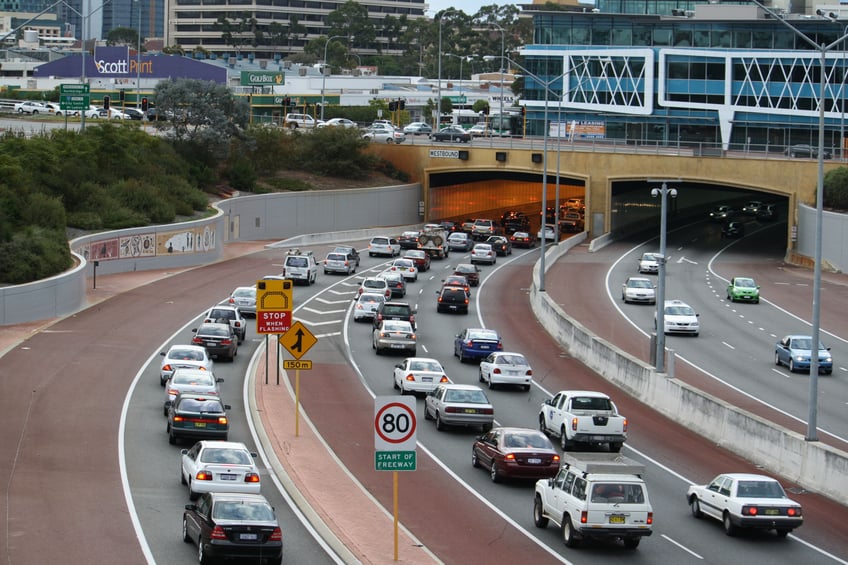 Northbridge Tunnel Perth - Key Facts
Where: Rivervale and Burswood to West Perth
Length: 1.6kms
Cost: $313 million
Cost Per Meter: $195,625.00
Toll: Free
Started: 1996
Finished: 2000
This is Western Australia's only freeway tunnel (good for them!). It has three lanes in each direction, with an escape passage-way built in to the egress. Locals call it the Polly Pipe - after its namesake footballer Graham 'Polly' Farmer - which is a testament to Western Australia's dry sense of humour. It was built by Clough and Baulderstone Joint Venture. Both the build and the tunnel's life has been relatively uneventful - it was well constructed (Clough and Baulderstone won an Australian Construction Achievement Award for its design, construction and management) and its continued to be built around including exists and other access roads into growing areas of Perth's CBD.