You've probably seen cherry pickers around construction sites, beside buildings or near telephone poles, raising people to a variety of heights for a multitude of tasks. Cherry pickers, also known as a boom lift, are useful machines for accessing areas of construction and maintenance. Their primary function is simple – to raise and lower people in order to access required areas. These areas might be narrow and restricted, inaccessible from the ground or obstructed by an obstacle. Cherry pickers are ideal for wanting to work in and around such areas.
There are plenty of cherry pickers to choose from, but there are also some important factors you need to consider when hiring a cherry picker. Below are five key pieces of information that will guide you when looking into cherry picker hire.
1. How does a cherry picker work?
Cherry pickers use a hydraulic lift function to raise and lower a railed platform that is attached to an extendable arm, with the intention of carrying people. Cherry pickers allow staff such as construction workers, maintenance, warehouse workers and emergency services to access hard to reach places at elevated heights in order to perform various functions.
2. How high do cherry pickers go?
Cherry pickers can reach impressive heights of up to 55m (180ft)! They can extend outwards or upwards, making them very manoeuvrable for wide or tall tasks. The height of cherry pickers is dependent on the type of lift that you require. Some cherry pickers are made for accessing taller heights, while others might be more suitable for narrow areas or uneven surfaces.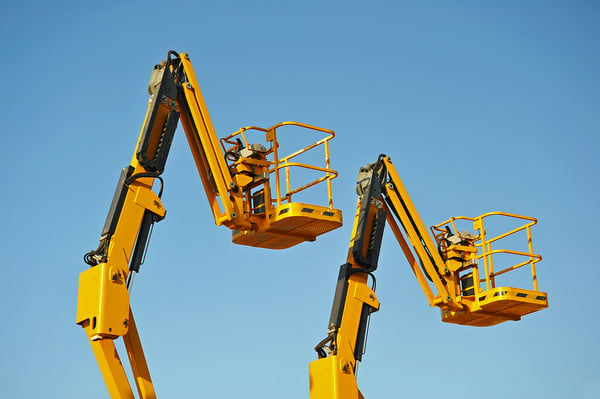 3. Do I need a licence to operate a cherry picker?
With many different licences available for operating equipment, it can be tough to know what licences are necessary for the machinery you require. In order to operate a cherry picker, you will need a licence; however, the type of licence needed depends on the height of the cherry picker.
Cherry pickers with platforms under the height of 11m require an elevated work platform (EWP) licence known as a Yellow Card. A Yellow Card certifies that the cardholder has undergone the correct training and education regarding the operations of all types of EWP's under 11m. For the young tradies keen to get their hands moving and operating equipment, the Yellow Card course can be completed by anyone 16 years of age and over, though a restricted card will be handed to those aged between 16 and 17.
For those requiring cherry pickers over a height of 11m, a high risk work licence is required. You will need to obtain an EWP licence before applying for a high risk licence, and you must be over the age of 18 when applying.
4. What types of cherry pickers are there?
There are a variety of cherry pickers used Australia-wide, which include straight booms, knuckle booms, trailer-mounted booms, spider booms, vertical masts and scissor lifts.
Straight boom lifts, also known as telescopic or stick boom lifts, consist of a long extension that allows for greater vertical and horizontal reach. These boom lifts are perfect for large construction projects or maintenance work, where access at ground level is limited. These cherry pickers have the largest reach out of all cherry pickers available and can extend to up to 55m in length.
Also known as an articulated boom lift, knuckle booms are designed to work around obstacles – specifically where the platform needs to situate itself up and over the obstacle. These cherry pickers are extremely versatile, allowing for working around fixtures, machinery, walls and any other obstructions that might be in the way.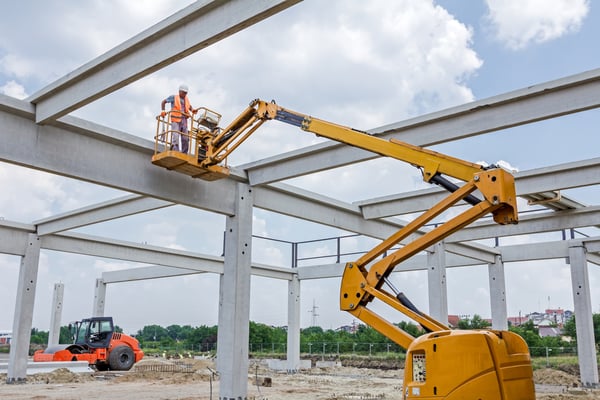 Trailer-mounted booms are the perfect cherry picker for those that are constantly on the move. The hydraulic arm is mounted on a trailer and is considered relatively lightweight, which means that they can be easily towed with a car or van. Trailer-mounted booms are great for tasks on firm and steady surfaces that might involve painting, cleaning and tree lopping.
Spider booms, also known as track-mounted boom lifts, are ideal for tasks that require greater reach in smaller areas. For use, both indoors and outdoors, spider booms have stabilisers which allow them to be used on uneven ground. Being compact and lightweight, these cherry pickers can be easily transported and manoeuvred.
Vertical masts are compact lightweight cherry pickers that are used for straight elevation. They allow for performing tasks in tight confined spaces both indoors and outdoors but are most popular for indoor use. Vertical masts are ideal for conducting general maintenance and warehouse operations.
Scissor lifts are cherry pickers that feature a crisscrossing foundation that extends or collapses to raise and lower people. They are great for use in tight indoor and outdoor spaces on firm-level surfaces. Scissor lifts have a greater load-bearing than any other cherry picker, allowing for multiple people to work at raised heights together.
5. How much does it cost to hire a cherry picker?
The cost to hire a cherry picker varies depending on factors including the type and size of the machine. At iSeekplant, we offer a free service to get you connected with our cherry picker suppliers near you, who will provide you with competitive pricing for the best rates!
Where can I hire a cherry picker?
You can hire a cherry picker through our extensive network of suppliers at iSeekplant! We have cherry picker suppliers in Brisbane, Melbourne, Sydney, Darwin, Perth, Canberra, Adelaide and throughout the rest of Australia. Let us know when and where you need it, and we'll have our suppliers contact you with their best rates. Use our 'get a quote' tool now or contact us through projects@iseekplant.com.au.
Subscribe to iSeekplant's Flapping Mouth Blog below to keep up to date with the latest construction industry news and projects!