In an industry that still likes to do a lot of business over the phone a well-designed website is vital to converting potential customers. In most cases in 2019, your website will be the first impression your company gives to any new customers. Below are a few examples of construction websites that rank well on Google, look awesome and help close new business!
These businesses all range in size and in the type of service they offer but what they do have in common is that they are in the construction industry and have a website that you will want to copy.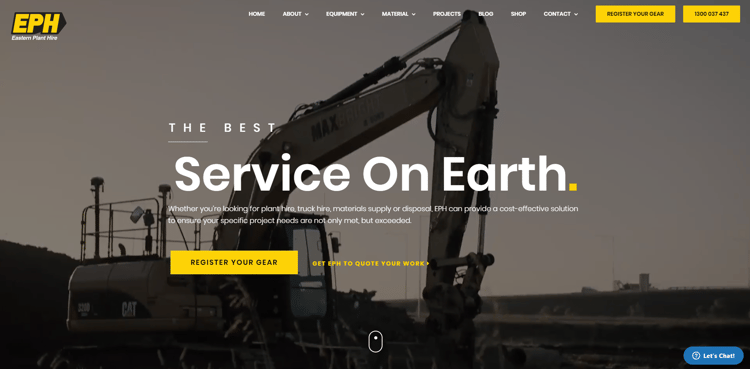 Eastern Plant Hire, is one of Australia's largest plant hire suppliers to the east coast. With a fleet that is well and truly pushing over 100 pieces of construction machinery, they are one of the most well know materials handling companies.
It's clear that this construction website was built from the ground up to rank on Google for key plant hire search terms, like "Street Sweeper Hire." Anyone who searches for this will then find Eastern Plant Hire's website which uses a beautiful design! It has clear headlines that communicate what the company does.
The photos they use on the site are eye catching and really highlight the size and quality of the EPH fleet, even going to the effort to create a really impressive video of their fleet in action which really sells the quality of their business. Along with this, the Eastern Plant Hire website proudly displays that they have the best service on earth and can service jobs from small to large all across the east coast!
This construction website not only does a great job of conveying the quality of the EPH service, but it also makes it incredibly easy for any potential customer to navigate the site and then get in touch with Eastern Plant Hire. The website clearly displays the Eastern Plant Hire phone number and email along with CTA's (call to actions) and forms to submit contact details.
Ranking on Google page one for keywords: plant hire melbourne, earthmoving equipment melbourne, street sweepers brisbane, tandem tipper hire melbourne.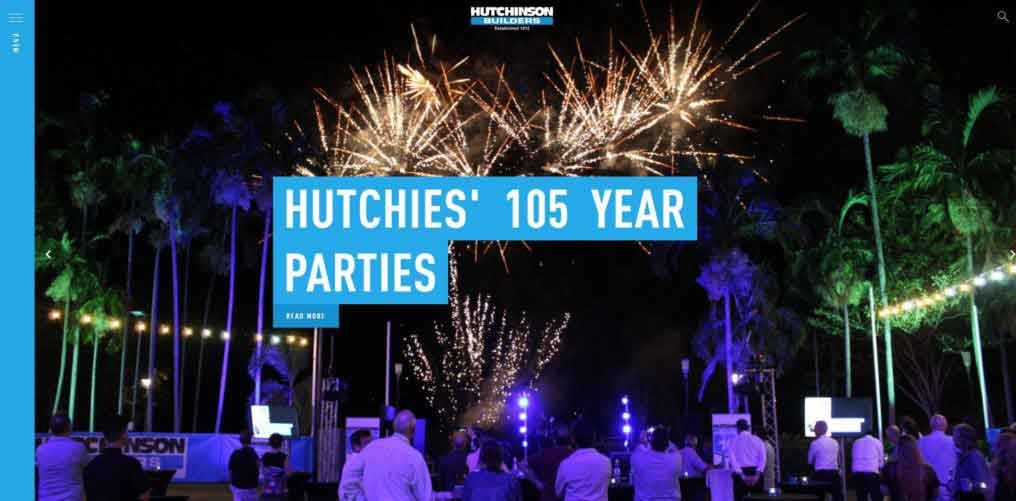 Hutchinson Builders or Hutchies as they are commonly known are one of Australia's largest construction companies. Given the size of their business, they don't need to use space on their homepage to educate potential customers on who they are and what they do, as such they have decided to take up the entirety of the visitors screen with a slideshow of engaging photos and headlines that link to different sections of the website.
To navigate this site you can select the burger menu in the top left corner of the website which reveals the different sections of the website, which includes Projects, Capabilities, Careers and The Feed (which collects news coverage about Hutchies).
This is an amazing construction website, though companies smaller than Hutchies would have a tough time pulling this off given they don't have the same mass brand recognition as this construction giant.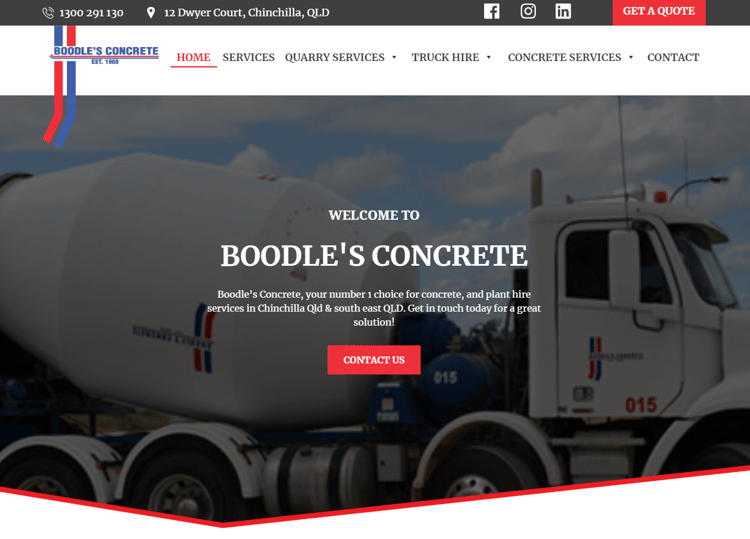 The first thing you see when you go to Boodle's website is a clear contact action which drives users to make an easy action and drives conversion. This is definitely one of the best above the fold sections of a construction website that we have seen in terms of conversion points!
Boodle's Concrete provides top quality services including concrete supply, quarry mining, landscape supply, and provide mobile batching plant to batch concrete on your site.
As a company who proudly offer the best solutions in getting landscaping supplies to your construction site, they have done an incredible job of their UX and enabling a smooth and easy experience on the website that is all driving traffic to commit to taking a valuable action.
Boodle's Concrete clearly shows their work capacity and the service they are able to provide by showcasing their work through a magnitude of high quality imagery. This in turn provides the website user a sense of capacity and professionalism.
It is also very clear that this website is targeting high converting keyword traffic with terms such as mobile concrete batching plant, concrete contractors and concrete truck hire, spread throughout the website and used very well.
Ranking on Google page one for keywords: concrete contractors, concrete railway sleepers, concrete truck hire.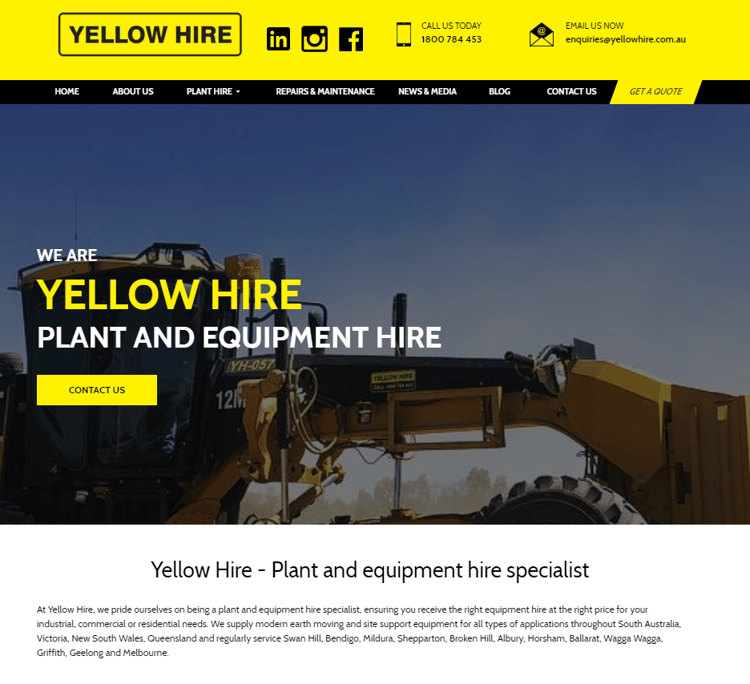 It's hard to miss Yellow Hire's company branding with this eye-catching construction website design.
Right from first paint - in website terms, paint is referred to as loaded content on the website page - it is clear to see that you are on Yellow Hire's website. The distinct company branding is a clear stand out, and their website designer has used this attractive colour perfectly by only using it to highlight important actions and information they want the user to see or take.
The scrolling image banner at the top clearly showcases what machines they have available for hire and provides a clear scope of the size of projects they undertake - from small residential projects to large mining applications. Also reinforcing the size of project scope is the logo banner that slowly scrolls the bottom of the home page. Featuring companies they have partnerships and working relationships with including LendLease, Downer and CPB it's hard to ignore the sheer experience and professionalism this company can offer to any potential new client.
Again, SEO Optimisation has been at the top of their priority list with the website expertly written for easy SERP reading and human interaction. Keywords such as bobcat hire and plant hire are strategically littered throughout the website to ensure these high converting terms rank on Google.
Ranking on Google page one for keywords: bobcat hire, plant hire bendigo, front end loader hire, kubota mini digger hire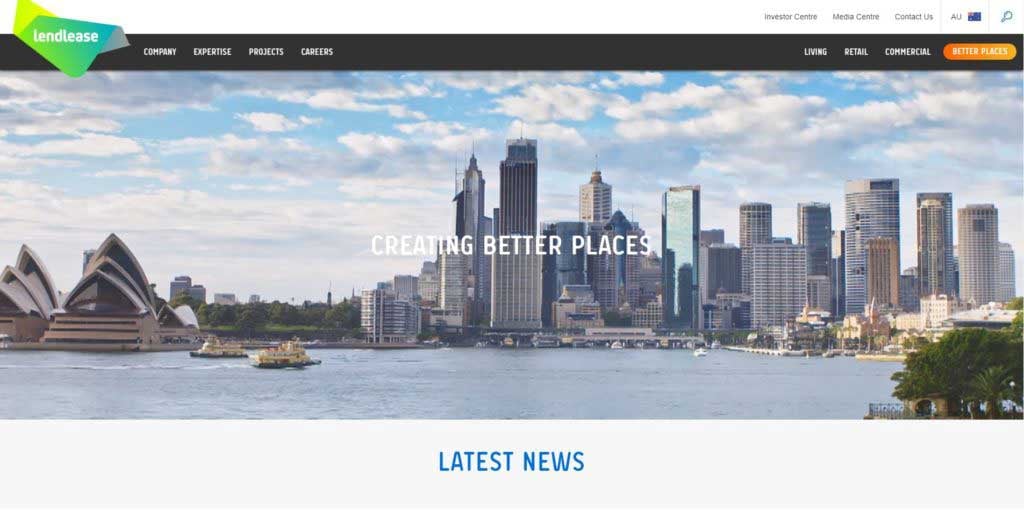 Similar to the Earth Radar website, Lendlease uses a really engaging series of videos in its hero section.
Like Hutchies, Lendlease is another company that has already established its brand Australia wide, meaning it doesn't need to budget as much space for telling people who they are and what they do.
Lendlease has a really accessible navigation menu at the top of the screen making it very easy for visitors to find the information they need. Just below the fold, Lendlease promotes their latest news in a very visual way with each article being promoted through a graphically designed card. This is a great tactic for getting visitors to engage with your brand, and having an active blog helps rank on Google.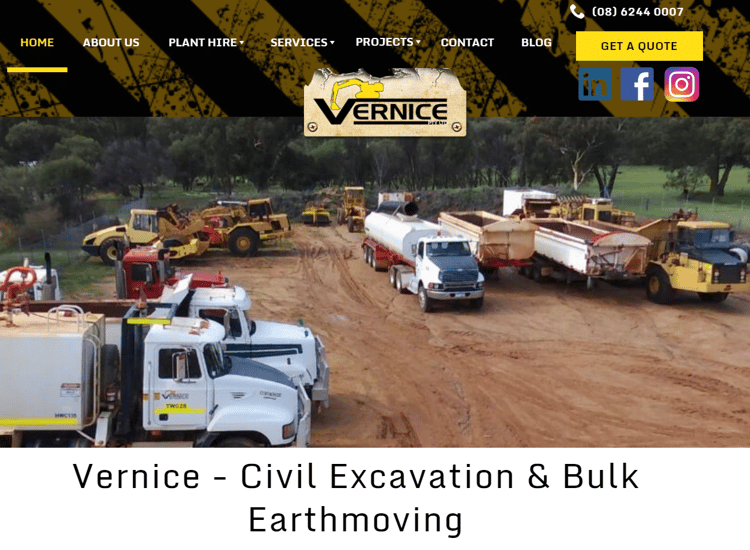 One thing we love about Vernice's website, is their use of fun graphics that compliment their professional imagery and set establish their company branding.
As a family owned and operated civil contracting business based 75km east of Perth, Vernice does a fantastic job of showcasing the sheer size of work they take on via their use of a variety of clear imagery and H1 headings. These heading are expertly catered to SEO optimisation and SERPS by including high priority and converting keywords within this text.
Secondly, they also proudly display their safety certifications which is a real money winner when it comes to conversion. This badge shows Vernice is a professional company that follows industry guidelines and safety standards which means they are a trusted supplier.
This construction website also does a fantastic job of helping visitors find the information they need by having a clear navigational menu and simple icons that direct people to what different sections of the website.
Ranking on Google page one for keywords: excavating and earthmoving, bulldozer for hire, dozer hire perth, water truck hire perth, civil earth moving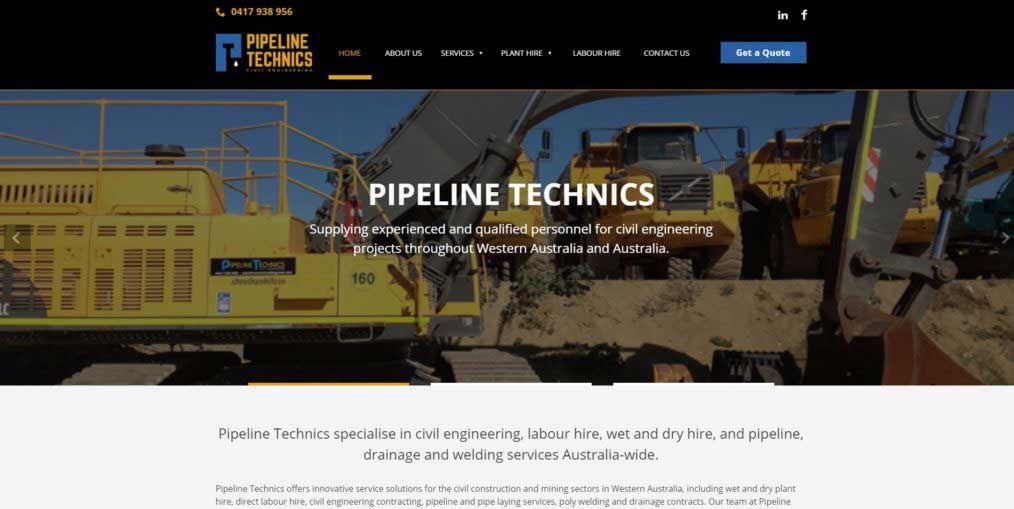 Pipeline Technics specialises in civil engineering, labour hire, wet and dry hire, and pipeline, drainage and welding services Australia-wide.
The hero image of this website's homepage proudly shows off some of Pipeline Technics machines, immediately communicating to customers that Pipeline Technics has a high quality, well-maintained fleet of machines. After using some great imagery to draw in visitors, the Pipeline Technics website then takes advantage of this attention by telling visitors about their services and gives a few reasons why they are the right company for the job.
If you want an awesome new website like the ones above, click the "I'm interested" button and we will get in touch with you.