Almost everyone in our industry has heard of Dial Before You Dig, the not-for-profit service helping projects across Australia. DBYD is a free service that offers vital underground utility plan information that is critical for any work that requires digging. What you may not know is that DBYD have been delivering the DBYD certified locator program nationally for over 3 years.
In recent years, numerous DBYD utility members have voiced their concerns regarding the inconsistency of skill sets associated within the locating sector; increasing the possibility of damages to infrastructure assets and networks and even more alarmingly, the risk of serious injuries to workers or the public.
To address this concern, DBYD developed a rigorous locating certification program that covers both theory and practical elements. This provides the civil construction industry with confidence in knowing that when they are engaging a DBYD certified locator that person has met an industry standard. Even a V8 racing star like Jon McCorkindale has put in the hard yards and attained a locating certification. In the below video, Jon talks about the importance of quality locating and the straight-forward process involved to get certified.
"In both racing and locating, preparation is everything. Before you start, it is important to have a good idea of what locating is about and have some experience on-site. Once you tick those boxes, you can undertake the Dial Before You Dig online self-assessment. If you can't answer some questions just ask for advice from our experts. If you can nail the self-assessment test you move onto the theory and practical exams, it's quite a process before being awarded your official certification card," says Australian V8 Racer & Certified Locator, Jon McCorkindale.
Getting certified takes a number of steps:
1. Undertake industry provided training in locating and have a full understanding of what is required.
2. Gain work experience – Once you have completed your training you will need to work alongside a competent certified locator to put the skills you learnt into practice and continue to learn from the expert.
3. Head over to the DBYD locator website HERE and click "Get Certified".
4. From here, you'll be able to complete the free self-assessment task.
5. Once you've successfully completed that, you'll be able to tackle a 1-hour theory assessment task.
6. Having passed the theory assessment you will then be required to undertake a practical assessment, which will be conducted by an assessor at a selected field location.
7. Once you have passed the practical assessment your DBYD Certification will be awarded to you (both a wallet-sized card and fully-fledged certificate).
The full process map for locator certification is as follows: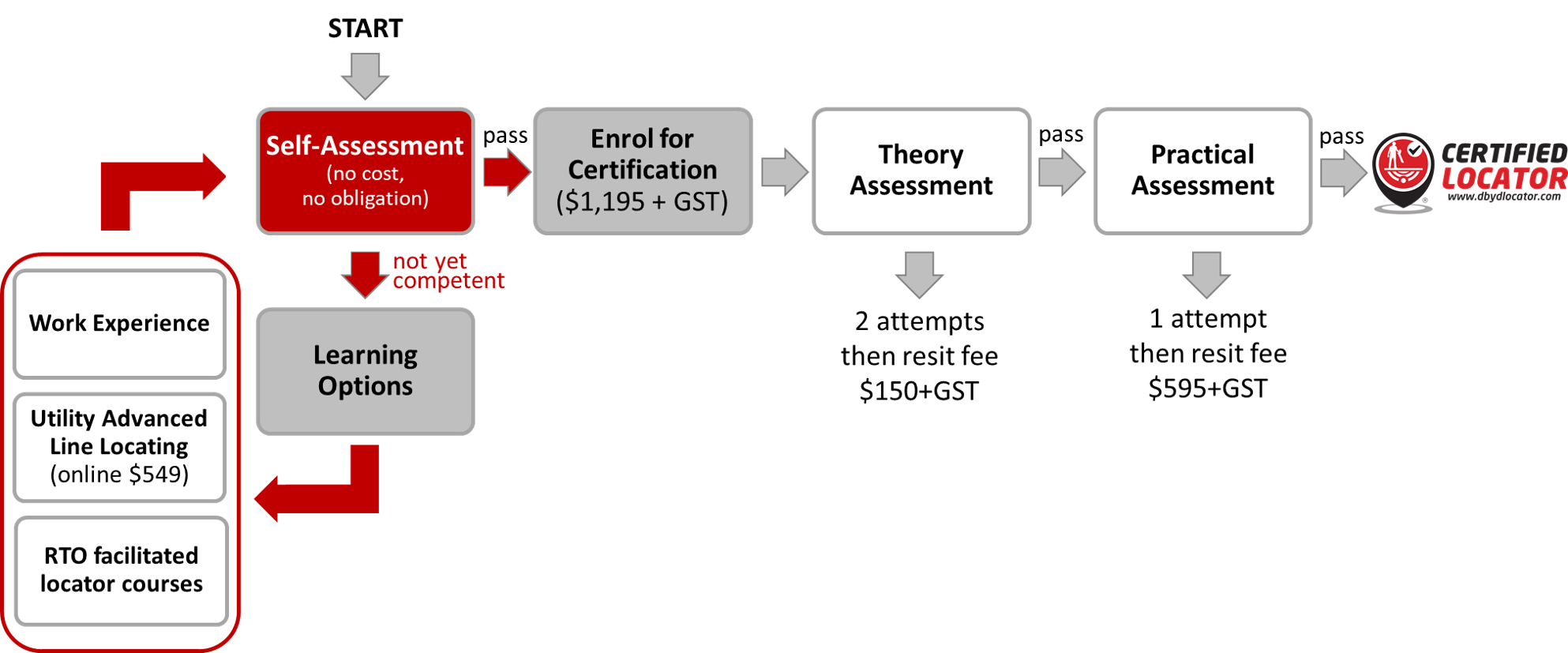 Having someone DBYD certified would be a great addition to your team, and additionally, on an individual level, can prove to be a great asset for professional development. The DBYD certification will give you the opportunity to gain access permissions to some of Australia's major companies' assets like Telstra, Optus, Energy Queensland, and more. If that all sounds too difficult then why not simply go to the locator website (http://www.dbydlocator.com/) and there are a list of Certified Locating Organisations who can provide the required service locations.
In this day and age, demand for locators continues to rise alongside the ever-growing number of subsurface utilities installed across Australia. With DBYD's certification, you can be comforted by knowing you are engaging the services of a competent locator who has demonstrated their ability to pass a rigorous assessment, both theory and practical.
If you are looking to find out more, head over to Dial Before You Dig's certification website here .