Any permanent structure needs a foundation that connects it to the ground. When it comes to foundations, one of the most common types used is the concrete slab. There are several good reasons for this:
It's durable.
Has a low carbon footprint.
Is a good conductor of heat.
It's completely emission-free.
It's recyclable.

Contingent upon several factors, however, using concrete slabs can add more cost to your construction project. Here's a quick guide on concrete slab prices to give you a better idea about these expenses.
What are concrete slabs used for?
Concrete slabs are not limited to foundation use; they are a common element in structures, used to create all manner of flat and usually horizontal surfaces such as ceilings and floors.

A concrete slab is typically several inches in thickness and supported by other structural elements like columns, walls, beams, or the ground.
How much does a concrete slab cost per m2 in Australia?
So how much is a concrete slab? The most affordable ones normally cost from $50 to $75, while the most expensive types are worth around $100 to $150.

This range may be a bit wide, but it gives you an idea of where to start when studying quotations. Just note that these prices may vary depending on several variables (more on these later).

Below is a price rundown of some of the most common types of concrete.


| | |
| --- | --- |
| Type of concrete | Concrete slab cost per m2 |
| Plain concrete | $60 to $85 |
| Spray-on concrete | $50 to $75 |
| Reinforced concrete | $65 to $90 |
| Coloured concrete | $75 to $90 |
| Exposed aggregate finish | $100 to $150 |
| Stencilled concrete | $100 to $150 |


Factors that affect concrete slab cost
As mentioned earlier, concrete slab prices may vary due to several different variables. These include the following:
Slab thickness
How thick do your concrete slabs need to be? Certain thicknesses are more appropriate for specific types of structures. For instance, a parking garage will use thicker concrete slabs than those for a house.

Naturally, thicker slabs cost more than thinner ones, as it determines how much concrete used in making them. Likewise, thicker concrete blocks will require more workers and time to put everything together.
Size and complexity of the project
Like thickness, a structure's size will dictate how much you'll spend. Consider that a large building will cost more than a small bungalow. That's because transporting the necessary materials and equipment, setting everything up, and completing a larger, more complicated project will require more work hours.
Accessibility
Remember that transporting heavy concrete blocks to hard-to-reach areas will require more time and effort, so expect your outlay to change depending on accessibility.
Type of slab
There are several types of concrete slabs used for construction. They come in different prices and applications. These include:


Ground slabs – Used for ground floors on residential or commercial structures.
Suspended slabs – These don't come in direct contact with the ground. They're used on roofs or floors above ground level.
Waffle slabs – These have better load capacity than one-way slabs. They're used in structures that require fewer vibrations.

Location
Your concrete slab cost may also change due to market factors where you're located – like the cost of petrol – and this may influence you're quoted for the work and materials.

For example, if the concreting company you chose is far from your project site, they may charge you more when transporting your slabs.
Can I pour my own concrete slab?
Sure, it is possible to do this task yourself. Know, however, that the larger the area to concrete, the higher the degree of difficulty. For instance, let's say you're pouring concrete over a standard single-car garage floor, which has the following dimensions:


Length: 7 metres
Width: 3.5 metres
Thickness: 15 centimetres (or 0.15 metres)
According to the iSeekplant concrete calculator, you will need around 3.67 cubic metres of concrete, which is equivalent to about 425 20-kilogram bags.

Preparing the surface, installing wood footers, hand-mixing several bags into batches, shovelling the concrete into the footers, spreading the mix, trowelling and screeding the surface, and finishing a batch before it hardens seems too much for one person to handle.

If you do the hand-mixing, surface preparation, and wooden forms incorrectly, there's a likelihood that the slab will crack prematurely. For the best results, hire a concrete slab contractor.


Do you need footers for a concrete slab?
Typically made of planks, footers are temporary shapes assembled to contain concrete or similar materials. To keep footers in place before the concrete is poured, you need to dig channels in the ground. Footers are necessary because they help keep concrete slabs in place while it's drying. So yes, you do need footers for a concrete slab.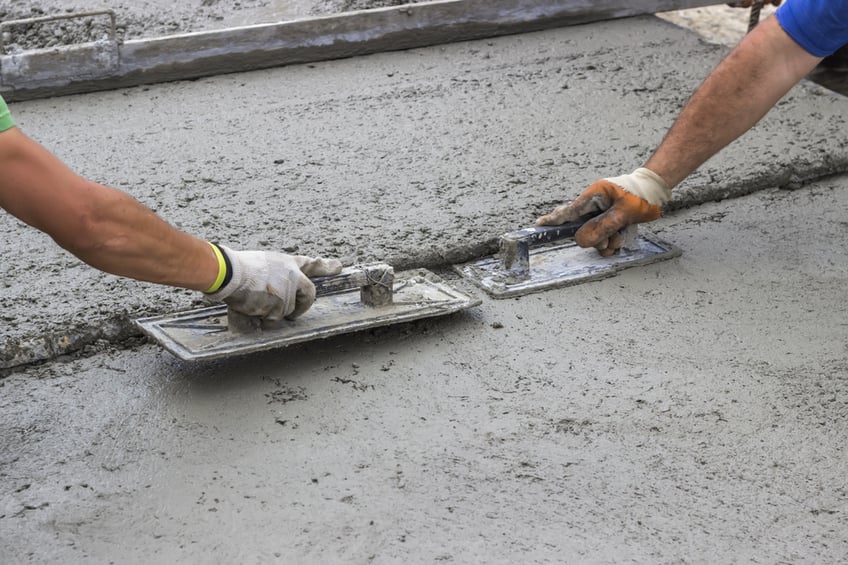 What is the difference between a concrete slab and a cement slab?
People usually use the terms "concrete" and "cement" interchangeably, but they are not the same. Cement is an ingredient of concrete; it's a binder that sets, hardens, and adheres to other materials to bind them together.

Concrete is a durable construction material with four primary ingredients:
So, what is the difference between the two? The cement slab is not quite as durable as the concrete slab and may crack over time. Cement is a popular choice for driveways and walkways. Concrete can withstand the elements and weight of items.


How can I find the best concrete slab cost possible?
Here's the easiest way how: Visit iSeekplant, Australia's largest online construction hire marketplace. Through our website's ever-expanding database, you can find and contrast many concrete slab contractors in just a few clicks.

Bonus tips:
When you do your search, get quotes from at least three concrete slab contractors near you, then compare their rates to get competitive concrete slab cost estimates.
Found your prospective contractors? It's not enough to know their contact details. Research on their previous work online. Their websites will likely have positive reviews, so dig deeper via Google, Facebook or their iSeekplant profile to find out what people are saying about them.
Read the contract thoroughly. Make sure it contains your project's explicit technical details (e.g. design, concrete slab cost per m2) but is expressed concisely.


Take note that if you don't have the time to carry out the legwork and find a capable contractor yourself, you have other options. You can contact our expert team at 1300 691 912 or reach out to our Projects Team via email with your job specifications. We'll get your closest concrete slab contractors to contact you with their best rates.