So, the kids have been nagging you for a cool treehouse in the backyard and you're considering building one, but you're just not sure how to start. Well, you've come to the right place. Now's your chance to make their dreams (and your childhood dreams) come true. We've come up with some steps to consider when it comes to building your DIY treehouse.
1. Selecting the right tree
When it comes to building a treehouse, picking the perfect tree is the most important step. Without the tree, you've just got a small house. It is vital to do a check to ensure the tree is healthy and sturdy. Be sure to check for any signs of diseases or parasites, deep roots that spread out in the ground, and preferably select a tree that has already reached its peak in growth. You may want to consider mounting the treehouse against multiple trees to provide more support. Ideal trees for treehouses include oak trees, ash, beech and maples, as they grow quite large and can withstand different weather climates.
2. Confirm regulations and approval
It would be discouraging if you completed your wonderful treehouse, only to discover that it doesn't fulfil council regulations. Make sure you're checking with your local government of any violations that your treehouse might possibly be facing and whether a permit is required. Don't forget to keep the neighbours on your side by informing them of your plans (especially if the treehouse might overlook their property)!
3. Designing the treehouse
The design of your treehouse might not turn out exactly how you build the treehouse, but that's okay. Just keep a mental image of the original design and adjust accordingly. However, there are many resources, books and plans available online that may be great to refer to if you're not sure where to start. It's recommended to elevate the treehouse anywhere from 1.5 metres to 3 metres from the ground. You'll need to consider implementing safety measures for the kids with a high treehouse. If the tree you've chosen has not fully grown in height, be sure to take this into consideration during the design phase.
4. Having the right materials handy
You're going to need many different tools when building a treehouse. Here's a list of materials you might want to consider having on site before beginning your DIY treehouse:
Timber or lumber

Galvanised lag screws and washers

Galvanised joist hangers

Galvanised rafter ties
We recommend piling up on the nails, nuts and bolts. Remember, it's always better to have more than less so that you're prepared for any unexpected situations.
Need machines to build a treehouse in your backyard? Get quotes with iSeekplant today!
5. Gathering the right tools
Without the correct tools, building a treehouse might be a bit tricky. Here's a list of the minimum tools that you should have on hand before you start:
Hammer

Square

Saw

Level

Tape measure

Adjustable wrench

Cordless drill

Jigsaw
Check that your power tools are all in a good working condition. You may also want to consider keeping a ladder or stepladder handy, depending on the height of the treehouse.
6. Supporting the treehouse
It's important to know your options when it comes to supporting your treehouse. You wouldn't want all your hard work to collapse or potentially cause damage, so there are three main options to support a treehouse.
The first option is bolting the support beams or floor platform into the tree.

The second option is using sunken posts near the tree to provide extra weight-bearing support.

The third option is suspending the treehouse from strong and study branches using materials such as ropes, chains or cables.
The choice is up to you, but be sure to double check the treehouse is supported securely and safely once mounted.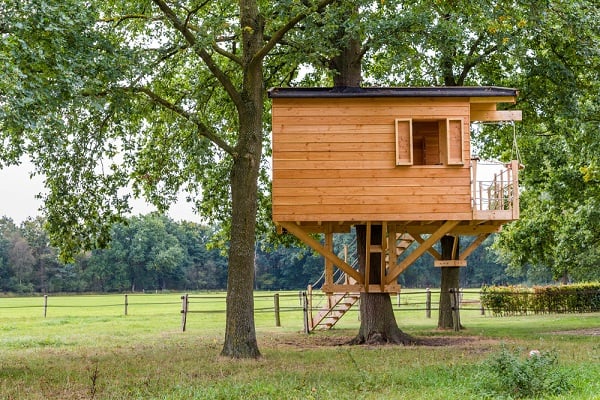 7. Accessing the treehouse
One of the best parts of a treehouse is using it for escapism, so the methods of accessing the treehouse should be simple, safe and fun. Ladders, rope ladders or staircases with handrails are great options to implement on the treehouse. It's important to keep in mind that a sturdy ladder or staircase might be easier for the little ones!
8. Sit back and relax
Once you've completed the treehouse build, it's time to sit back and relax while the kids enjoy their treehouse adventures. No need to stress anymore, you've earned it!
Hire construction equipment with iSeekplant!
iSeekplant offer thousands of construction suppliers across Australia in Brisbane, Sydney, Melbourne, Darwin, Canberra, Adelaide, Perth and rural areas. Hire construction machinery by contacting our team using our Get a Quote tool.
Subscribe to the Flapping Mouth Blog below to stay informed with the latest industry news and projects.