Skid steers often come with attachments to assist with different types of jobs. Your machine will not work well if all attachments are not correctly attached and could damage the machine or potentially injure people on site. It is important that you understand how skid steer attachments work and what you need to do if you ever need to change skid steer attachments.
Uses of skid steer loaders
Here are some of the main uses of a skid steer loader:
A skid steer is a common machine at construction sites as these machines are used to demolish interiors and exteriors of buildings. They're compact and can be very useful in situations where there isn't a large space for big machines. You can add different attachments to get more.
Debris removal
A skid steer bucket can be used to remove debris and other materials. You can use a skid steer to demolish structures and then with skid steer buckets you can remove what's left on the ground.
More and more people are now using skid steers to perform road maintenance and building tasks thanks to their cutting edge technology that allows them to work well on a flat surface.
You can use different attachments for different purposes. Examples include a wheel saw, trencher, and auger for roadworks.
Mowing
Most homeowners choose a skid steer to use as a mower. These machines come with a quick attach system that makes mowing a piece of cake for large properties or outdoor areas like parks.
Backfilling and grading
A skid loader can be used to fill in holes and level out uneven surfaces. You will need a general purpose bucket for this particular task and can efficiently move soil and other materials to flatten a surface.
Loading
These machines are often a part of construction jobs as they make loading and carrying materials and equipment easy. There are even multi-terrain loaders for complex projects on rough or uneven sites. Moreover, you can add pallet forks and use these at warehouses as well.
How to change a skid steer attachment in 5 steps
Here's how to remove an attachment:
#1 Make sure to find a flat surface and ensure there are no distractions.
#2 Start by knowing your machine and ensure there's no debris in the attachment.
#3 If it has a quick attach system, simply find the release button – usually located on the steer's side panel – and release it. If it is a manual system, you will have to lift up the lock pins that are usually found on the outside of the existing attachment
#4 Reverse your device until the mountain plate releases the attachment (quick attachment). In case of a manual system, go back in the cab after removing the pins and tilt the steer to free the mounting plate.
#5 Done.
Here's how to add an attachment:
If you have a quick attach system:
Align the mounting plate to your attachment
Gradually move the mounting plate till it slides into the saddle of your new attachment.
Next, operate the skid steer until the arms slide into your new attachment. They must lock neatly and lay flat against the mounting plate.
Press the engagement button
Done.
If you have a manual system:
Manual systems require some manual work. You will have to secure your new attachment with the lock pins. Make sure to carefully align everything and check for resistance between the attachment and your skid steer. There should be none.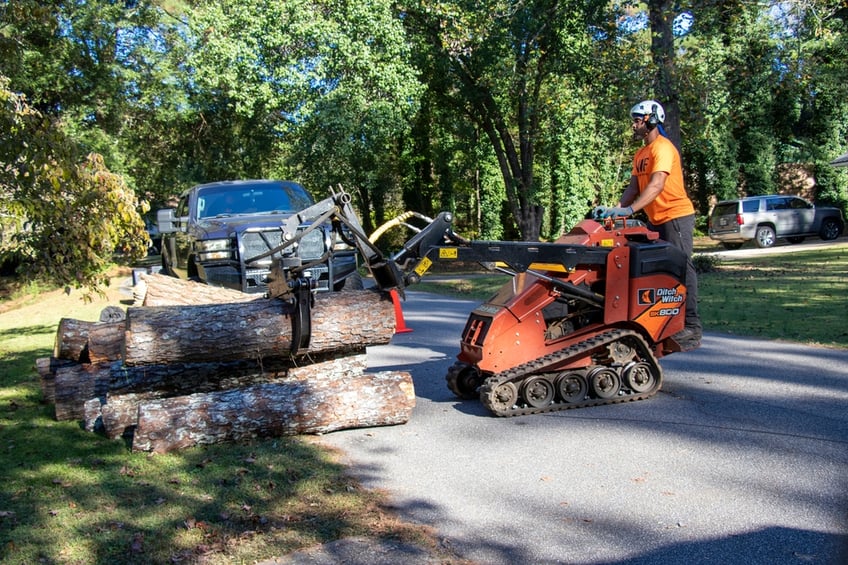 Types of skid steer attachments
Here are some of the main skid steer attachments:
Buckets
You will find buckets in various dimensions and designs. A cat skid steer, for example, uses general purpose buckets that can do most tasks. Other examples include industrial grapple buckets, and multi-purpose buckets.
Backhoes
You will be able to convert your machine into a backhoe loader with a backhoe attachment. These work well with both newer skid steer models and older designs.
Brooms
This attachment is used to make cleaning easier. You can choose from a variety of types such as pick up brooms and utility brooms.
Rakes
Rakes make landscaping easier and are also used in construction. You can choose from a variety of types including landscape rakes, excavator rakes, and power box rakes.
Trenchers
They're also used in landscaping and construction and are very versatile. You can use the quick attach system for trenchers or manually attach the device base.
Brushcutters
These are used to demolish thick brush. Caterpillar is known for making high quality brushcutter attachments and they often come with a mounting plate and can be used to mow as well.
Tillers
Tillers offer great convenience and help save time by making landscaping easier. They can break rocks and smooth uneven terrain.
Augers
This attachment is used for drilling and can dig holes for footings, planting, and more. Most people opt for hydraulic augers as they are very powerful and often come with a quick attachment system.
Hammers
You will find hydraulic hammers used to break through bricks, concrete, and rock. These attachments offer excellent performance and work well thanks to quick attach systems.
Mulchers
You will need this attachment if you are completing land management. These attachments offer excellent control and precision and come with a push bar to guide vegetation into the drum.
Forks
This attachment is typically used in warehouses, lumberyards, and more. This makes lifting easier and safer.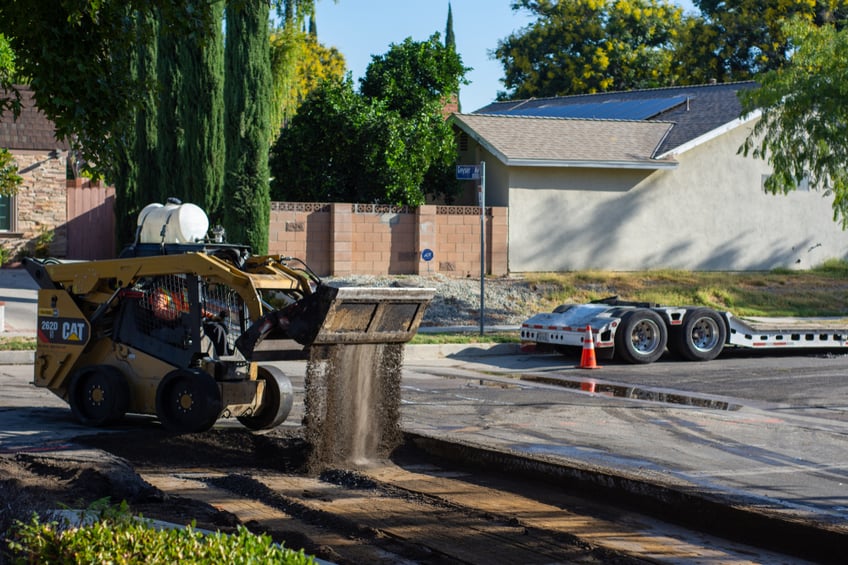 Are skid steer attachments universal?
These attachments are considered universal as they are interchangeable among different models and brands. This is made possible thanks to the "quick attach" system that's a universal skid steer loader attachment used all around the world.
How much does it cost to hire a skid steer? Are attachments included?
It costs between $70 and $125 to hire a skid steer in Australia. The price typically doesn't include attachments and operators.
Attachments can cost anywhere between $50 and $500 per hour and operators will usually charge around $40 and $60 to work at your job site.
Melbourne and Sydney are the most expensive cities to hire a skid steer. Also, you might be able to save money by finding reliable and affordable providers.
Find skid steer loader hire through iseekplant
Whether you're looking to hire a skid steer or an attachment, iseekplant have hundreds of suppliers Australia wide to suit your needs. If you're located in Sydney, Perth, Brisbane or Adelaide, we can help you find the right supplier. Search for the right machine or attachment on the marketplace, or compare quotes using our Get a Quote Tool. And if you need more information about hiring from the marketplace, email our projects team today.