Sometimes digging a hole isn't as easy as it seems. Here is a step-by-step process on how to dig a hole for a post:
How Do You Dig A Post Hole?
Step 1 - String your line and pound the stake
Create a line of string marking the outside edges of the post. Mark the centre of the line by untwisting the string and popping a nail through the string strands. Then mark the centre of the post hole.
Step 2 - Carve out a soil divot with a spade
Place the string marking aside while digging and drilling the pilot hole. Cut around the outline of the post hole and then pop the excess dirt onto a tarp to protect your lawn.
Step 3 - Loosen earth with a tile shovel
To loosen the soil, carve away the sides of the hole with a tile spade as it also makes cutting through small roots easier.
Step 4 - Use a clamshell digger
When using a post hole digger, dip the clamshell digger blades into the hole with the loosened soil and then load the hole with fill.
Step 5 - Use a reciprocating saw on large roots
Use a recip saw with a long blade to cut the root ends within the hole.
Step 6 - Dislodge rocks with a digging bar
Dislodge any rocks from the sides of the hole with a digging bar and then remove them with a clamshell digger.
Step 7 - Tamp the soil with the other end
To prevent settling, use the tampered end of the digging bar to condense the soil before setting posts in place.
Step 8 - Mark the post edge locations
Pull out the nails and mark the precise post edge locations on the string with a permanent marker.
Step 9 - Cover hole with plywood
Cover the hole with plywood. Take a break and return after a few hours.
Step 10 - Set the post in place
Set the post in the hole and align it to the string markings. Hold the post in place while you fill in the hole and use the tampered end of the digging bar to pack it down.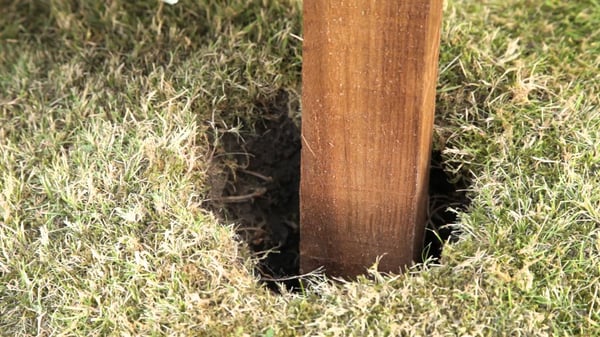 How To Dig A Post Hole In Concrete?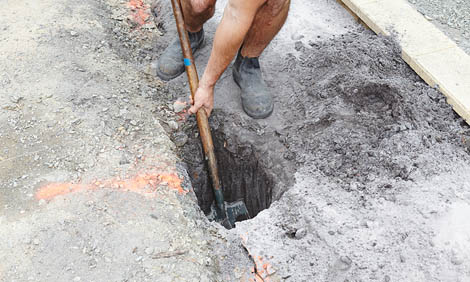 When digging a post hole in concrete, you should have a good understanding of health and safety measures. You need to be equipped with a quality hammer drill to successfully dig a post hole in concrete.
How Deep To Dig A Fence Post Hole?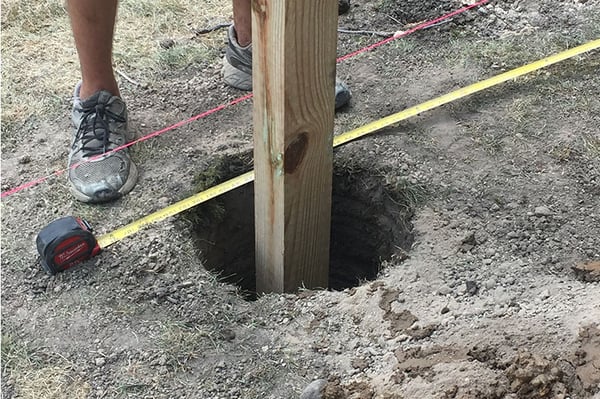 It is recommended when setting a fence post into a hole, it is required that the post must be above the ground and divided by three. The width of the post hole must be three times the width of diameter of the post.