Polished concrete has become a highly popular treatment in both commercial and residential builds. Primarily used in flooring, it offers a durable and low-maintenance solution that is also visually appealing.
While not a difficult process, it can become time consuming depending on the level of gloss that is sought. A high concrete gloss finish, for example, could potentially blow out to around 10 hours per square metre – a considerable amount of time and money if not accurately budgeted for. The time required will also be dependent on whether you are pursuing a true concrete polish, or a less resource intensive concrete grind. The difference between the two are outlined below.
What is concrete grinding?
Grinding (or "grind and seal") is a swift process. Grinding saves an estimated 60% of the total steps required to achieve a full polished concrete finish. A grinder is used on the surface to remove as many imperfections as possible to achieve the desired exposure. A clear, penetrating sealer is then applied across the surface to make it impregnable to other substances. The result is a smooth surface, but one that is lacking the reflectiveness and high-gloss sheen that polishing achieves.
What is concrete polishing?
To achieve a full concrete polish, the slab is ground down to expose the aggregate, with the diamond abrasives getting progressively finer through the process (much like working with a coarse timber and sandpaper). Once completed, the surface is hardened using a penetrating densifier, which also provides a gloss or satin finish. The completed surface will be glass-like and incredibly smooth, as often found in premium office spaces and residences.
"Measure twice, cut once" applies to successfully polishing a concrete floor, as thorough preparation is pivotal. The steps involved in achieving a full polish can be broken into four parts:
How to polish a concrete floor:
Step 1 - Initial surface preparation: This process will differ depending on whether the surface is an existing, or new slab. A new slab will decrease costs significantly as things like a decorative polish can be included in the mixing and pouring stages. So to answer the question can you polish old concrete? Yes, just be aware it may cost more depending on your desired finishes. In the preparation phase, any existing sealer or topping needs to be removed and replaced with a topping aggregate of a minimum of 50 mm in depth. Within this topping there may be decorative finish inclusions that are to be displayed in the final finished surface.
Step 2 - Surface grinding: Once the topping has hardened, a grinding machine is deployed. Typically starting around 16 grit and getting progressively finer, the exact number of cycles required is dependent on the desired smoothness. This process and the subsequent polishing, can be undertaken either wet or dry, with each method having their merits. For example, the dry method is considerably less messy, however the wet method avoids the residual dust and the associated potential health impacts.
Step 3 - Surface sealing: This actually occurs during the grinding process and involves the application of a sealing solution to the surface. This is designed to fill holes and cracks in the slab that have been exposed during grinding. To further strengthen and solidify the surface, a water-based chemical solution (or densifier) is applied. This penetrates the concrete, increasing its density and waterproofing it prior to polishing.
Step 4 - Surface polishing: In the final stage, a diamond resin pad or shoe of around 50-grit is used over the surface. Like the grinding process, the grit levels are increased (such as 100, 200, 400, 800, 1500 and finally 3000) to achieve the desired gloss level.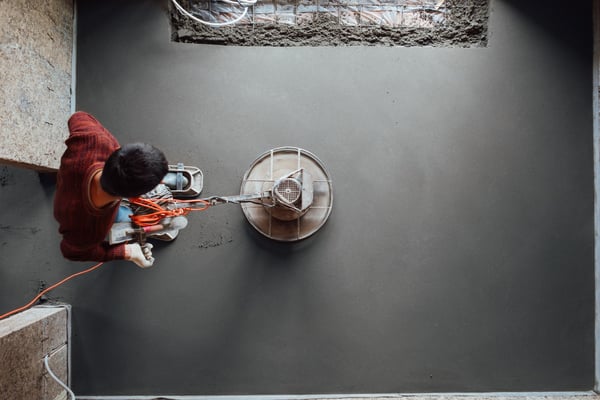 A grind and seal will utilise a concrete grinder, which is designed to remove existing treatments and membranes, smooth out imperfections in the slab and prep the surface for any planned painting or floor coverings. A full polish will require a concrete polisher to achieve a high gloss through fine abrasives. Both machines come in various sizes (from small handheld units, through to larger industrial machines) and can be fitted with vacuums for dust control. Machines also exist that do both jobs (eg. The 415V Planetary grinder) which can take the surface from grinding, right through to a polished finished and even has an LPG version which runs off a gas bottle. Think you could be after a piece of plant to help you out? Here at iSeekplant we have hundreds of suppliers across the nation, so you can start searching our platform to get your project up and running!
From project and industry news, through to tips and tricks, subscribe now to the iSeekplant's Flapping Mouth blog below!