Ultraspeed Australia, the official Australian representative of Hyperloop One (now known as Virgin Hyperloop One after an investment from Richard Branson), has flagged plans to have a functioning Hyperloop in Australia.
The proposed route of an Australian Hyperloop would be between Sydney and Melbourne, potentially cutting the 8-hour car journey down to 55 minutes. To achieve this a Hyperloop system would send commuter and freight pods flying through a depressurised tube at speeds in excess of 1,000 km/h.
The idea for such a transport system was first championed by Elon Musk, but due to other commitments (nothing major, just building electric, autonomous cars and sending people to Mars) he tasked the creation of the Hyperloop to others, providing the initial funding.
In May Virgin Hyperloop One successfully tested demonstrated to the Hyperloop system and since then speeds have been consistently growing, most recently hitting 355 km/h.
Why is Virgin Hyperloop One Looking at Australia?
Virgin Hyperloop One's vice-president for worldwide business development Dr Alan James, spoke about Australia as a testing ground for the Hyperloop;
"We're very keen to explore the potential for doing proof of operations in Australia and the reason for that is there's a clear long-term need for ultra-fast transport on the Australian east coast,"

"Melbourne to Sydney is the third busiest air corridor in the world and we can give you Melbourne downtown to Sydney downtown in 55 minutes."

"So we would be looking, either in NSW or Victoria, or possibly in ACT, to develop the first section of that route, to prove the operation of Hyperloop, to get regulatory approval."
It is expected that a Hyperloop from Melbourne to Sydney would cost anywhere up to $40 Billion.
How is Hyperloop Different From a High Speed Rail?
Are you balking at that $40 billion figure? Well a high speed rail along the same route has been flagged to cost anywhere up to $200 billion to construct.
Other than the initial construction bill the economics to run a Hyperloop separate it from a high speed rail.
According to Dr Alan James, because the pods operate in a pressure reduced environment it will cost "next to nothing" to move from one city to another. This means that Hyperloop pods can travel with an occupancy of 10 to 15 per cent. In comparison if a high speed rail had a similar occupancy it would quickly go bankrupt.
How Will A Hyperloop be Constructed?
The exact construction requirements of a Hyperloop are still unknown to this author (though if I knew I doubt I would understand). However, the majority of renders of such a system seem to show an elevated tunnel system which houses the pods.
Obviously, any $40 billion infrastructure project that spans a significant portion of the east coast is going to represent a massive construction opportunity, representing thousands of created construction jobs and billions in construction contracts.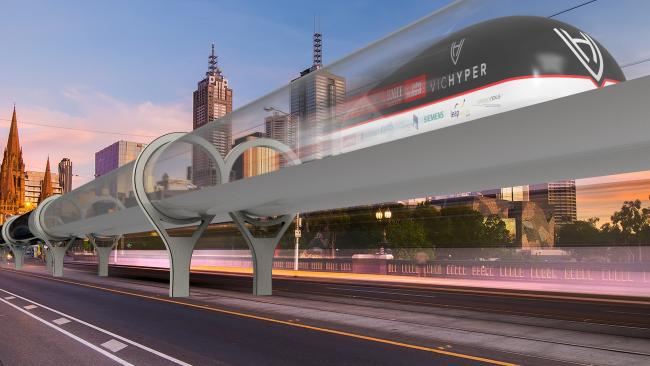 How Would A Hyperloop Be Funded?
As a multi-billion infrastructure project (especially one that spans states) it would require some support from the Federal GOvernment. Victorian Small Business, Innovation and Trade Minister Philip Dalidakis spoke about the potential government involvement;
"I think with a project of this size and scale you'd have to involve federal government in it. Nearly every piece of major infrastructure, especially transport, has at some stage received significant funding from the government,"

"I think Hyperloop has extraordinary potential but at the same time I think we're still a few years away from looking at the technology in a meaningful way."
However, Australian venture capitalist Phillip Kingston believes in the Hyperloop and believes now is the time to move on such a project, he's even on the record as willing to stump up some funding. In fact, while Mr Kingston has offered to help get the required political support, he is keen to avoid too much government intervention;
"I hope it doesn't get politicised like the NBN did, where it became more about the politics of the day — we would hope this could be a privately run, privately funded enterprise,"

"The good thing is a lot of the land that is needed is available and you could run it alongside the Hume Highway, it's not a major land reclamation project."
But What Are The Actual Odds of This Getting Off the Ground by 2021
I'll be paying about $6.50 if anyone wants to put some money on it.
Become a supplier on iSeekplant and make a free profile here
To search for machines or plant hire suppliers, click here.
Source: Gizmodo, The Australian, News Corp, ABC News, AFR, Virgin Hyperloop One, VicHyper