Parramatta Light Rail – the $2.4 billion project connecting Sydney's west
The Parramatta Light Rail project is a phased initiative aimed at delivering community creation and connectivity in Sydney's thriving west. It is projected that over 50% of Sydney's population will reside in Western Sydney by 2036, with plans for over 70,000 new homes to be built in the Greater Parramatta Region over the next 20 years.
The Light Rail is a vital component in accommodating and mobilising this population, with the NSW Government estimating that around 28,000 people will utilise the service daily. The Government also projects that 130,000 residents will live within walking distance of a light rail stop.
Dr Geoff Lee, Member for Parramatta and Minister for Skills and Tertiary Education, said: "This Parramatta Light Rail will bring people living in Greater Parramatta together with a safe and efficient public transport network.
"It will improve connections to popular key destinations across the region, while also linking into Sydney's greater public transport networks."
The project will be completed in two stages:
Westmead to Carlingford, via the Parramatta CBD and Camellia. This will encompass 16 light rail stops along a 12 km stretch, including the new Powerhouse Museum, Bankwest Stadium, the Rosehill Gardens Racecourse, and three campuses of Western Sydney University (Rydalmere, Parramatta and Westmead). Early works have begun on this stage, with major construction works scheduled to start later this year and services projected to begin running in 2023.
Parramatta CBD to Sydney Olympic Park. This stage is currently in the design phase and being evaluated for viability by the NSW Government prior to a funding decision being made. If approved, it will have between 10 and 12 stops along a 10 km stretch and connect with Stage 1. In addition to servicing communities in Ermington, Melrose Park and Wentworth Point, it will also provide a link to the Sydney Metro West, ferry services and heavy rail. The projected completion date for this stage is 2026.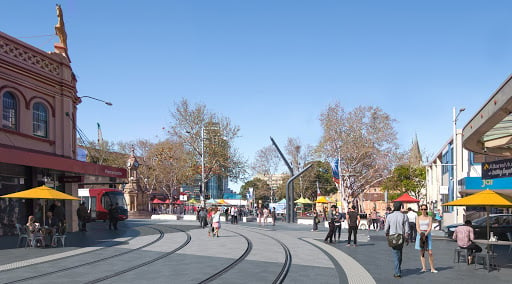 Projected to cost a total of $2.4 billion, the NSW Government has thus far committed $1 billion to the initiative from Rebuilding NSW and Restart NSW coffers. Estimates place job creation through the project at around 5,000 in total.
The main objectives of the Light Rail project are to deliver:
A frequency of a service every 7.5 minutes during the peak 7am to 7pm weekday period
Reliable and extended hours of operation, running from early morning to late at night, seven days a week
Capacity to carry up to 300 passengers per vehicle (equating to approximately six standard buses)
State of the art, air-conditioned vehicles for comfortable travel
What are the key dates in the Parramatta Light Rail project?
The key dates in the project are as follows:

Stage 1 – Westmead to Carlingford: early works are underway and services on the line are projected to start running in 2023
Stage 2 – Parramatta CBD to Sydney Olympic Park: pending requisite approvals, the projected completion date of 2026
Who is responsible for building the Parramatta Light Rail?
Who is responsible for building the Parramatta Light Rail?

The project will be delivered under a number of contracts, with the main ones as follows:
Downer and CPB Contractors – construction of the light rail, valued at $840 million
Great River City Light Rail consortium (comprised of Transdev and CAF Rail Australia) – supply and operation of the network, building of the depot, power systems and light rail stops, valued at $536 million
Where is the
Parramatta Light Rail going?
Upon completion of both stages of the Parramatta Light Rail, the line will stretch approximately 22 kms in length. Services opening in 2023 will provide transport between the following locations:
Parramatta Central Business District
Parramatta North Growth Centre
Westmead Precinct
Bankwest Stadium
Powerhouse Museum and Riverside Theatres
Camellia Town Centre
Rosehill Gardens Racecourse
Telopea
Western Sydney University campuses
Stage 2 is an extension of the project and will connect the first stage to Sydney Olympic Park, Ermington and Wentworth Point. This will likely be completed in 2026.
There's no better way to stay across the latest industry and project news, than by subscribing to iSeekplant's Flapping Mouth blog below!