The plumbing is one of the most important systems in your home or establishment. It conveys water supply, drainage, heating and cooling, and gas fitting among other vital applications.
To ensure that your plumbing is functioning properly, you need the help of a skilled professional – a plumber. Plumbing services, however, are not cheap in Australia.
To help you traverse the skilled industrial trades marketplace, we've put together this Australian plumbing cost guide to lay out what you can expect to pay.
What jobs can plumbers do?
Plumbers perform a wide variety of tasks. The most common ones are:
Installations
Toilets
Hot water systems (solar or otherwise)
Drains and sinks
Water filters
Bathroom vanities
Dishwashers
Gutters
Repairing or Replacing
Leaking faucets
Toilers
Showers
Washing machines
Water heaters
Burst pipes
Drains and sinks
Old plumbing
Plumbing has specialised areas as well, which may require plumbers to undergo additional training and certification. This may include:
Gas fitting

Urban irrigation systems

Fire protection

Sanitary drainage systems
How much does a plumber cost?
Because plumbers perform a diverse range of tasks, plumber hourly rates vary depending on the job you need done.
When it comes to installation and repair, the average cost is about $120 to $230.
For maintenance jobs, the average cost is from $130 to $250.
For more specifics, here are the usual plumbing prices for some of the most common services.
| | |
| --- | --- |
| Plumbing job | Typical plumber cost |
| Install a bathroom vanity | $160 |
| Fix a leaking pipe | $180 |
| Replace a broken faucet | $120 |
| Replace a damaged toilet | $150 |
| Unblock a drain | $150 |
| Unblock a toilet | $120 |
What factors can affect plumber rates?
Not all plumbing projects are priced the same. That's because each job has different circumstances. Here are some of the major variables that can affect yours.
Scope of the job
What do you need done in the first place? Unclogging a drain or fixing a leaky faucet will cost less than fixing a burst water pipe that leaked into the gas mains.
The rule – which can be applied to essentially any service – is as follows: The more complex the task, the more expensive it gets.
Type of plumber
There are different types of plumbers. On the most fundamental level, there are two:
Plumbing contractors primarily deal with new construction projects and renovations. They're usually engaged with such projects for months.
Service plumbers work with residences and establishments to perform tasks like plumbing repairs and maintenance. They usually advertise, have their own website, and post reviews of their service.
You can further classify plumbers into further sub-categories. Plumbing companies have a team of plumbers, which means they can take on larger jobs. Independent plumbers work solo, so they're suitable for smaller tasks.
In addition, there are generalist plumbers who perform a range of plumbing jobs, and plumbing specialists, who are licenced to do certain types of more complicated projects.
Independent plumbers who do smaller, all-rounder types of jobs will likely be more affordable than companies that employ a fleet of professionals, or even specialists.
Equipment and materials needed
Installing, repairing, or replacing plumbing fixtures requires the use of materials (e.g. bushings, couplings, PEX pipes). This plumber cost will be passed on to you.
The more complex jobs, however, may require specialised equipment and/or materials. For example:
If your plumber needs to find out why your pipes are blocked, they can use a drain camera and pipe locator. The fee for the drain camera service is usually upwards of $150, while the pipe locator could cost around $99.
If your pipes are clogged due to built-up residue, your plumber can use a jet blaster to clean it out. This would set you back by around $150.
When you need the job done
Plumbing services come at a premium if you need it done outside regular business hours – like weekends, holidays, or the middle of the night. It's common for plumbing prices to double for emergency plumbing jobs.
Location
Plumber hourly rates vary depending on how much labour costs in your area. Here are some estimates:
| | |
| --- | --- |
| City | Average plumber cost per hour |
| Adelaide | $75 to $175 |
| Brisbane | $80 to $200 |
| Canberra | $90 to $200 |
| Melbourne | $80 to $200 |
| Perth | $60 to $200 |
| Sydney | $50 to $250 |
Call out fee
A call out fee is a fixed amount charged by a plumbing company or tradesperson to come to your residence or establishment. It's added on top of the plumber hourly rates.
The plumbers call out fee normally covers the expense of going to your home or business, and attending to your problem. It's also compensation your plumber's skill and experience.
Because tradespeople set their own fees based on variables like service needed, location, and day and time you need the job done, the plumbers call out fee may vary considerably. For instance, if you need an emergency job done outside business hours, you can expect a call out fee of about $50 to $200.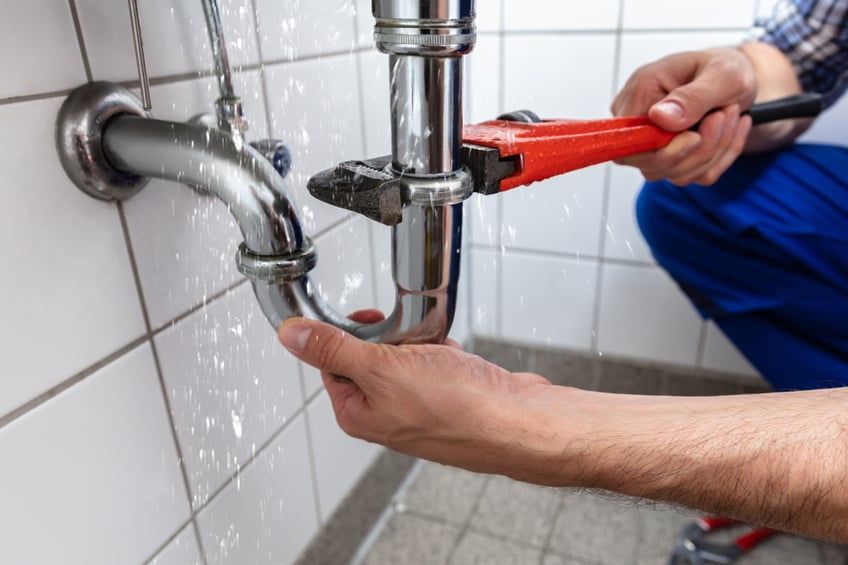 How much does it cost to install new plumbing?
It depends on what specific type of plumbing you want installed.
If you want to install plumbing for a standard bathroom, the average price typically ranges from $2,000 to $3,000. Note that piping and other materials can add $500 to $1,000 to your total expense.
If you want to install a toilet, you'll likely spend $250 to $480 on average, but this may balloon to $800.
If you want to install a new faucet, expect to spend between $200 to $550. Note that this may vary, depending on the type of faucet.
Do you pay a plumber upfront?
Never pay a plumber 100% of the cost before the job starts.
If your plumber estimates that the job won't take long to finish, you can pay when they finish the job.
For longer projects, some plumbers may use a pay-as-you-go approach where once they finish certain parts of the job, you pay a certain percentage of the cost.
Other plumbers use a time-based system where after a few weeks, you pay a certain part of the cost. This, however, can backfire if the plumber works at a slow pace.
How can I find the best plumber cost possible?
Visit iseekplant, Australia's largest online construction marketplace.
It's no surprise we're a trusted search site for hire equipment and contracting services. Through our website's powerful search capabilities, you can find and compare many licenced plumbing services in just a few clicks.
But if you're busy and don't have the time to find a qualified and licensed plumber by yourself, you still have a couple of options: