Sooner or later, everyone – whether resident or establishment owner – will need access to rubbish removal services. Like perhaps you're renovating a portion of your home, or you're removing a tree from your property.
When the need arises, it's something you'd want to delegate to the pros. Here are a few compelling reasons why:
Disposing your own waste is time-consuming. You need to collect and sort your rubbish, then bring the green waste to a recycling depot, and the rest to a landfill.
It's more convenient to hire a rubbish removal service, especially after a major project like a renovation or tree removal, both of which result in countless of kilos of debris.
It's safer to leave rubbish removal to the pros, especially for certain types of refuse. This isn't just a matter of toxic materials; even green waste can be harmful for various reasons (e.g. increased fire risk).
But before you jump right in, you need to know how much you're going to spend.
How much does rubbish removal cost?
How much is waste removal in Australia? On average, household removal will set you back by about $75 to $79 per cubic metre. For commercial rubbish removal, the average price is around $99 to $100 per cubic metre.
In contrast, skip bin hire prices, on average, are around $75 per cubic metre.
Factors that influence rubbish removal fees?
The average cost of rubbish removal varies because of several considerations, which may include (but are not necessarily limited to) the following:
Amount of waste
Because landfills usually charge per ton, the amount of waste you're disposing will directly affect how much you're going to spend for rubbish removal.
Remember this rule in waste disposal: The more trucks you need to transport your rubbish, the higher the cost.
Type of waste
Not all rubbish are the same. Different types of waste need to be handled differently because some require specialised equipment, handling, and disposal. This difference in waste type means rubbish removal specialists charge differently for each.
For instance, most removal businesses get rid of common trash like plastic and paper. But when dealing with heavy construction waste, they'll charge more.
But if the waste you need to dispose is hazardous (e.g. asbestos, pesticide), you'll need to hire companies that specialise in the service. Bear in mind that they will likely be pricier than your regular rubbish removal business.
Distance
Location also plays a role. The farther a service provider needs to travel to give you their service, the higher you will be charged. This encompasses site accessibility as well.
Labour costs
How many people and/or equipment are needed to haul all your rubbish away? Labour costs tie directly to the amount of waste you need to dispose. Requiring more workers or gear affects the overall size of your bill.
Location
Rubbish removal cost will vary depending on where you're located. Below are the average rates for waste disposal:
| | |
| --- | --- |
| City | Average cost of rubbish removal per m3 |
| Adelaide | $50 to $90 |
| Brisbane | $50 to $100 |
| Canberra | $50 to $130 |
| Hobart | $50 to $90 |
| Melbourne | $50 to $130 |
| Perth | $60 to $150 |
| Sydney | $70 to $150 |
How do I get rid of green waste?
Otherwise known as biological waste, green waste is any organic waste that can be composted. It's usually made up of rubbish from gardens (e.g. leaves, twigs, grass clippings), and residential or industrial kitchen refuse.
Green waste removal cost varies. Here are some common ways to dispose of it:
Hire a skip bin. Once it's full, the bin contractor picks it up. The smallest skip bin, which is 2 cubic metres in size, costs around $290 per day. You'll spend more for a larger bin.
Compost or mulch these materials at home. This is free, although you may have to consult your local council if you're stockpiling large amounts.
Take the waste to the depot yourself. Costs vary, depending on what you're transporting (e.g. garden waste costs around $250 per ton). Note that transporting waste comes with

a few requirements

and a hefty fine for non-compliance.
Apply for a green bin at your local council. It's free, but pickup is once every two weeks and you have to schedule it ahead of time. If you need to dispose of large quantities, the green bin might not be enough.
Hire a contractor. Methods and rubbish removal cost do vary, but this option is typically the most convenient.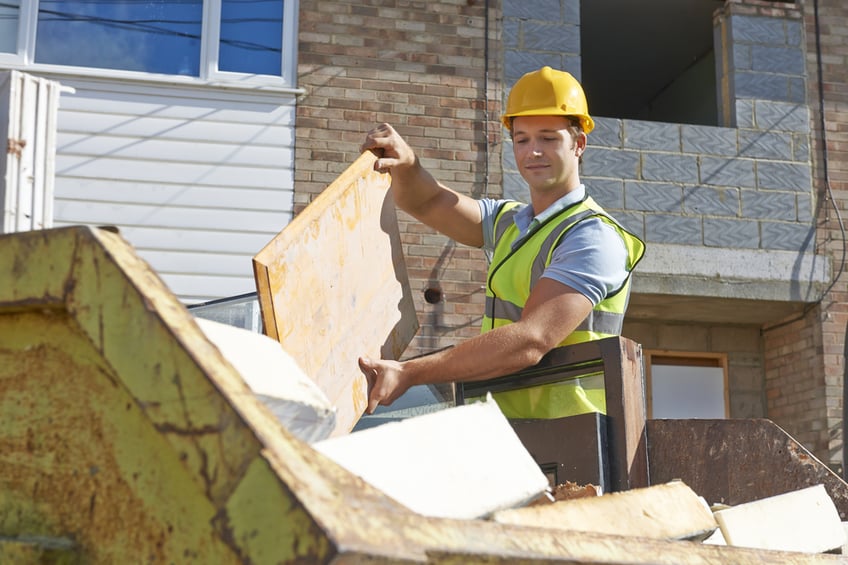 What are the different types of rubbish?
Depending on who you ask, there are several common type of waste.
Solid or liquid waste – General household rubbish otherwise known as black bag waste (e.g. toothpaste tubes, fabric, broken toys).
Recyclable waste – Items that can be converted to reusable material, such as paper, cardboard, and food containers.
Hazardous waste – Flammable, toxic, reactive, or corrosive items regulated by the federal government. This includes mercury, weed killers, and household chemicals.
Construction and demolition debris – Waste produced by construction, renovation, and demolition projects. Includes tiles, bricks, asphalt, and carpeting.
Green waste – As mentioned earlier, this refers to organic waste that can be composted. Includes leaves, grass clippings, and kitchen rubbish.
Electrical waste – Derived from electronic devices like computers, TVs, and smartphones. Their components may contain toxic materials (e.g. mercury, lead).
Medical waste – Produced from medical establishments like hospitals, veterinary clinics, and health care centres. This includes bandages and used syringes.
How do you remove tree debris?
You have several options:
Rent a skip bin. Just make sure it's large enough to fit all your rubbish.
Apply for a green bin at your local council.
Burn your tree debris. Make sure to check with your local council first, because while you're allowed to light a fire outdoors, you can do it only in certain situations.
Rent a wood chipper. This costs about $140 to $400 per day.
Hire a rubbish removal contractor.
Just note that like green waste disposal (as discussed earlier) tree debris removal cost is different for each option.
Where can I dispose of dirt and rocks?
Like the other options presented in this cost guide, you can dispose of dirt and rocks via the following options:
A skip bin.
A rubbish removal contractor.
Just remember that if you're disposing contaminated soil, you can't use these regular options. Instead, you should hire a company that specialises in hazardous waste removal.
How can I find the best rubbish removal cost possible?
Here's how: Just visit iseekplant, Australia's trusted search site for hire equipment and contracting services. Through our website's powerful search capabilities, you can find and compare many rubbish removal contractors in the least amount of clicks.
Bonus tips:
When using the iseekplant website, get quotations from at least three rubbish removal specialists, then compare their rates to get competitive rubbish removal cost estimates.
Found your prospective rubbish removal service? It's not enough to know their contact details and pricing. Look into their previous work and reputation online as well. Their websites will likely have positive reviews so dig deeper via Google or Facebook to learn what past customers are saying about them.
Not all rubbish removal contractors have a proper recycling policy. Some would just bring your waste to the nearest landfill, which is bad for the environment. Consider the service that has access to recycling depots, and collects recyclables and non-recyclables separately.
Remember that if you want cheap green waste removal or just affordable rubbish removal in general, you need to do your homework.
However, if you're busy and don't have the time to find a qualified rubbish removal service by yourself, you still have a couple of options to pursue:
Get in touch with our expert team at 1300 691 912; or
Email our Projects Team with your specifications. They will then find you waste removal specialists who are ready to meet your needs.