In the world of construction, many construction companies seek to acquire equipment for hire from equipment hire companies as this is seen as a better financial option for these companies. While construction equipment transportation can seem daunting as these machines are very large and heavy there are solutions. Shipping and road transportation options that are available to suit individual transportation and here are some tips on how to accomplish it.
Transporting your construction equipment with a flattop trailer
Flattop trailers are seen to be the most efficient and common form of equipment transportation. These trailers are used for various equipment from heavy excavators to cranes and anything in between. Since equipment transportation is a necessary step, they can be located all over the country. The weight limit of a flattop trailer can vary but usually, they can carry up to 20,000 kg. Always make sure you check the weight of the equipment being transported and also the weight limit of the flattop trailer before starting. In order to cater to all equipment sizes and regulations, flattop trailers come in several different sizes.
Checking your construction equipment before it leaves
Checking the security and stability of your machinery on the transportation vehicle may seem like a common-sense task, but can be easily forgotten. The last thing anybody wants when their equipment is in transit is for it to become loose and obtain damage. This could cause significant turmoil for the company in a major way, but this can all be negated by ensuring that the equipment is tied down and secure. Consideration for the weather and traffic is also a major factor in the route chosen as this will determine if you need to secure your equipment even tighter than in normal conditions.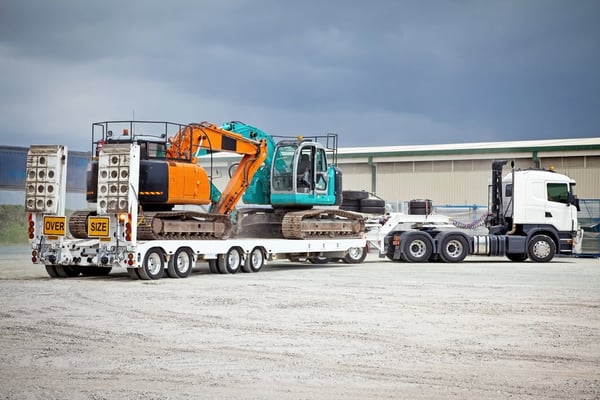 Towing your construction equipment
If you are looking to transport your equipment only a short distance, towing is considered a viable option. The vehicle needs to be able to tow the weight of the machinery, so attaching suitable accessories, such as trailers needs to be considered. As an example, you may need to check whether your tires are suitable for towing or if the vehicle towing can withstand the weight of the machinery. Towing companies also are able to handle various requests for equipment to be transported as they offer a range of trailer options to suit particular construction machinery, such as low loaders.
Disassemble your construction equipment
Disassembly of the construction equipment required to transport can also be an easy way to transfer machinery from one worksite to the next. also, some machinery is too large for a flattop trailer to carry so disassembly is required. This enables the transportation process to be conducted smoothly as oddly shaped or oversized equipment items are smaller and easier to load, carry and unload.
Trailers Specialised to Transfer Equipment
You may have a piece of construction machinery that requires the hiring of a specialised trailer to transport it. You would only need a specialised trailer if your equipment is oversized or too heavy for normal flat top trailers to carry. The specialised trailers known as drop decks or low loaders are variations of a flattop trailer but have different levels built in to enable any sort of oversized or heavy equipment to be transported.
Legal restrictions with transporting construction equipment
Various states and councils have conflicting rules and regulations for the transportation of construction equipment, whether it be weight limit, height limit, which vehicles can transport or restrictions when transportation can occur. When planning when and where you are transporting equipment to, make sure you follow all rules and regulations pertaining to that route to avoid breaking transportation laws. If you have any questions or enquiries about the laws of a particular state, be sure to contact the local government.
When weighing up the options for equipment transportation, it can seem like a daunting task. However, by using these methods above, this daunting task can be simplified and you can get your equipment moved faster. To hire a flattop trailer or other trailers for your next equipment transportation, head over to iseekplant to check out our trailer supplier listings. You can browse through the different trailers and locations, and find the best trailer for your project or give us a call on 1300 691 912.