*Last updated: 12.03.2020
Following a downward trend in heavy equipment sales across the board in the mid-2010s, 2017 bucked the trend with a total sales figure of $163 billion. This was a marked improvement on 2016's $130 billion - representing an increase of 21.5% in 2017. Although the rise is encouraging, it is still significantly less than the 2012 sales figure of $186 billion.
However, the global construction equipment manufacturing market is predicted to reach $230.9 billion by 2020 from $181.6 billion in 2016 at a compound annual growth rate (CAGR) of 6.2%, from 2016 to 2020.
Construction Equipment Manufacturing Market Growth by Region
Asia Pacific's construction equipment manufacturing market is expected to grow from $92 billion in 2016 to $122.9 billion in 2020 at a CAGR of 7.5% for the period 2016-2020.
Western Europe's construction equipment manufacturing market is expected to grow from $23.6 billion in 2016 to $28.5 billion in 2020 at a CAGR of 4.8% for the period 2016-2020.
While there is cause for cautious optimism, sales still have some way to go before an upward trend can be relied upon. Globally, the market shares of the bigger heavy equipment companies remained virtually unchanged. Caterpillar, Komatsu, Hitachi, Liebherr, and Volvo continue to dominate the top five positions in terms of manufacturing share.
Interestingly, China's market share has increased noticeably, with Chinese companies holding position six (XCMG) and position eight (Sany) in the top ten rankings. As China's heavy equipment manufacturers continue to innovate and grow, it could well be the case that their dominance deepens as time goes on.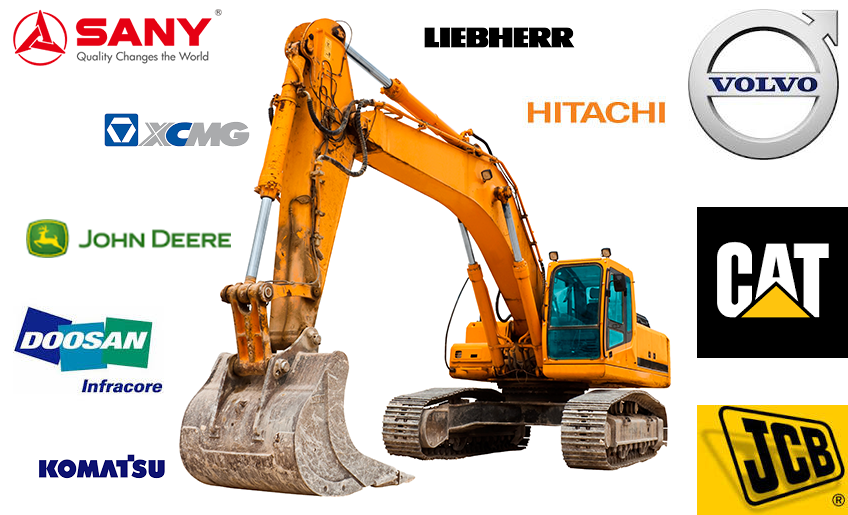 Top 10 Heavy Equipment Manufacturers Worldwide:
Top 10 Heavy Equipment Company Market Share: (2017)
Overview of the Top 10 Heavy Equipment Manufacturers Worldwide:
1. Caterpillar (USA)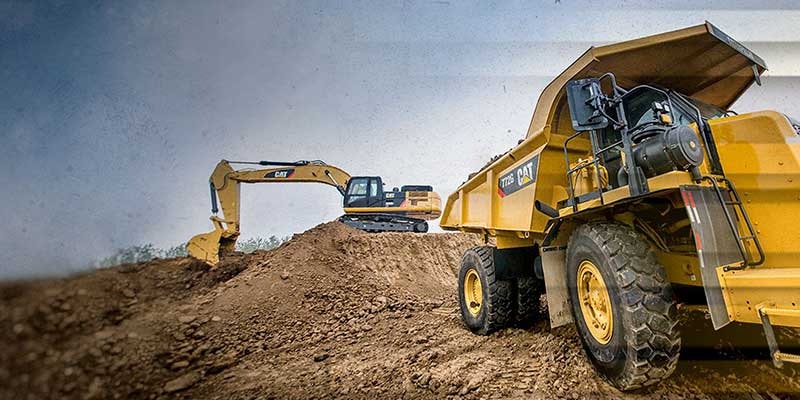 Firmly entrenched in the number one position, the US company Caterpillar continues to dominate the industry, taking a massive 16.4% of the market share in 2017. With sales of 26,637 million USD, it performs strongly in both the domestic market and overseas.
Offering a broad selection of products that are suitable for a wide range of applications, Caterpillar's combination of innovation and continuous improvement, coupled with its formidable reputation, ensures they continue to be a key player in the heavy equipment manufacturing sector. The improvement in the US economy in recent years could also be a factor in Caterpillar's continued success.
2. Komatsu (Japan)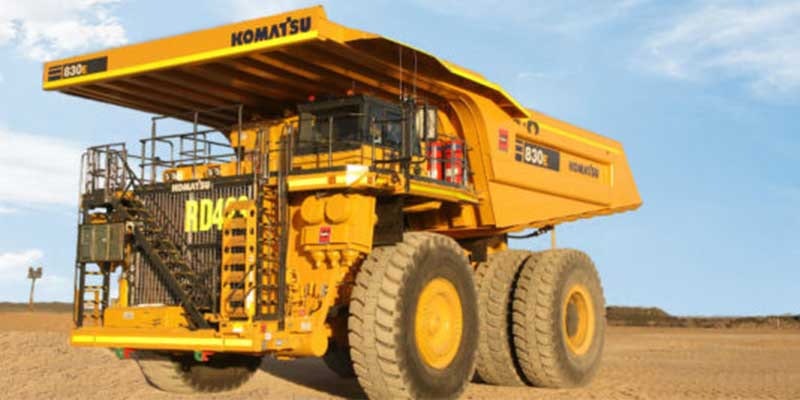 A Japanese giant in heavy equipment manufacturing, Komatsu retains its number two position for yet another year. Well-known for everything from autonomous haulage systems (AHS) to intelligent machine control and a range of other hi-tech innovations, Komatsu is a dynamic, forward-thinking manufacturer. Komatsu is a global player not only in heavy equipment but also in metal presses, machine tools, recycling, temperature control equipment, tunneling machinery, and related fields. With heavy equipment sales of 19,244 million USD in 2017, Komatsu continues to consolidate its position as a global leader with 11.9% of the market's share. The company is continually focused on developing equipment that's suitable for 21st-century work.
3. Hitachi Construction Machinery (Japan)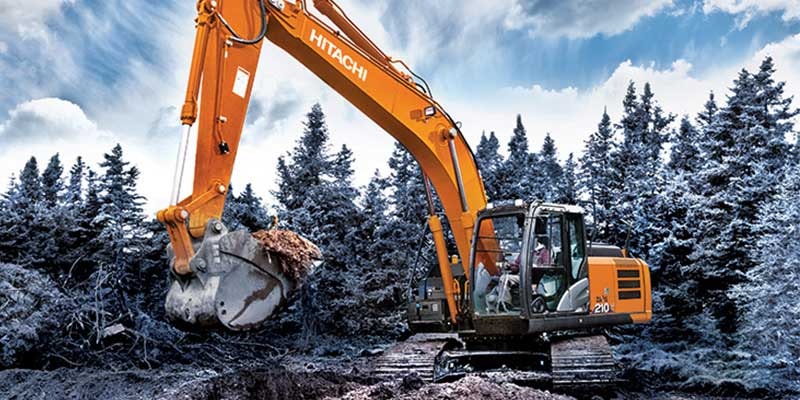 During 2017, Hitachi's heavy equipment market share was 5.1%, with a sales figure of 8,301 million USD. Hitachi is an enormously diverse organisation, with heavy equipment being just one of the many markets it serves. Concentrating on sales in Asia and Africa, where demand is relatively high, Hitachi machinery is characterised by a host of green characteristics which result in environmentally friendly working. Innovations such as battery-powered excavators and hydraulic systems which are ultra energy-efficient ensure that Hitachi offers an optimal solution for a wide audience in sectors such as agriculture, engineering, energy, and construction.
Need work for to your machines? Become a supplier on iseekplant and make a free profile here.
4. Volvo Construction Equipment (Sweden)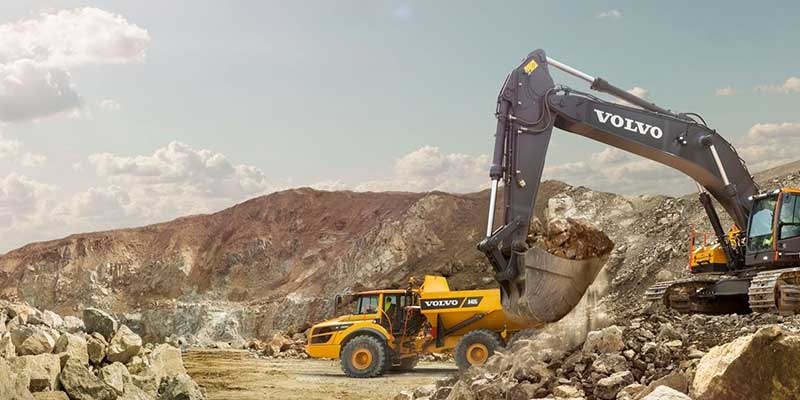 Volvo has always enjoyed an excellent reputation for the engineering quality and safety of its vehicles; its heavy machinery is no exception. Built to last and integrating new technologies such as diesel/electric hybrids, full suspension articulated loaders, and autonomous vehicles, Volvo construction equipment is seen as a dependable choice by many people. Particularly popular in Europe and Scandinavia, Volvo's share of the market was 4.8%, with a worth of 7,810 million USD. With sustainability and innovation at the heart of their ethos, Volvo has moved up a place in the rankings, from fifth to fourth, swapping places with the German company Liebherr.
5. Liebherr (Germany)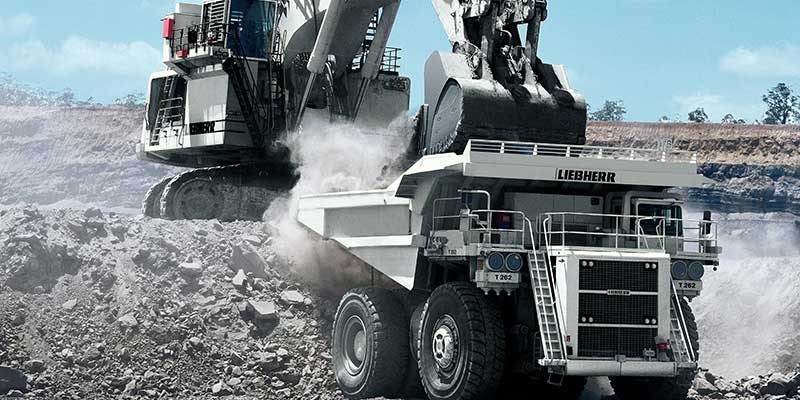 In 2017, Liebherr's sales were estimated at around 7,398 million USD, with a market share of 4.6%. Narrowly missing out on the number four spot, Liebherr continues to deliver quality merchandise in a range of sectors. Despite conceding ground to Volvo in its heavy machinery sector, overall Liebherr enjoyed its largest turnover in the history of the group.
Liebherr provides a selection of telescopic handlers, cranes, excavators, wheeled loaders, and dozers. Focusing on creating robust, high-performance machinery that has the edge even in challenging conditions, Liebherr is a popular European manufacturer that continues to perform strongly.
6. XCMG (China)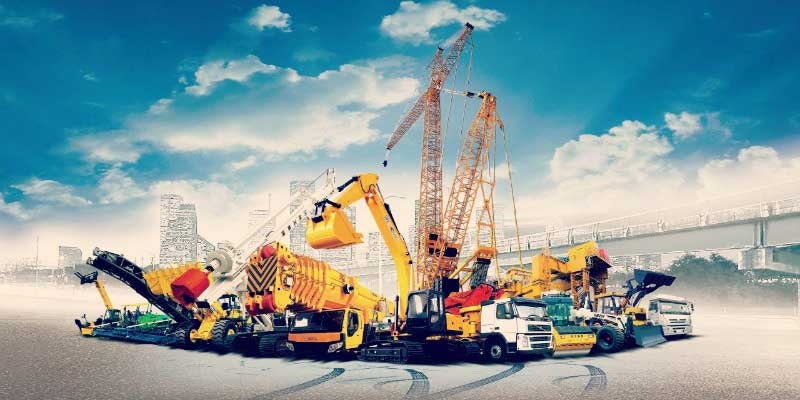 Responsible for products such as a 2,000-tonne all-terrain crane, a 12-tonne heavy-duty loader (the largest in China), and intelligent road construction equipment, XCMG is a growing heavy equipment group. XCMG have have improved its sales not only within Asia but also globally. With sales of 6,984 million USD and a market share of 4.3%, the company has continued to steadily carve a niche in the competitive heavy equipment market. With several Chinese groups beginning to gain significant traction in the worldwide marketplace, it's our prediction that XCMG backhoes, skid steers, and cranes could become an increasingly common sight across the globe.
7. Doosan Infracore (South Korea)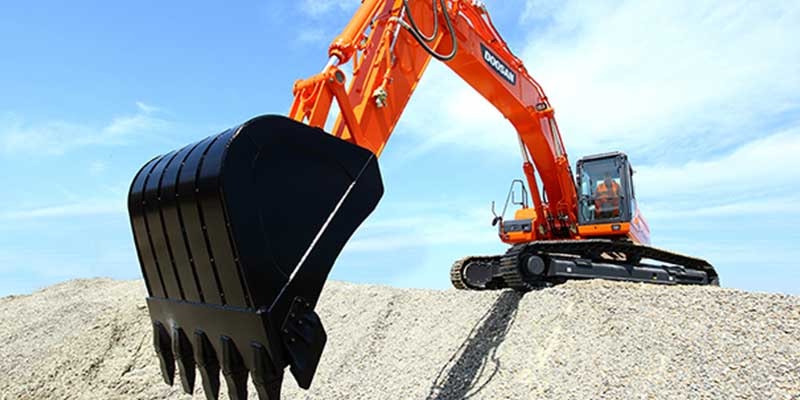 Serving a global audience, Doosan is committed to creating sustainable, durable products which have the capacity to perform well in some of the toughest environments you'll find anywhere. The Doosan bobcat company is well-known for its high-performance mini-diggers, featuring compact loaders and excavators as well as utility products and telehandlers. Doosan is a growing presence on the heavy equipment manufacturing global map with a diverse product range suitable for many different applications. In 2017, the company achieved sales of 6,232 million USD and had a market share of around 3.8%.
8. Sany (China)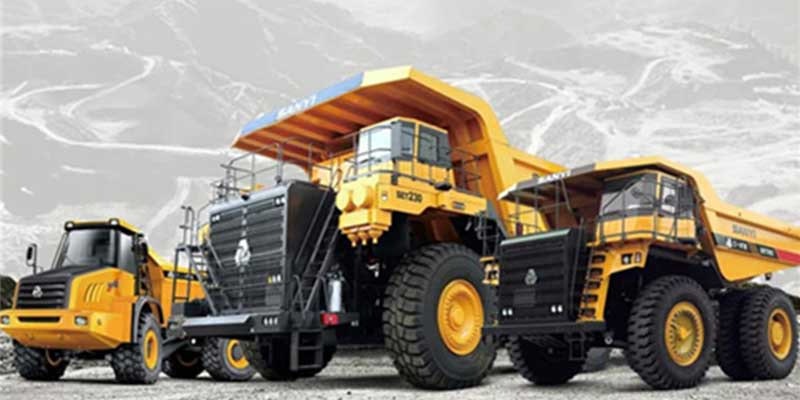 Hot on Doosan's heels, Sany is a Chinese company that focuses on intelligent manufacturing, sustainable industry, new energy development as well as housing and industrialization. Offering a suite of hi-tech solutions, including mini excavators, cranes, loaders, excavators, and road-building equipment, Sany products are widely used in India and surrounding countries. The company's sales were 6,232 million USD in 2017 and its market share was 3.7%. Sany is one of a number of Chinese companies beginning to make their presence felt on the global market, providing significant competition to the traditional domination of firms from the US, Europe, and Scandinavia.
9. John Deere (USA)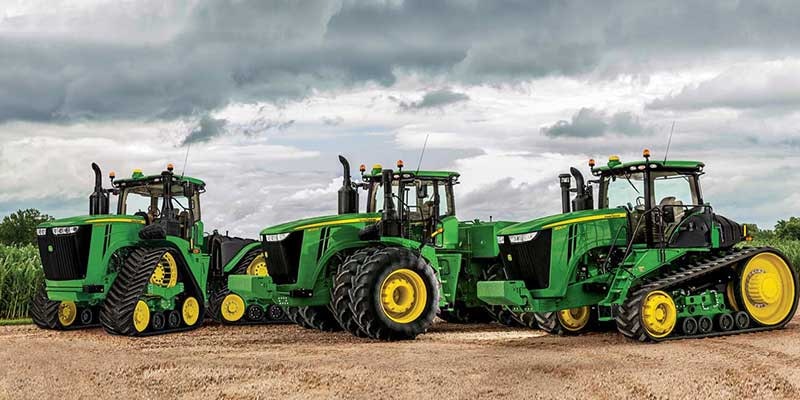 A well-established US company that's been around for more than 200 years, John Deere have an excellent reputation for producing premium agricultural equipment, construction, and forestry equipment. Positioned to attract companies who work on the land, the product range includes backhoe loaders, skid steer loaders, excavators, and graders. In comparison with other earth-moving equipment companies in this list, John Deere has a more limited product selection. Perhaps this explains why in 2017 the company's market share was only 3.5% with sales figures reaching $5,718 million.
10. JCB (UK)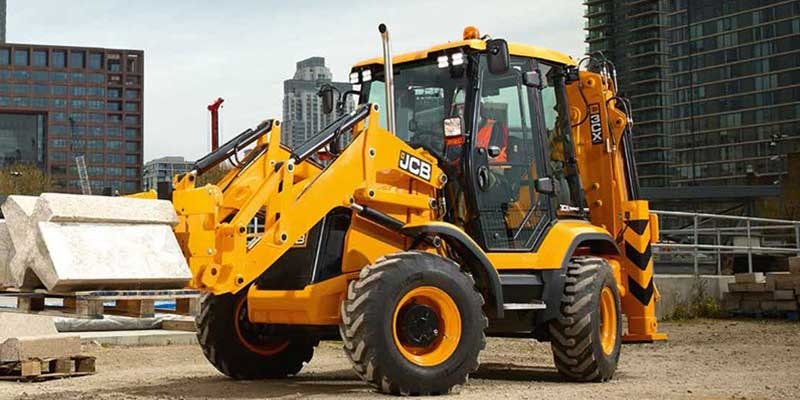 The only UK company in the top ten, JCB had sales of 4,611 million USD in 2017, resulting in a market share of 2.8%. Pioneers of LiveLink - software that enables operators to remotely manage JCB machinery, JCB has a history of creative innovation and constant improvement.
Well-known for its excavators, JCB also offers wheeled loaders and a selection of road-building equipment. JCB is well-represented in the UK and European markets, as well as having an international presence. The company prides itself on constantly upgrading and reinventing its products in order to meet the changing demands of the 21st-century workplace.
Heavy Equipment Manufacturing Trends in 2018 and beyond
Although there were no significant changes in the line-up of the top 10 heavy equipment manufacturers from the previous few years, it's clear that the domination previously enjoyed by the US and Japanese markets is being challenged, particularly by Chinese and Korean companies. It will be interesting to see how these trends continue to develop as time goes on against an increasingly competitive global backdrop.
Sources: International Construction