When someone wants to hire a trencher our next question is always, what the hell do you mean by that? That's because there are literally about 20 different machines on our system that could effectively dig a trench for you. The right machine to dig a trench, of course, depends on the width, length and depth of the trench, the materials you're digging through and your capacity to operate that machine. The question is not how long is a piece of string, it's how long is your trench!
This article will deal specifically with chain trenchers of a variety of different kinds, rather than bucket excavators. As mentioned, you can dig a trench effectively with a mini excavator, bobcat, backhoe, dingo, kanga and really just about any machine with a bucket or trenching attachment. Chain trenchers are just more capable of digging thinner holes than other machines.
Trenching machines really only operate in soft soil or materials. You can't dig a trench into clay, rock or sandstone using anything other than an excavator, bobcat or backhoe, because trenching machines don't have enough power to break up and remove the harder stuff effectively. What a trenching machine is great at, is digging irrigation or pipe trenches into the soft soil in someone's backyard, house or other residential/commercial application.
What are typical self-propelled or walk-behind trencher hire rates?
Very small self-propelled trenching machine (75mm wide x 300mm deep) hire rate: $150 per day
Small self-propelled trenching machine (90mm wide x 450mm deep) hire rate: $165 per day
Medium self-propelled trenching machine (100mm wide x 600mm deep) hire rate: $210 per day
Large self-propelled trenching machine (125mm wide x 1000mm deep) hire rate: $310 per day
Self-propelled trenchers, or as we call them 'walk behind' trenchers, look like giant chainsaw on a push-cart. They are usually propelled and pushed by hand, and the diesel or two-stroke engine drives the rotary hoe on the front to run a trench through the ground to a certain depth and width, specified above. You can definitely get hold of one of these walk-behind trenchers from a lot of the larger national plant hire guys, but you won't find them at every depot.
How much trench can you dig in a day?
With a self-propelled or walk-behind trencher, you can dig about 70 feet of 24-inch-deep trench in around 15 minutes... if you're enduring. That equals almost 9km in a seven-hour day. "Mini trenchers" or "mini trench diggers" are also available, cutting around 4cm wide and 70cm deep at whatever speed you can manage.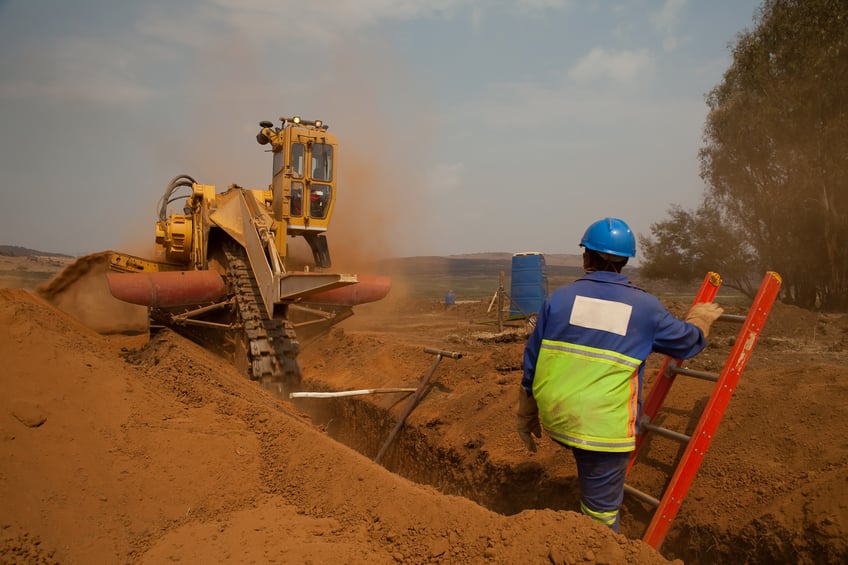 What are typical ride-on trencher hire rates?
Ride-on trenchers aren't all that easy to find, however, and their rates vary widely. You could be paying anything from around $500 per day to $1000 per day (on dry hire only, you don't need a ticket to operate them).
Ditch Witch and Vermeer have the market for ride on trenchers pretty well sewn up in Australia. They look like a ride on lawn mower with a massive chainsaw fitted to the back of them. Ride-on trenchers are good for cutting a 1.2m - 1.5m deep trench in the ground and installing utilities or irrigation, and can get through harder and denser materials than the walk-behind trenchers listed above.
How much trench can you dig in a day?
A ride-on trencher can dig up to 6 feet a minute in good soil conditions. That equals about a kilometre a day. For stronger people, a walk-behind trencher is faster, but a ride-on trencher is more beneficial if your trench is long and you don't want to be doing all that hard work.
What are typical tracked trencher hire rates?
Tracked trenchers cost anywhere between $2000 - $5000 per day depending on size.
It is very hard to get suppliers to commit to a day or even a week rate because mobilising a tracked trencher requires a semi-pull down and re-erection at the site (as they are too wide to travel on roads when fully assembled). Vermeer are the only company that make these tracked trenchers in Australia. These are a very specialist piece of gear and you would be hard pressed to find more than a handful of them in any major city. Luckily, iseekplant offers a wide network of tracked trencher suppliers. These trenchers are mainly utilised in agricultural settings, where large irrigation channels need to be dug across massive expanses. The oil and gas industry of Australia also uses massive tracked trenches when installing natural gas pipelines across large expanses of Australia's arid country. Tracked trenchers have a massive onboard engine which means that they can power their rotary hoe through more substantial dirt and materials than other variants of machines.
How much trench can you dig in a day?
Tracked trenchers are about as fast as ride-on trenchers, but just do better on rougher terrain. So think a kilometre a day.
How to get the best Trencher
hire rates

iseekplant specialises in getting quotes for people looking for construction gear. You can use the iseekplant get a quote tool and we will get you the best quote for your job, completely free of charge! We have a nationwide network of trencher hire suppliers including a strong presence in Brisbane, Sydney, Melbourne, Canberra, Perth, Darwin and Adelaide.
Learn more about what you should be paying from our comprehensive machine hire rates guide. Also make sure to subscribe to the Flapping Mouth Blog so you don't miss great daily content including our trencher licences guide.