Single Engine Wheeled Scrapers
The Single engine wheeled scraper machine is probably the most common machine found on construction sites across the country. It consists of a bowl and an apron which covers the load and stops it from flying out the top. The bowl also features hydraulic lifters that enable the bowl to be dumped and emptied at another location. There is a downside to using this machine though. More often than not, you will be required to not only pull the tractor but you will be required to push the trailer as well in order to gain enough force and momentum to rip up tough soil. This can sometimes increase the cost of hiring this machine as you will also require a large dozer.
Dual Engine Wheeled Scrapers
For terrains that are a little tougher than your average job site, the dual engine wheeled scraper machine would be required. This scraper machine includes a powerful engine, not only in the front end vehicle itself, but also in the trailer. This extra power capacity enables earthmoving work with the scraper machine to be carried out on terrain that is less than ideal. This scraper machine is best used in wet conditions or on soft soils such as sand.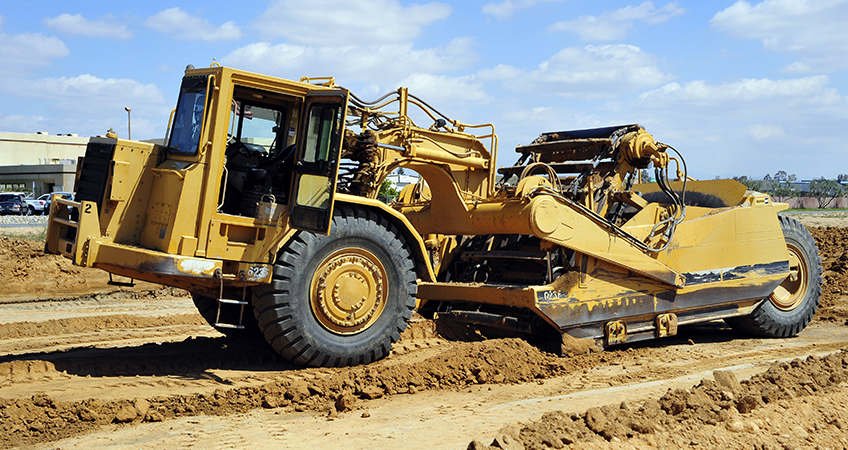 Elevating Scrapers
If you need a machine that not only removes dirt and soil but also mixes, homogenises and completes fine finished work, then the elevating scraper is what you are looking for. Elevating scraper machines are better suited to fine soils such as fine clay, top soil, sand and other fine materials. When the scraper machine is passed along a stretch of soil, the conveyor belts turn up the dirt into the bowl which is also stirred at the same time, homogenising the material as the machines continues its work.
Pull Type Scrapers
Pull type scrapers are just as the name suggests, an unpowered trailer that needs to be fitted to a tractor in order to be propelled. This type of scraper machine does not have an engine, therefore needs to be pulled by another vehicle that is big enough to withstand it's size. Better suited to farming projects and soft soils, the Pull Scraper machine may be small but is mighty efficient for the local farmer.
Hire a Scraper Today!
Scraper machines are the perfect addition to any job site where bulk earthworks and earthmoving is required. If you need to move or remove dirt, gravel or any other unnecessary material even wet dirt or heavy soil from any type of landscape, the scraper machine is the right machine for you.
Looking for scraper hire near you? iSeekplant is home to an extensive range of scraper suppliers across Australia in Brisbane, Sydney, Melbourne, Darwin, Canberra, Perth, Adelaide and rural locations. Contact iSeekplant on projects@iseekplant.com.au or use our get a quote tool for a seamless plant hire experience.
Subscribe to the Flapping Mouth Blog below to stay up to date with the current industry news and projects!