What are typical Dino water cart hire rates?
Dino Water Cart Hire Rates
Dino Water Truck (10,000 - 14,000L) dry hire rate: $90 - $105 + GST Per Hour
Dino Water Truck (10,000 - 14,000L) wet hire rate: $145 - $155 + GST Per Hour
Dino Water Truck (15,000 - 20,000L) dry hire rate: $100 - $110 + GST Per Hour
Dino Water Truck (15,000 - 20,000L) wet hire rate: $150 - $165 + GST Per Hour
Dino Water Truck (20,000L +) dry hire rate: $110 - $125 + GST Per Hour
Dino Water Truck (20,000L +) wet hire rate: $160 - $175 + GST Per Hour
Dino water truck hire is a premier solution to bulk water haulage within the farming and agricultural industries, acting as a staple for Australian water delivery services. Dinosaur Water Truck Hire Rates are offered for both wet and dry hire alternatives and act as a cost-effective way to access high-quality dust suppression and high-quantity irrigation in hard to reach areas.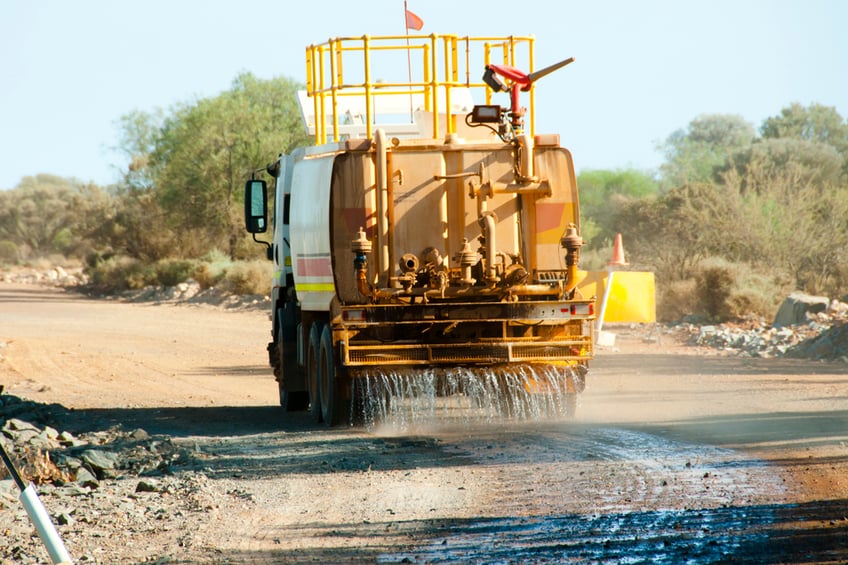 What are the standard contract terms and additional hire costs for water cart hire?
Below are some standard contract terms that you can expect to find when looking at water cart hire services. Whether looking at wet hire rates or dry hire rates, here are some key contractual conditions that typically remain the same:
Minimum Hire Term
Many Water Cart Hire services will be restricted by a minimum hire term which requires the water cart to be hired for a fixed amount of time. Minimum Hire terms vary greatly depending on your local water cart supplier, however, we have seen terms as low as 3 hours all the way up to 8 hours.
Water Load Costs
When hiring a water cart, it is important to understand the capacity of water which your job requires and match a machine accordingly. Water Cart hire rates will often exclude water load costs which are incurred from the refilling of a water cart. This surcharge often varies significantly as it is often in accordance with local laws and regulations.
How much is a truckload of water?
Refilling a water cart is an additional cost of hiring one out. The average cost of refilling the water tank in a water cart is around $300 for 14,000 litres. Additionally, you can hire a Rapid Water Filling Station if you're worried about running out of the water cart's water.
Travel Costs
Travel costs are often a major obligation when looking at water cart hire, with many companies including a '1 Hour' minimum travel surcharge. When looking to book a water cart, remember to find a local supplier to reduce excess travel fees that may be incurred from travel distances.
Penalty Rates
If your project requires the use of water cart hire outside of regular working hours, you can expect to incur a penalty rate surcharge. Penalty rates are typically inclusive of any job outside of 7:00 am to 5:00 pm Monday to Friday, and can incur costs between 1.5 - 2.5 times (or upwards of $20/hr).
Delivery Costs (Dry Hire)
When looking to dry hire a water cart, there will often be a delivery surcharge which is incurred 'each way'. While delivery is largely dependent on location, we have seen surcharges upwards of $275 each way for local projects.
Diesel Refueling Fee (Dry Hire)
Refuelling fees will often not be included in water cart hire rates and should be accounted for when looking at dry hire services. While diesel refueling fees can vary depending on your local supplier, we have seen surcharges upwards of $2.10/ L.
How can I get the best water cart hire rates?
If you're seeking to find the best water cart hire rates, there is a multitude of different factors that can affect how much you will end up paying. It is important to be mindful of things such as distance, hire terms, and excess surcharges. Sound confusing? It can be… so let us do it for you!

With iSeekplant, you can access thousands of suppliers around Australia and seek expert advice about the right water cart hire solution for you! We have water cart suppliers located in Brisbane, Sydney, Melbourne, Canberra, Perth, Darwin, Adelaide and rural areas. Make sure you are getting the best water cart hire rates with iSeekplant by using our Get a Quote tool!
Subscribe to iSeekplant's Flapping Mouth Blog below to stay informed about the recent construction industry news and projects!