Portable accommodation and mobile buildings (also known as site huts) are project site facilities that include offices, lunch or crib rooms, portable ablution blocks and other mobile facilities. You'll find mobile buildings and accommodation on project sites in mining, civil, public transport works, as well as commercial and residential project sites. These facilities are typically powered via connection to the national power grid or power generators.
The iSeekplant directory offers a vast range of mobile site buildings and accommodation suppliers throughout Australia. Many of the building and accommodation solutions listed below are 'off-the-shelf' or can be immediately hired in standard fit-outs, although most suppliers also offer tailored solutions to the specifications of your project.
Why Hire Mobile Buildings and Portable Accommodation?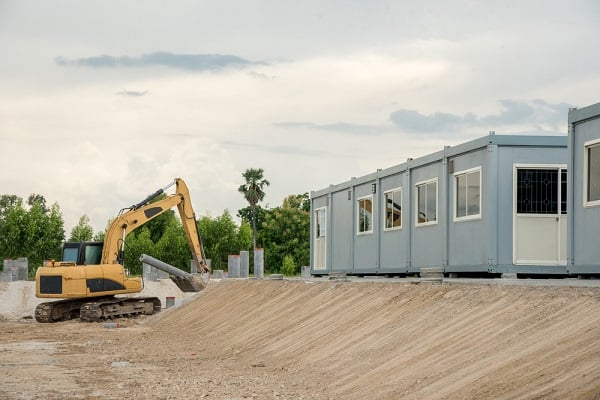 Mobile buildings are a great solution for project sites that require on-site accommodation, offices, meeting rooms, amenities, toilets, lunch or crib rooms and recreational spaces for workers. These mobile buildings are particularly useful for rural projects that are not equipped with sufficient housing or facilities. Usually, rural or regional projects employ workers from interstate or towns and cities too far for driving, typically from the lack of workers in the immediate area.
What are the Types of Mobile Buildings and Portable Accommodation?
Crib Rooms
Crib rooms (also known as crib huts) are recreational spaces for workers to gather for meals, banter and smoko breaks. There are mobile demountable facilities suitable for lunch rooms, kitchen, catering facilities and other areas designed for workers to eat and gather on the job site. Powered by electricity or gas, modules with basic kitchens and commercial grade kitchens are also available. We recommend getting into contact with one of our expert suppliers to discuss the best crib room hire for your project needs.
Site Offices
If you are in need of a site office, iSeekplant can display a number of suppliers who can mobilise whole office spaces to your site for relative ease and comfort. With adequate power supply, these buildings make viable operational hubs that house computer servers, and operate as meeting rooms, offices and even training facilities. Get in touch with one of our expert suppliers to discuss the best mobile office hire solutions for your project specifications.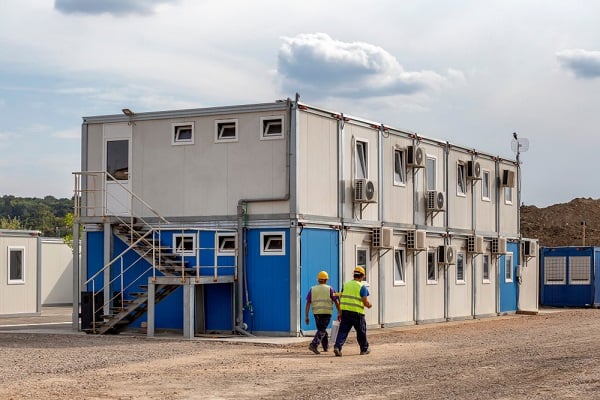 Mobile Toilets and Bathrooms
Mobile toilets and bathrooms are typically complete ablutions, as well as shower and toilet blocks for large sites. These blocks range in size from 0m to 6m, 6m to 12m, and above 12m. Mobile toilet blocks are most suitable for construction sites or long-term operational sites. While the classic port-a-loo is the most common option, mobile toilets and bathrooms are more appropriate long-term solutions. We recommend getting into contact with one of our expert suppliers to discuss the best mobile toilets and bathrooms for your site needs.
Mobile Accommodations
Mobile accommodations are portable housing structures that can be transported and installed on projects, offering accommodation for workers within a close proximity. For regional and rural areas that are not close or easily serviced by a nearby town with existing accommodation, it's often a necessity to use mobile accommodation for site workers, management and operators. This accommodation is commonly erected on or near the project site, alongside other mobile site buildings like offices, crib rooms and toilets to reduce travel distances and create an on-site community. Our suppliers offer generic fit-outs to complete turn-key solutions, so get in touch with one of our experts to discuss the best mobile accommodation solutions for your project requirements.
Hire Mobile Buildings and Portable Accommodation today!
iSeekplant offers a variety of mobile site building and accommodation hire suppliers throughout Australian major cities including Brisbane, Sydney, Melbourne, Adelaide, Perth, Canberra, Hobart, Darwin and regional areas. Get in touch with iSeekplant today or use the get rates tool if you're looking for the best quotes and expert advice about mobile building and accommodation solutions for your next project.
Subscribe to iSeekplant's Flapping Mouth Blog below to stay up to date with the current industry news and projects in Australia!