Ocean Tower (South Padre Island, United States)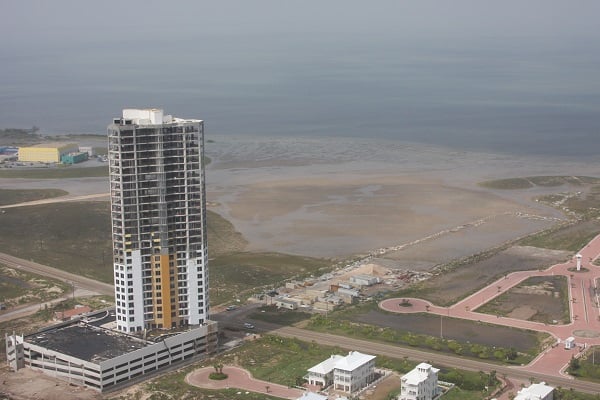 The tale of the seaside Ocean Tower, located in the postcard setting of South Padre Island, is marred in trials and tribulations that would send engineers into an anxious sweat. Sinking, leaning, buckling, cracking and stressing, construction on the 31-storey condominium began in 2006 with promises to bring cosmopolitan glamour to the holiday island. Priced at $2 million or more, 151 luxury apartments were fit with superior amenities. Come 2009, these promises turned into 50,000 tonnes of rubble. Two years into construction the problems were glaringly obvious. Developers noticed cracks in the columns of the parking garage and upon further analysis, the building was found to have sunk about 14 to 16 inches. The situation quickly deteriorated with major issues relating to the leaning and structural integrity. Attributed to connecting the tower to a car park using expandable clay in sandy conditions with a high-water table, a massive deconstruction mission was undertaken. Using more than two miles of detonating cord, the building took a total of 15 seconds to fall. Over 705kg of explosives were intricately planted in over 1,800 locations for the controlled demolition which was seamless in bringing down the Ocean Tower high rise.
Trojan Nuclear Power Plant (Columbia County, United States)
Building Oregon's Trojan Nuclear Power Plant during 1970 in a state that has pro-environmental beliefs was a confusing decision to say the least. A mega project that would cost $1.3 billion in 2020 when adjusted for inflation, the plant was only operational for 16 years while being consistently ridiculed by the community and politicised until it was decommissioned. Fuelled by the anti-nuclear movement post World War II, the Trojan was never admired in the public domain as it ran through a waste disposal and geographical fault line. The dramas were not confined socially as construction and operational difficulties also disturbed the project. Merely one year into operations, it was discovered that the walls of the plant were missing stabilising rods that caused an 8-month closure. Subject to an electoral pledge, the plant was decommissioned in 1993 and a delicate demolition project took place in 2006. As one of the most expensive demolitions costing over $230 million, the 152m cooling tower was the final part in a project that took almost two years to complete.
Need Demolition completed on your next project? iSeekplant can get you Demolition quotes from suppliers today!
Morandi Bridge (Genoa, Italy)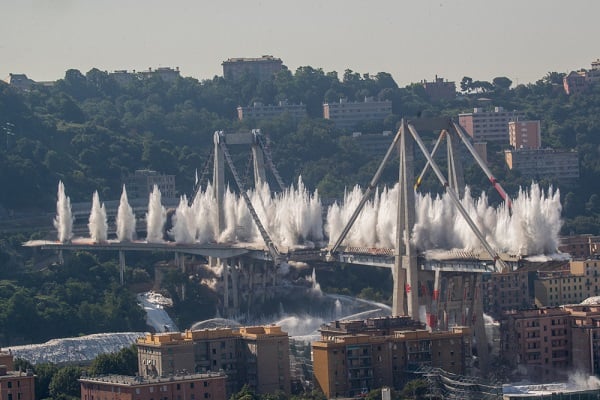 The Morandi Bridge emerged in tragedy due to a collapse in 2018 which killed 43 motorists and injured 16 more. With an aftermath that resembled an earthquake, the collapse prompted much discussion throughout Europe about the structural integrity of key infrastructure. The reason for the collapse was not officially determined but the purported hypothesis includes wet conditions, landslides, structural weakness and corrosion. The truth is most probably attributed to an amalgamation of a few of these factors. An engineering marvel when it was constructed in the 1960s, the Morandi Bridge was made largely of reinforced and pre-stressed concrete that embodied the minimal, sleek and recognisable design characteristics of prominent architects. Despite the bridge being a sight to behold, it was built in an era where the effects of structural degradation, corrosion and material pairing were relatively unknown. The demolition took place in 2019 with 4,500 tonnes of remaining bridge after being detonated. To prevent the spread of dust, the bridge was lined with 50 large water tanks to minimise potential air pollutants.
AfE Tower (Frankfurt, Germany)
As the tallest building to experience a controlled demolition, the 38-storey AfE Tower housed seminar rooms and administration facilities of the Johann Wolfgang Goethe University for over 40 years. Much lamented for its peculiar design that lacked functionality and difficulties moving from floor to floor, the building had a strong love hate relationship with students. Designed for substantially less foot traffic than it could handle, it was not uncommon for a 15-minute elevator wait, often leaving occupants stranded. Using 950kg of explosives coupled with proactive safety measures in the form of 6.5m high barriers, water tanks and a 250m exclusion zone, the 50,000-tonne structure came down with about 10,000 observers.
Yunong Village (Shenzhen, China)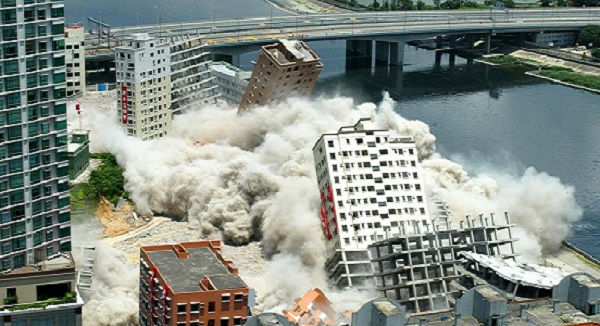 The 2005 demolition of Yunong Village in Shenzhen saw the collapse of 16 buildings, covering a mammoth 570,00 square feet that surpassed what was previously the largest demolition in China by over 25%. The demolition project was undertaken to see the deconstruction of illegal dwellings in China. Yunong Village towers were often called the "handshake towers" due to the proximity between the buildings. Ventilation and light issues in the village were a continual issue to local government, and Shenzhen sought to establish an urban and appealing exterior as the city experienced surging investment. Coined "China's number 1 blast", the project was typical of China's development in the 2000s as rapid and aggressive expansion swept the country. The demolition of Yunong Village was projected by government officials to be integral in redefining Shenzhen, which has since seen its population double as a world recognised technological hub.
Hire Demolition with iSeekplant!
iSeekplant offers a large directory of demolition suppliers across Australia in Sydney, Canberra, Brisbane, Melbourne, Perth, Adelaide, Darwin and more. Contact iSeekplant using our Get a Quote tool for quick and competitive demolition quotes.
Subscribe to the Flapping Mouth Blog below to stay updated with the latest industry news and projects across the nation.
(Image sources: Council on Tall Buildings and Urban Habitat, Business Insider)