The Bobcat T190 skid steer is a heavy-duty bobcat loader designed to go the distance.
If you want a compact skid steer loader, then this model is for you – and it's easy to see why Bobcat is the favourite manufacturer for many busy contractors. Bobcat is such an industry leader in skid steer loaders that even when someone is driving a different model – they still call it a bobcat! With this track record, it's clear the Bobcat brand should be one of your top brands of choice. So is the latest Bobcat T190 skid steer up to scratch, living up to Bobcat's reputation? Take a read of our in-depth review and its machine specs to see for yourself!
Bobcat T190 Specs (overview)
Number of Cylinders: 4
Make: Kubota
Model: V2003T
Gross Power: 61 hp/45.5 kw
Power Measured @: 2800 rpm
Displacement: 122 cu in/2 L
Aspiration: turbocharged
Operating Weight: 7612 lb/3452.7 kg
Fuel Capacity : 28 gal/106 L
Max Speed - high range: 7.1 mph / 11.4 km/h
For full specs - see below

Drew's Review
A compact earthmoving machine that does the job on small sites
You can't make a mistake with the latest Bobcat T190 skid steer model. (You can check out past reviews of Bobcat models here ). The Bobcat T190 skid steer is an improvement on past models with its new additions to the equipment, and practical operating functions such as the built-in safety features.
If you are after a massive earthmoving machine that can move tonnes of rubble at a time, then it might be best to look elsewhere. But, if you're looking for a compact bobcat that operates your lifting, carrying and loading tasks efficiently, then you are looking at the right bit of gear.
Outstanding features of one of the best skid steers
The Bobcat T190 skid steer has a huge array of features that are difficult to find on other machines of similar size.
The features mean the T190 operates with versatility, is easy to manoeuvre, and comes with a wide range of attachment options to make the earthmoving job at hand a breeze.
Plus, all Bobcat T190 skid steers for sale come with worldwide dealer support! Honestly, Bobcat just goes above and beyond its competitors.
The total value you receive when purchasing or renting this Bobcat T190 skid steer just can't be beaten. And if you do decide to purchase a T190 skid steer loader, you can be rest assured that there is a high resale value to your purchase.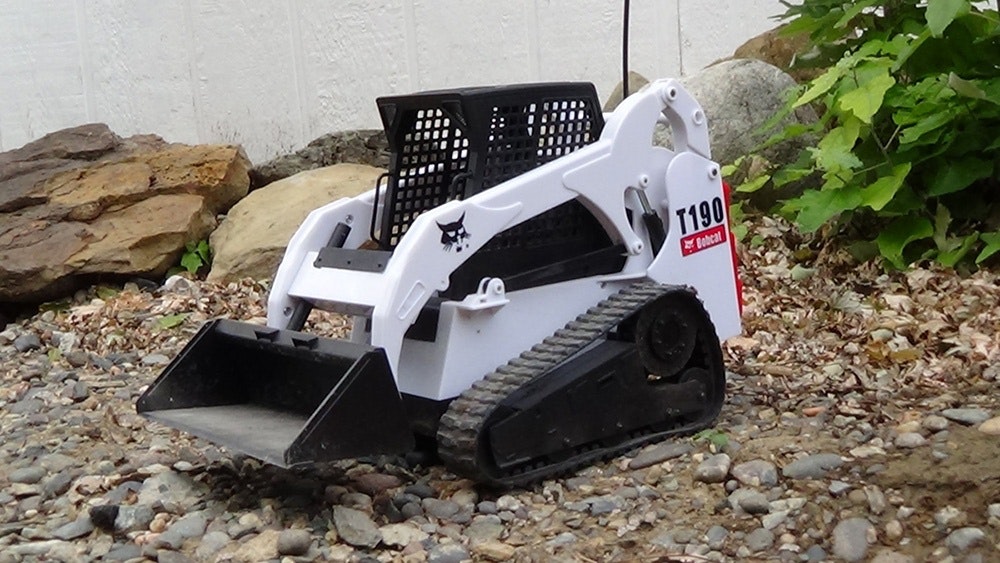 Some of our favourite features on the Bobcat T190 Skid Steer Loader includes:
Clean cooling – The Bobcat T190 skid steer loader comes with an innovative cooling design that sucks in clean and cool air, using the hydraulic oil coolers to them mix the air with that in the compartment to lower the temperature. This means a cooler machine throughout operation.
Bobcat belt drive – Say goodbye to noisy engines! The technology on the Bobcat T190 skid steer's belt drive system means the engine doesn't run so rapidly, creating less noise and using less fuel. The world-class tech on the machine's design means pump efficiency is maximised and steering lever effort is cut down.
Track tensioning – No need to worry about the tracks coming off at an awkward moment – the Bobcat T190 skid steer's track adjustment system is easily maintained by simply adding a bit of grease. The coils on the machine are also able to withstand heavy loads, taking varying weights when working over tough terrain.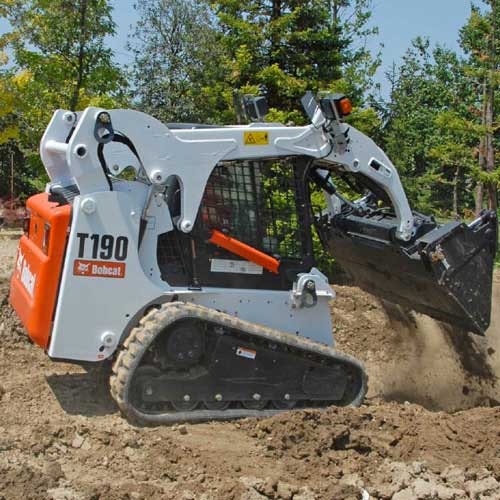 The Bobcat T190 skid steer is designed for comfort
Forget the numbness you feel from driving your bobcat for too long – the Bobcat T190 skid steer is all about comfort! The suspension on this model is outstanding. The seat bar pivots from the rear and gives a secondary option for positioning the restraint too – meaning people of all sizes are easily able to operate the machine. With its climate-controlled cab, you can easily turn the AC or heater on and not have to worry about what temperature it is outside. For added safety and ease of operation, the Bobcat T190 specs mean you will also have visibility every way you look, so you don't have to worry about hitting or driving over something you shouldn't.
Want to list your bobcat to get more work? Become a supplier on iseekplant and make a free profile here!
Instrument panels like no other
If you are looking for more functions than you can poke a finger at, then the Bobcat T190 skid steer is for you. You can easily upgrade to the deluxe model and enjoy a keyless starting system, digital time and job clocks, and even an option to have a help menu at your fingertips!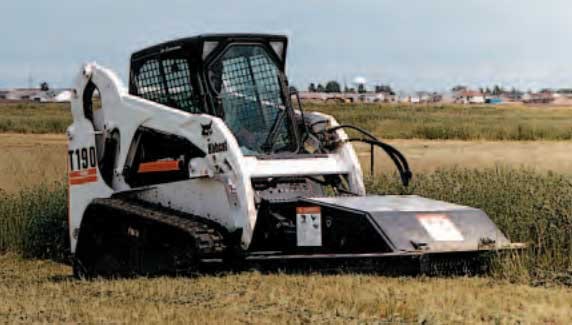 The compact Bobcat T190 skid steer specs mean it can lift up to 860kg
As a compact little machine, the Bobcat T190 skid steer has guts. Don't let its size deter you – this machine can lift up to 860kg. Built with a Kubota diesel engine, this bobcat has power and grunt and will last you for years to come. Whether you need to lift mounds, carry materials or load trucks – this Bobcat can do most small to medium-sized jobs. The bucket is 68 inches wide, meaning you can get into those hard-to-reach places and lift heavy weights.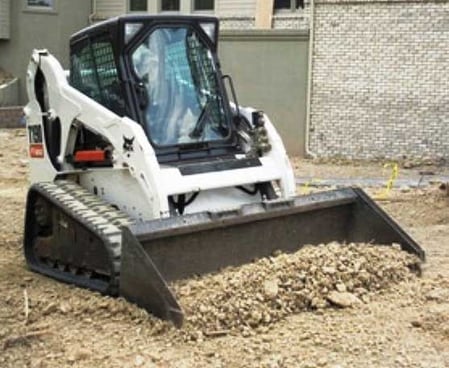 A variety of attachments for all your needs
With the Bobcat T190 skid steer, you can choose from more than 45 attachments – it truly is a versatile machine built to do a huge arrange of earthmoving jobs. Best of all, these attachments are easily mounted, so you can change them over swiftly and without fuss. Whether you are looking for a pallet fork, landscape rake, sweeper or tiller – the Bobcat T190 skid steer is bound to have the attachment you need!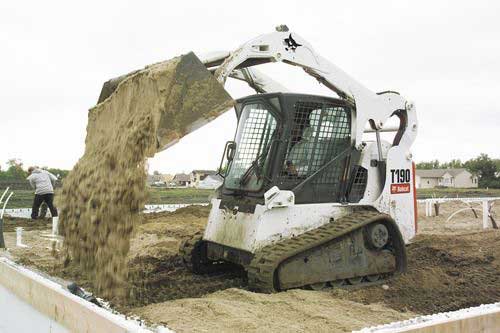 Built for a vertical lift path
The Bobcat T190 specs also show us that the machine has a vertical lift path, meaning it is perfect for lifting, carrying and loading. If you after a machine better suited to grading, digging, trenching or backfilling, then you might want to check out the Bobcat T180 skid steer.
Browse the Bobcat T190 skid steers available on the iseekplant database
If you're looking to invest in new heavy equipment for your fleet and need a machine that's smooth to operate – then the Bobcat T190 skid steer is tough to beat! If you'd like to try before you buy – browse the Bobcat skid steer hire options that iseekplant has listed and find the right Bobcat skid steer to suit your needs. We cater to Brisbane, Sydney, Melbourne, Canberra, Perth, Darwin, Adelaide and across the nation, so we are bound to have a supplier that meets your needs.
Bobcat T190 Specs
Engine
Number of Cylinders: 4
Make: Kubota
Model: V2003T
Gross Power: 61 hp/45.5 kw
Power Measured @: 2800 rpm
Displacement: 122 cu in/2 L
Aspiration: turbocharged
Operational
Operating Weight: 7612 lb/3452.7 kg
Fuel Capacity : 28 gal/106 L
Max Speed - high range: 7.1 mph / 11.4 km/h
Undercarriage
Ground Pressure: 4.9 psi/33.8 kPa
Number of Track Rollers per Side : 4
Length of Track on Ground: 4.6 ft in/1401 mm
Width of Track: 12.6 in/320 mm
Track Gauge: 4.4 ft in/1356 mm
Loader
Operating Load: 1900 lb/861.8 kg
Tipping Load: 6851 lb/3107.6 kg
Bucket Capacity: 0.52 yd3/0.4 m3
Hydraulic
Pump Flow: 16.3 gal/min / 61.7 L/min
Relief Valve Pressure: 3300 psi/22752.7 kPa
Dimensions
Width Over Tracks: 5.5 ft in/1676 mm
Length w/ Bucket: 10.9 ft in/3310.1 mm
Length w/o Bucket: 8.5 ft in/2584.7 mm
Height to Top of Cab: 6.4 ft in/1938 mm
Clearance at Max Lift and Dump: 7.6 ft in/2310 mm
Reach at Max Lift and Dump: 2.6 ft in/784 mm
Turning Radius from Center - inc bucket: 78.8 in/2001 mm
Sources: Bobcat