Used typically in construction and landscaping work, skid steer loaders are compact, manoeuvrable machines used to dig, push, spread, and lift materials. They are certainly the 'jack-of-all-trades' in plant hire, with their range of attachment options available, skid steer loaders can do many different jobs around the work site. There are a range of construction equipment brands that manufacture skid steer loaders, all ranging in quality and cost, so it can be difficult to choose which is the best brand of skid steer for you.
In this blog, we will outline the best skid steer loader brands in Australia you should consider when wanting to hire one.
Who makes the best skid steer?
Bobcat Skid Steers
First and foremost, we'll start with Bobcat. Founded in 1947, Bobcat has been manufacturing skid steer loaders for decades and is synonymous with skid steers in general, having invented the world's first skid steer loader – which is a tough act to beat for other manufacturers. You've probably heard skid steer loaders simply referred to as 'Bobcats', even if it isn't a Bobcat brand skid steer loader. That is how synonymous they've become with skid steer loaders.
Bobcat skid steer loaders set the industry standard for reliability, quality and performance. They offer more than a dozen different types of skid steers, offering you plenty of choice. Their machines also come with prominent performance features, including:
Superior lift arms
Powerful hydraulics
Sound dampening via large front and rear cab isolators
Maximum head and leg room
When choosing to hire a Bobcat skid steer, you definitely can't go wrong. Here at iseekplant, we have Bobcat suppliers nationwide, including in key areas such as Brisbane, Sydney, Melbourne, Canberra, Perth, Darwin and Adelaide. If you have your heart set on acquiring one for your next project, you can easily get rates with us today!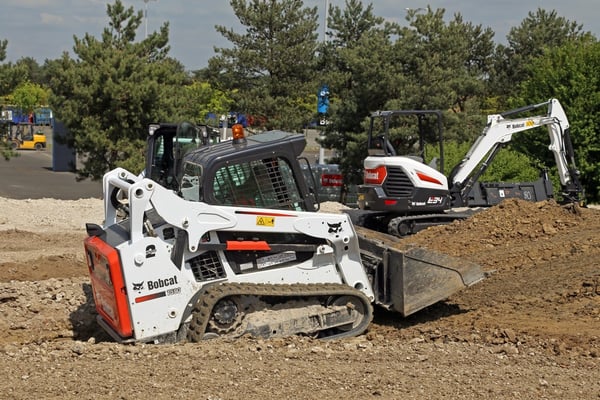 Caterpillar Skid Steers
Caterpillar is one of the industry leaders in all things construction, and if you take a look at any job site, chances are you'll see their plant and equipment being used. With a reputation for reliability, quality and longevity, they're one of the best construction equipment manufacturers on the market.
Caterpillar plant and machinery are designed and built for maximum performance and safety, ensuring that any Caterpillar skid steer loader for hire is reliable, powerful, versatile, efficient and easy to use – everything that someone would expect from Caterpillar equipment.
Caterpillar has nine skid steer loader models, offering plenty of choices when looking to hire a skid steer. These skid steer loaders for hire are known to perform well, and you can't go wrong when picking one to hire – especially since they offer a range of attractive features, from electronic throttle features for precise rpm settings to excellent ground-level access for enhanced serviceability.
Komatsu Skid Steers
The next brand we'll take a look at is Komatsu. This industry titan is known for building reliable, tough construction machinery, which is no wonder why Komatsu skid steers for hire are a popular choice in Australia.
Komatsu skid steers are manufactured with the same advanced hydraulic technology they use with their market-leading excavators and other plant and equipment, so you know you're going to be hiring an effective machine. They offer operating loads between 650 kg to 900 kg, with high digging forces and lifting capacities, which makes them ideal for a wide range of construction projects.
JCB Skid Steers
Safe, productive, and economical – these are the words JCB has chosen to describe their skid steer loaders for hire, and it's proven to be more than just a buzzy slogan. JCB has designed a skid steer loader with 270-degree visibility, making for safer use of the machine. The cab size itself is 46% larger than other skid steer brands on a small platform, and 33% larger on large platforms, giving you plenty of room to be comfortable while you work.
JCB skid steer loaders are very fuel-efficient as well, with 16% better fuel consumption than competitors. They offer 8 skid steer loaders for hire ranging from 600kg operating capacity to 1500kg. So if you're looking to hire a truly safe, productive, and economical skid steer loader for hire, then it's a good bet to go with a JCB.
CASE Construction Skid Steers
Since 1842, CASE has been one of the pioneering US brands solving earthmoving challenges with equipment. Over 175 years – and at least a couple of industrial revolutions – later, CASE continues to be one of the largest construction equipment manufacturers in the world, with CASE skid steers being a popular choice for Australian construction projects.
CASE Construction offers a wide range of skid steers to choose from, ranging from rated operating loads and engine power. Built tough with more power and torque than other competitor models, CASE skid steer loaders boost productivity and increase operator comfort when on hire. The cab features increased headroom and lap-bar width, along with improved visibility, so you know you will be comfortable while hiring their skid steer loaders.
Where can I hire a skid steer loader?
Looking to hire a skid steer loader from any of these brands? iseekplant has hundreds of skid steer loader suppliers across Australia to complete your job.
Learn more about what you should be paying from our skid steer loader hire rates guide. Otherwise, you can use the iseekplant Get a Quote tool to get competitive skid steer loader hire quotes.
Get in touch with us today on 1300 691 912 or projects@iseekplant.com.au to answer your questions or concerns. To keep up to date with all of the latest machine reviews, subscribe to iseekplant's Constructionsht blog today!
Additional FAQs
Which company sells the most skid steers?
Bobcat is the leading company in the skid steer market, holding approximately 40% of the market share. This dominance is so significant that the Bobcat name has become synonymous with skid steers themselves.
Despite facing stiff competition from some of the other brands we listed above, there's no doubt that Bobcat remains the number-one skid steer brand.
What is the most popular size skid steer?
The most commonly used skid steer size is the medium-frame. These versatile machines are suitable for a wide variety of tasks, featuring a Rated Operating Capacity (ROC) of 1,300 to 1,900 pounds and an operating weight of 5,000 to 6,000 pounds.
While skid steers are available in large, medium, and small frames, medium-frame skid steers are most often the ones to strike a balance between capability and flexibility for different job requirements.
What is the average life of a skid steer?
The average lifespan of a skid steer varies based on several factors including equipment quality, maintenance, and size – but generally, popular brands like Caterpillar and Bobcat skid steers average around 5,000 hours of operation.
However, smaller skid steers may wear out after 1,500 hours, while larger ones with more robust components can last longer, with some models reaching between 6,000 to 12,000 operational hours​. As with most things in life: it depends on how you use it.