Cat 226D Skid Steer comes with more power, functions and control than past models, making it the Cat skid steer of choice for many users.
Cat 226D Skid Steer Specs (overview)
Engine Model: Cat C2.2 CRDI
Net Flywheel Power: 49.1 kW
Gross Power - SAE J1995: 50.1 kW
Net Power - SAE 1349: 49.1 kW
Displacement: 2.2 l
Stroke: 100.0 mm
Bore: 84.0 mm
Net Power - ISO 9249: 49.6 kW
Peak Torque - 1,500 rpm - SAE J1995: 208.0 N·m
For full specs - see below
Need more work? Register your plant hire company on iSeekplant for free:
Drew's Review
What has been improved?
The Caterpillar 226D Skid Steer is new and improved with a number of different added features. For starters, the interior cab of the 226D is wider and more spacious than previous models, allowing the driver to ride in style. The cab is not only climate controlled but also completely sealed and pressurised meaning dirt, dust and noise cannot get in while you're hard at work.

With the upgrades, you can have access to both heating and air-conditioning as well as an improved set of controls which feature the optional Advanced Display panel. This display screen allows for easy tweaks to what you're doing as you work, and is just one of a few of the many upgrades that have been added to this newer Cat skid steer loader model.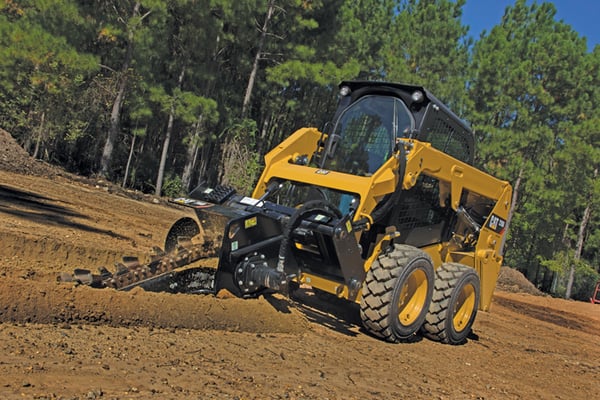 Ride along in comfort
Caterpillar doesn't scrimp on comfort and this model will not disappoint. The 226D Skid Steer has improved visibility in comparison to previous skid steers, as well as a higher headrest and an air ride seat. The operators manoeuvring the joysticks all day long will appreciate the mounted positioning of the equipment which allows for increased comfort.

Caterpillar has thought about safety too, with a top-notch security system installed on the 226D Skid Steer loader along with the option to choose a rear-view camera to guide you as you carry out your work.
A display screen that shines bright
If you want to upgrade the standard 226D Skid Steer, you can choose to have access to the Advanced Display screen which allows you to adjust the creep control and hystat response functions. For those who are comfortable using languages other than English, the display also features a multi-language functionality and the chance to customise the layout of the system.
Powerful Machine
The 226D Skid Steer comes with a lot of grunt, allowing for the best performance and increased production through the Electronic Torque Management system.

There a number of options to give the Cat 226D skid steer more power, such as the optional two-speed travel function and the deceleration pedal capacity for added control over the power. There is both an electronic hand and a foot throttle for further options when driving, so you can pick the controls that suit you best.
Need more work? Register your plant hire company on iSeekplant for free:
Hydraulic system for better performance
For operations where the 226D skid steer needs to pack a punch, the high flow hydraulic system gears up when you push.

The high horsepower engine has high torque, yet isn't too harsh on the environment with its U.S. EPA Tier 4 Final (EU Stage IIIB) emission standards rating.

Cat prides itself on the latest technology and the company has certainly thought about all the bells and whistles with this model, incorporating a dual direction self-level, a work tool return to dig and position function.
Control your ride with ease
The new 226D Skid Steer model will move at the slightest touch of the controls, as it features a speed-sensitive ride control function which gives you ease of operation when the path gets rough and bumpy.

Compared to past models, the controls also feature improved loading retention which allows for increased productivity on site.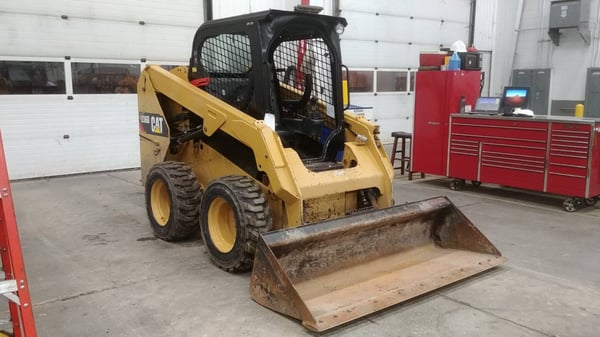 All the attachments you'll ever need
There are so many attachments available for this 226D Skid Steer, making it a very versatile machine that can operate on many sites and different jobs. You can choose from a huge range of attachments including buckets, snow blowers, brush cutters, brooms, cold planers, stump grinders, backhoes, wheel saws and more.

One of the best features of this 226D Skid Steer, especially on a complicated job where you need it to perform many operations over the course of the day, is the Cat's quick attachment change function.

This improved coupler system means you no longer have to manually change the work tools using two high leverage handles. Instead, an additional function allows for an electrical change over, meaning you can switch attachments without having to even get off your seat in the cab. This really is a standout function and will save so much time on those detailed jobs where many tasks need to be carried out quickly.
Need more work? Register your plant hire company on iSeekplant for free:

A vehicle that's easily serviced
The 226D Skid Steer is very simple to service and maintain, meaning you don't have to worry about long periods of machine downtime where you are losing out on money and getting behind on the job.
The machine that can do it all
Although the Cat 226D Skid Steer isn't that new on the market, it really is a standout machine. There are many different brands that produce skid steers, but Cat is always reliable – a brand you can trust.

One of the reasons for this is that Cat's machines are versatile and come with the option to use many different attachments and upgrade with many different add-on functions. But the machines are also powerful and built to last – something no construction worker can resist when it comes to choosing the best tools for the job.

So whether you need to use the Caterpillar 226D Skid Steer for civil construction work, a plumbing job or on the farm, you know you can rely on this model to perform well time and time again.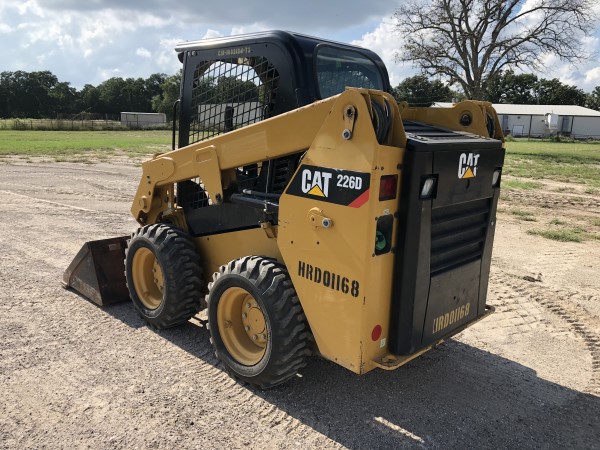 The machine that can do it all
Cat is known for its high-quality customer support, so you can relax in knowing that if you have any questions after the purchase of your 226D Skid Steer, you're in good hands. Cat often provide excellent training programs, and the machines come with great warranties, ensuring that you will get your money's worth.
Machinery Owners Australia
Closed group · 1,088 members
This group is for machinery owners across Australia to share news, advice and stories!
Hire a Caterpillar 226D

Skid Steer

today
Looking to find your next Caterpillar skid steer loader to hire? iSeekplant is Australia's favourite plant hire equipment provider for the mining and civil construction sectors. Get in touch with us today on 1300 691 912 to let us match you with your ideal construction equipment hire provider. Alternatively, run a search for a skid steer loader to hire. We have skid steer loader suppliers across the nation in Brisbane, Sydney, Melbourne, Canberra, Perth, Darwin and Adelaide.
Cat 226D Skid Steer Complete Specifications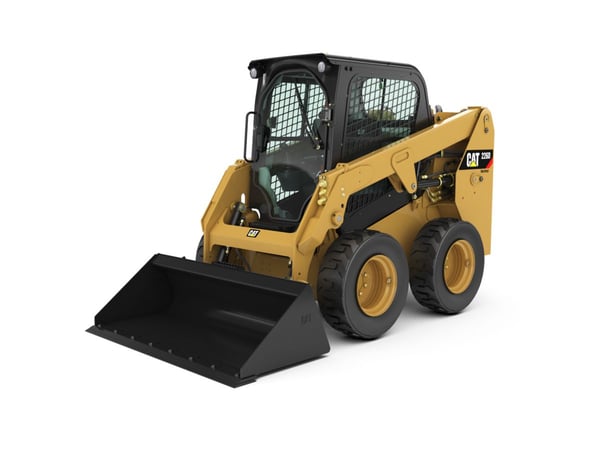 Engine
Engine Model: Cat C2.2 CRDI

Net Flywheel Power: 49.1 kW

Gross Power - SAE J1995: 50.1 kW

Net Power - SAE 1349: 49.1 kW

Displacement: 2.2 l

Stroke: 100.0 mm

Bore: 84.0 mm

Net Power - ISO 9249: 49.6 kW


Peak Torque - 1,500 rpm - SAE J1995: 208.0 N·m
Weight
Operating Weight: 2588.0 kg
Operating Specifications
Rated Operating Capacity: 703.0 kg
Tipping Load: 1407.0 kg
Breakout Force - Tilt Cylinder: 1807.0 kg
Rated Operating Capacity with Optional Counterweight: 749.0 kg
Hydraulic System
Hydraulic Flow - High Flow - Hydraulic Power (Calculated): 38.0 kW
Hydraulic Flow - High Flow - Maximum Loader Hydraulic Flow: 99.0 l/min
Hydraulic Flow - High Flow - Maximum Loader Hydraulic Pressure: 23000.0 kPa
Hydraulic Flow - Standard - Hydraulic Power (Calculated): 26.5 kW
Hydraulic Flow - Standard - Loader Hydraulic Flow: 69.0 l/min
Hydraulic Flow - Standard - Loader Hydraulic Pressure: 23000.0 kPa
Cab
ROPS: ISO 3471: 2008
FOPS: ISO 3449: 2005 Level I
FOPS Level II: ISO 3449: 2005 Level I
Power Train
Travel Speed - Forward or Reverse - One Speed: 12.3 km/h
Travel Speed - Forward or Reverse - Two Speed Option: 17.8 km/h
Check out some more Skid Steer Loader reviews here:
Sources: Caterpillar
Video Sources: Brian Stokoe, Seth Fenby, AZ Iron