*Last updated: October 2020
The Kubota SVL75's innovative design coupled with a pragmatic approach to engineering and a focus on real-life use in challenging conditions has resulted in a track loader that ticks all the right boxes
A tough compact machine, the Kubota SVL75 compact track loader has been designed for harsh terrain, big challenges and tough environments. Benefiting from an engine that's a leader in its class, as well as a wealth of additional features that help to improve performance, the Kubota SVL75 specs make for efficient earthworks. Cab comfort, straight-forward operation and a high degree of versatility are further advantages to this machine. Although its six-way, four-in-one bucket and some of its other features add a little to the price tag, this is more than made up for by enhanced performance and the ability to perform a wider variety of earthmoving jobs with greater efficiency. Read on to discover why we feel the Kubota SVL75 compact track loader should be part of your fleet.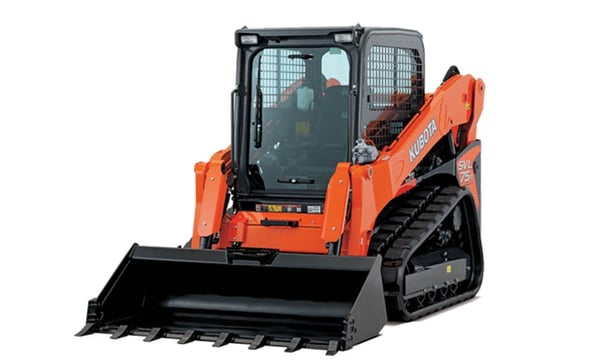 Kubota SVL75 Specs (overview)
Model: SVL75
Type of Operator: Open CAB / Closed CAB
Model: V3307-DI-TE3
Gross HP (HP (kW)/rpm): 74.3 (55.4)/2400
Displacement: 3331 cc
Cylinders: 4
Bore x Stroke: 94 x 120
Aspiration: Turbocharged
For full specs - see below
Drew's Review

When it comes to power and dependability, this compact track loader rocks! A strong 74.3HP engine, coupled with a gearing mechanism that enhances efficiency, combines to create a compact track loader that can take on formidable tasks and have the power to complete them successfully. The machine features a useful anti-stall feature, which prevents problems when the going gets tough and the engine is stretched towards its upper limit. In addition, the bucket moves in six different directions, rather than the standard four, and has a generous reach. This obviously gives great versatility for detailed levelling, really handy for final grade trimming! With the ability to adopt a variety of positions and a mechanism that ensures the bucket provides vertical lift, this little Kubota SVL75 is able to pick up loads successfully from many different angles, as well as transport them quickly and safely to the required destination. The entire bundle of features results in a very versatile machine that has the capability to multi-task, often punching above its weight when it comes to load bearing and efficient movement.
Machinery Owners Australia
Facebook group · 217 members
| | |
| --- | --- |
| | Join Group |
This group is for machinery owners across Australia to share news, advice and stories!
Key Features in the Kubota SVL75 Compact Track Loader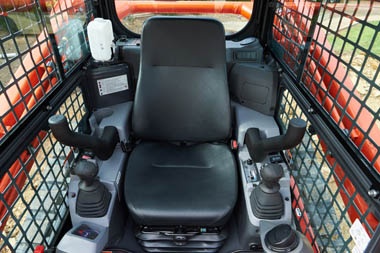 Inside the Kubota SVL75 cab is looking good
If you're going to be in the driver's seat shaking your kidneys for eight hours or more each day, it's essential that it's a comfortable one! In this respect, the Kubota SVL75 doesn't disappoint. The cab is spacious, with a handy sliding door for entry which helps to minimise the risk of an accident. Door width has also been enhanced, making it easier to enter and exit the compact track loader. The seat benefits from a backrest and headrest, as well as being fully adjustable. The driving mechanism consists of traditional joystick control, alongside the use of triggers and buttons for some functions. The cab and controls have been designed to ensure that the Kubota SVL75 compact track loader is easy to operate and comfortable to work in, even for extended periods of time. Controls are responsive and it's possible to get a high degree of fine movement and adjustment from them. This makes picking up awkwardly shaped loads or loads which are in tight access areas, relatively straight-forward to achieve.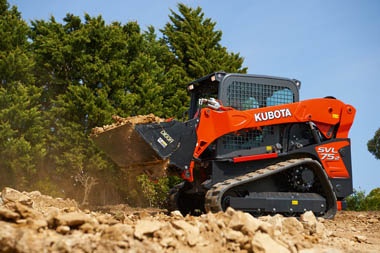 Designed with maintenance in mind
Almost inevitably, a compact track loader that operates in extreme environments for most of its working life is going to need maintenance and repair. What's important is that the engine and other parts which will need to be regularly checked and worked on are easily accessible, minimising the need for extensive labour. The Kubota SVL75 specifications reduces maintenance in several ways, at the same time as minimising the risk of damage or failure. An extremely rugged construction reduces the risk of performance being compromised as time goes on. The undercarriage, for example, has been securely welded to the sub-frame, minimising the risk of weakening. It has also been built in a way which decreases the probability that mud, or other detritus will collect underneath the SVL75. This attention to detail extends to the engine and other parts where servicing is required. Almost invariably, access is simple and fast. The cab tilts forward to give access to hydraulic lines and valves; the radiator slides out and everything that needs to be checked on a daily basis for safe site working has been grouped in one place – under the rear bonnet. All these features have been carefully thought out, resulting in a compact track loader which is simple to maintain and also extremely safe. Given the importance of site safety in today's working environment, the degree to which the machine can be regularly maintained to reduce accident risk is a major factor in its favour.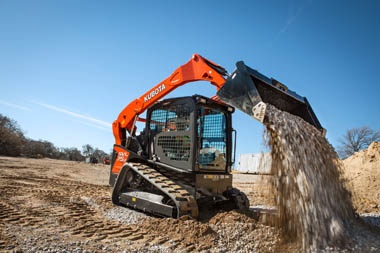 Energy-efficient and a fast, effective compact track loader
Environmental considerations are always an issue when it comes to investing in new plant, as are operating costs. The Kubota SVL75 specifications show that its engine is an efficient one, helping to drive fuel costs down at the same time as maintaining output. Bucket versatility ensures that jobs can usually be completed without repeated attempts, again contributing to reduced operating costs. When combined with the fact that the Kubota SVL75 is extremely easy and quick to maintain, the result is a piece of equipment that's cost-effective to run at the same time as delivering optimal performance – the ideal combination for demanding site work.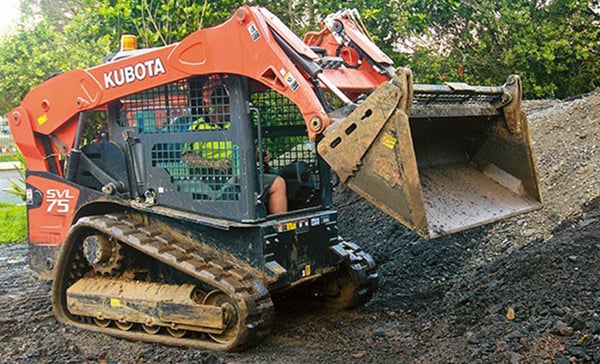 Kubota SVL75 - a tough, versatile bobcat
What stands out about the Kubota SVL75 compact track loader is its durability and adaptability. Kubota have incorporated many different features to make this compact track loader robust enough to cope with the difficult earthworks jobs. At the same time, the ease with which the bucket can be manipulated into so many different positions means the machine can take on almost any task and complete it successfully. A number of different attachments are also available, increasing task range and flexibility even more. The number of safety features and the ability to check parts easily and quickly ensure that performance can be maintained, even with prolonged use. The Kubota SVL75 compact track loader is a premium machine that can add a significant amount of capacity to your fleet or operation. It's certainly not the cheapest, but, as is so often the case, you do get what you pay for. Thoughtful, innovative design coupled with a pragmatic approach to engineering and a focus on real-life use in challenging conditions has resulted in a track loader that ticks all the right boxes. The rugged construction, excellent function and even a comfortable cab mean this feisty machine gives back every cent you invest in it over time.
Kubota SVL75 Specs
Model
Type of Operator Station
Type of Operator: Open CAB / Closed CAB
Engine
Model: V3307-DI-TE3
Gross HP (HP (kW)/rpm): 74.3 (55.4)/2400
Displacement: 3331 cc
Cylinders: 4
Bore x Stroke: 94 x 120
Aspiration: Turbocharged
Loader Performance
Rated Operating Capcity-35% Tipping Load: 1043 kg
Rated Operating Capcity-50% Tipping Load: 1490 kg
Tipping Load: 2980 kg
Breakout Force – Bucket: 2814 kg
Breakout Force – Lift Arm: 2162 kg
Lifting Capacity: 2214 kg
Lifting Arm Path: Vertical
Undercarriage
Track Width – Standard: 320 mm
Track Width – Wide: 380 mm
Ground Pressure with Standard Track: 5.6 / 5.8 psi
Ground Pressure with Wide Track: 4.7 / 4.9 psi
Track Rollers (Per Side): 4
Track Ground Contact Length: 1436 mm
Travel Speed – Low: 7.5 km/h
Travel Speed – High: 11.5 km/h
Traction Force: 4390 kg
Min. Ground Clearance: 296 mm
Hydraulic System
Loader Hydraulic Flow: 71.2 L/min
Loader Hydraulic Pressure: 250 kgf/cm²
Aux. Hydraulic Flow – Standard: 71.2 L/min
Aux. Hydraulic Flow – High: N/A
Service Refill Capacities
Hydraulic System: 60
Hydraulic Tank: 35
Fuel Tank: 93
Operating Weight
Operating Weight (Includes Operator Weight 80kg): 4100 / 4225
Kubota SVL75 Compact Track Loader Dimensions
Length of Track on Ground:

1436 mm

Track Gauge: 1355 mm
Length without Bucket: 2768 mm
Length with Bucket on Ground: 3576 mm
Height to Top of Cab: 2083 mm
Bucket Hindge Pin Height at Max. Lift: 3025 mm
Rollback Angle at Carry Position: 27 degrees
Reach at Max. Lift and Dump: 1060 mm
Ground Clearance: 296 mm
Departure Angle: 31.5 degrees
Max. Dump Angle: 40 degrees
Vehicle Width: 1675 mm
Width with Bucket: 1727 mm
Turning Radius from Centre-Machine Rear: 2720 mm
Interested in hiring a Track Loader?
Here at iSeekplant our network of quality track loader suppliers eagerly await to service your needs, no matter the size, duration or location. Location is not an issue with iSeekplant as we have many suppliers in capital cities such as Brisbane, Sydney, Melbourne, Canberra, Perth, Darwin, Adelaide and everywhere else in between. Use the iSeekplant get a quote tool to get competitive prices for track loader hire.
If you enjoyed this review, make sure to subscribe to iSeekplant's Flapping Mouth Blog to stay up to date with the latest reviews, tips and industry insight.
Sources: Kubota, Trade Earthmovers, Farm Machinery Advisor